Love Cinema and wish you could visit your favourite movie locations in person? Well grab some popcorn and get ready to be your own hero. The Luxury Report brings 6 movie locations you could actually visit.
Jurassic Park – Hawaii
If you're a Jurassic Park fan, you must've imagined yourself at least once visiting the green grassland while bravely facing the dinosaurs. Well, the good news is you can still visit the islands where the movie was shot (without the dinosaurs of course!). Filming took place on the Hawaiian islands of Kauai and Oahu, the lush backdrops that brought the mythical creatures to life. Most famous are the emerald cliffs of Kualoa ranch, which were also the filming locations of various other shows and movies such as Lost, Kong: Skull Island and Jumanji: Welcome to the Jungle.
Manawaiopuna Falls (known as Jurassic Falls) are also a must visit location.
If you're looking for a new location to film something similar, St Helena island offers the perfect panoramic views.
Isn't this simply out of this world?
Lord of the Rings – New Zealand
The Lord of the Rings Trilogy offers New Zealand a fair share of their tourism. The Tongariro National Park, which was the main setting for the Land of Mordor, offers spectacular views. It has three active volcanoes including (Mount doom in LOTR), emerald lakes, and is a natural habitat to various wildlife species.
Another famous location is the village of Hobbiton which is a lush dairy farming space near the town of Matamata used to portray the region of Middle‑earth.
Skyfall – Scotland
We bet all 007 fans would love to visit the spell bounding locations where Bond movies were filmed. One of these iconic locations is the massive valley of Glencoe, located in Scottish highlands. This was the place of Skyfall House, Bond's childhood home. It's eerie wilderness has served home to various fight sequences in the movie. It's a magical place covered with mist and clouds that has some of its own dark history of massacres.
Joker – New York
Joker was shot in multiple locations in the New York city under the working title of Romeo. The recently released movie showcases the iconic Joker Staircase located in Bronx at 167th Street, between Anderson and Shakespeare Ave. Google maps even has a pin for this location called "Jokers stairs".
These are public stairs so you are free to reenact the legendary performance by Joaquin Pheonix.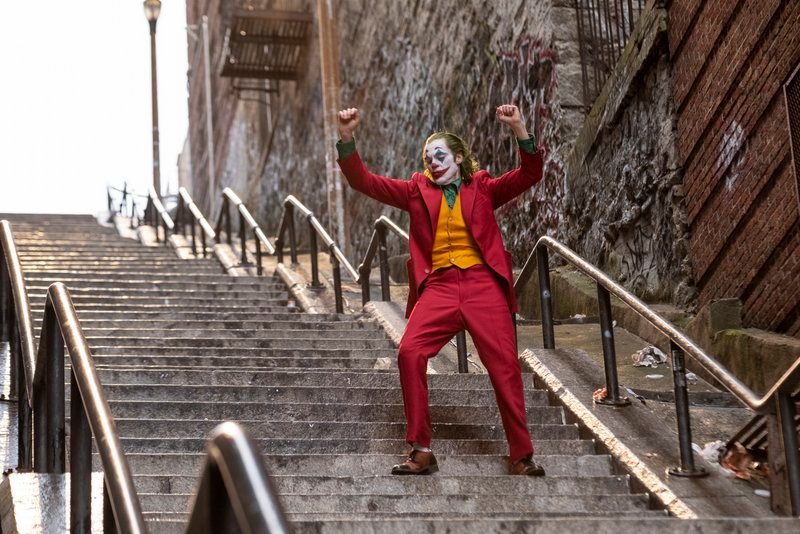 It (Chapter Two) – Canada
Wondering where to go this Halloween? We have just the perfect spot for you, the exterior of Pennywise's home that burned down in blazes. A treat for all Stephen Kings' IT fans, you can visit the house located in Oshawa, Canada where the film was shot and even the inside of house interior located at 450 Pape Ave., Toronto.
How can we forget the sewer of our nightmares!. Located just outside of Toronto in North York, is the most famous location from the movie where we first get introduced to Pennywise.
"Pssst, Hello" – Are you scared of Clowns?
Midsommar – Budapest
Midsommar was shot in the countryside of Budapest. An entire town was built from scratch for this movie over the course of two months. To make it look more authentic, some actors were also flown from Sweden to be portrayed as the Harga villagers who were part of a pagan cult. A number of other movies were shot in these looming hills such as the Underworld, Dracula, and Hellboy II. In fact the recent horror film Don't Breathe was also shot in Hungary.
What other filming locations can you think of? Let us know! And as always, follow The Luxury Report for more beautiful places to visit