Combining elegance, culture, glorious countryside and an incredible spa lifestyle, there is nowhere quite like Baden-Baden – especially in the winter
Beautifully located on the edge of the Black Forest, Baden-Baden is a truly captivating destination, world-renowned for its spa and wellness elements as well as its elegant lifestyle. The German city exudes class and sophistication at every turn, and for every slice of modern luxury, there is an equally charming reminder of the city's historic roots. In 2021 it gained UNESCO World Heritage status as one of the Great Spa Towns of Europe and is a must-see for any traveller. It's a hidden gem that offers breathtaking nature, a rich cultural scene and a world of indulgence for gourmets, art lovers and keen shoppers. In Baden-Baden you can restore mind and body. It is a destination that attracts international visitors all year round but during the winter months, it transforms into an incredible winter wonderland.
Feeling Christmassy?
The festive season is very special in Baden-Baden as the city comes to life with its Christmas market. The "Christkindelsmarkt" stretches from the Kurhaus Colonnades past the boutiques towards Baden-Baden's impressive historic Trinkhalle. It is totally tantalising for all the senses: almost 100 decorated huts and stalls sell unique handicrafts, everything from wooden toys to traditional German Christmas tree decorations and precious gift items, such as decorative candles and fine cashmere scarves. Choose from a wide selection of silver, amber, and designer jewellery, antiques and exquisite porcelain – all make the perfect gift or souvenir. The seasonal aromas of roasted almonds, gingerbread and mulled wine sail through the air, whetting the appetite of locals and visitors alike.
Cheese lovers rejoice! New to the market this year is the luxurious Gourmet Iglus – a must for food and wine lovers this is where "fonduelette", a mouthwatering mixture of fondue and raclette will be savoured. The Baden-Baden Christmas market is also a vibrant cultural experience, with countless open-air performances by singers, choirs, bands, as well as performances from theatres and schools. This seasonal sensation entertains the audience with a festive mix of songs and carols alike and is a delight for all the family.
The romance of a horse and carriage ride
All wrapped up in warm blankets, a wintery horse and carriage ride is an unforgettable way to explore the Lichtentaler Allee, Baden-Baden's splendid park and gardens. This 3-kilometre green (or white!) route is home to an exotic range of flora, boasting almost 300 species of trees, plants and bushes. Although many of which will be hibernating for the season!
Glide past the city's museums, grand hotels, palaces and villas, many built during the iconic Belle Époque era. Enjoy the company of a local guide, who will enlighten and entertain with fascinating facts and amusing anecdotes about famous writers, great musicians and Russian czars. A beautiful aspect of Baden-Baden is the nature that flourishes within the city, and a horse and carriage ride is a dreamy way to see it.
Bathing bliss and warming wellness
What better way to balance a cold winter's day than with some warming wellness. Welcome to Baden-Baden's star attraction, its legendary thermal spas. Twelve natural springs deliver water at temperatures up to a glorious 68°C, which works wonders for easing the muscles after stirring winter walks. This is what the Romans were so captivated by some 2,000 years ago when they opened the first public baths in Baden-Baden.
The very essence of relaxation is encapsulated at the city's two thermal baths, where the healing properties of the warm, natural spring water can be combined with a range of high-quality beauty treatments.
With more than 4,000 square-metres of bathing and wellness space, the modern Caracalla Spa offers an otherworldly place to let your cares melt away. Meanwhile, the historic Friedrichsbad Spa reflects over 140 years of bathing history and brings traditional Roman bathing culture and Irish hot-air indulgence to the modern day. Indeed, after a visit to the Friedrichsbad Spa, Marc Twain famously said: "After 10 minutes you forget time, after 20 minutes the world".
Sheer bathing bliss is achieved by following the 17 steps of Friedrichsbad's invigorating ritual! The changing temperatures and varying baths, with their precious thermal waters, guarantees a feeling of total relaxation. Make sure you opt for the soap and brush massage. It's well worth it!
Where art is always in season
Having emerged from the healing waters, it is time to indulge in culture. Along the Museum Mile at the Lichtentaler Allee you will find the jewel of the park. The Museum Frieder Burda, which is home to famous modern and contemporary art by luminaries including Miró, Picasso and Pollock. Designed by Richard Meier this avant-garde building is a must-see for lovers of art and architecture, as is the glass-bridge that links it to the historic State Art Gallery, itself a throwback to the Belle Époque era. The Museum Frieder Burda embodies the city's marriage of history and modernity – an afternoon here will simply fly by. Plan and research in advance, as many of the modern and contemporary masterpieces are only here on temporary basis.
Afterwards, head on to the Fabergé Museum just a short stroll away. Here you can appreciate some 1,500 ™f of Fabergé's masterpieces, as well as the world's largest collection of cigarette cases. This museum is a world-first and is dedicated to the life's work of Russian jeweller Carl Peter Fabergé, who was famous for making jewel encrusted Fabergé Easter eggs for the Russian czars towards the end of the 19th century.
Winter wonders in the Black Forest
Close your eyes and take a deep breath. Feel as the clean crisp air awakens your senses. Now, open your eyes and look around – here you are, 667 meters high on top of the Merkur Mountain, the highest point of Baden-Baden and the place for the most spectacular views. Take in the magnificent panorama of the snow-covered hills of the Black Forest and the Rhine Valley. From here, set out on a leisurely stroll through Germany's largest municipal forest.
If you are feeling a little more energetic take on the Panorama Trail, voted Germany's most beautiful hike in 2020. The 45km loop (not to worry, you can easily split it into multiple days) leads you through the various natural landscapes that surround Baden-Baden. Be wowed by breathtaking vistas of the city centre from the Old Castle, enjoy the local wildlife and stop at the enchanting Geroldsauer waterfall.
Cosy coffee shops
Time to warm up again? Residents of Baden-Baden love their coffee, and the city is full of great places to enjoy a hot beverage. The boho-chic Kaffeesack is located in the city centre and roasts its espresso locally at its regional Brewhouse. If you are a coffee aficionado, then this is the place to be. For a more elegant cafe experience, head to Café König in the heart of the city. This traditional cafe has counted Liszt and Tolstoy amongst its customers and their Black Forest gateau is equally legendary.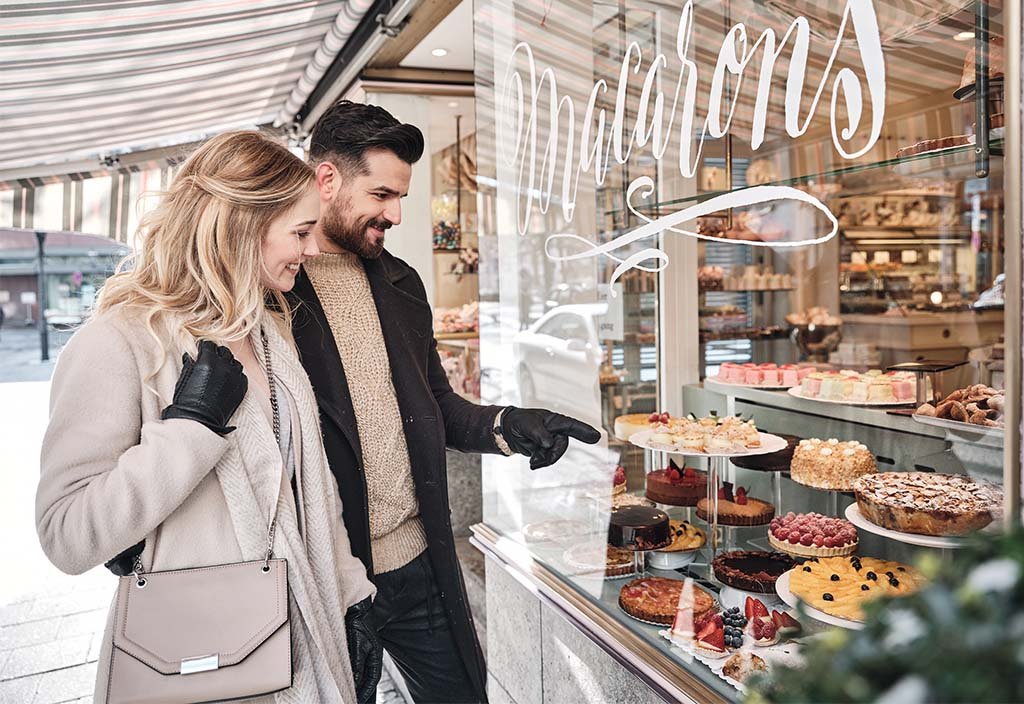 If you want a treat to take home from Baden-Baden then make space for the home-made chocolates and truffles from Café König. Indulge in specialities such as the Baden-Baden roulette ball, crafted as homage to the Casino Baden-Baden, or the chocolate chestnuts, which are only available at Café König or Confiserie Rumpelmayer at the Colonnade boutiques.
The world on your plate
From Michelin-starred restaurants, to charismatic local taverns, the culinary options in Baden-Baden are endless. Enjoy world-class fine dining at the elegant, Michelin-starred Le Jardin de France, or more casual dining at the tucked-away Weinstube im Baldreit, where regional as well as Alsatian flavours, such as Flammkuchen and braised pork cheeks are matched with local wines. This is a city where you can have the world on your plate. With a combination of global and local cuisine, choose from France or India, Thailand to Bavaria. It's all delicious.
Baden-Baden is not only a goldmine for gourmets, but a mecca for wine connoisseurs. The surrounding Rebland wine region is home to countless sun-drenched vineyards producing delicious bottles of Riesling, Pinot Noir, Pinot Bianco, Pinot Gris, sparkling wine and schnapps waiting to be sampled and explored. Where better for a winter wine excursion? The countryside of the Rebland is as impressive as the wineries, which boast cascading vineyards that gaze onto castles, palaces and endless rolling hills. Where else can you sit in a cosy vineyard cafe, sipping a fine drop, eating great food with an idyllic backdrop of spectacular wintery scenery?
Is Lady Luck on your side?
As night falls, the Kurhaus with its elegant Casino Baden-Baden comes to life. The nightlife of Baden-Baden never calls time, and "rien ne va plus" (no more bets) only applies at the roulette tables. So, grab the finest of your wardrobe, put on your dancing shoes and get ready for a night at the city's crowning jewel. You will be in awe of the palatial interiors of the historic Kurhaus. Inspired by the French palaces of the 19th century, you will be taken back in time and embraced by the splendour, style and charm of days gone by. During the Belle Époque (from around 1870-1914), the international elite flocked to Baden-Baden, including Russian state council members, English lords, literary figures and composers from Paris and Moscow.
Not much has changed since then. Famous names from society and politics, stars and celebrities have all graced these famous rooms and corridors. Enjoy an exhilarating night of roulette, blackjack, poker or punto banco, and reflect on screen legend Marlene Dietrich's famous words, that Baden-Baden "has the most beautiful casino in the world".
Dance the night away at the club Bernstein right next door to the casino. Dipped in opulent hues of gold and purple, this club exudes exclusivity and is the perfect place to celebrate your wins or forget any losses!
Always hitting the right note
Those with a passion for music and concerts can immerse themselves in the wealth of cultural offerings that Baden-Baden has on offer. The Festival Hall Baden-Baden is with its 2,500 seats Europe's second largest opera and concert hall and is one of the finest addresses for classical music worldwide. Hosting international opera, ballet, jazz as well as classical concerts of world-renowned, the hall is known for its incredible acoustics. International artists, such as Anne Sophie Mutter, Anna Netrebko, and the Berliner Philharmoniker are regulars here on stage in Baden-Baden. Get into the festive mood by taking in a classical ballet, such as Swan Lake or The Nutcracker during December or close off the year in style with The New Year's Eve concert.
All in all Baden-Baden is a destination not to be missed. As Bill Clinton once said: "Baden-Baden is so nice, you have to name it twice."
A Unesco World Heritage site
UNESCO World Heritage status is the highest accolade a city can achieve, and Baden-Baden was recognised in July 2021 as one of 'The Great Spa Towns of Europe'. So, why not join the guided tour and fully explore the city's incredible history. You will fall in love with the narrow, picturesque streets of the old town, as the houses reflect the gentle winter sun. In the summer it feels more like the Mediterranean. You can also explore the origins of spa culture at the Roman Bath Ruins and see the first public baths founded by the Romans situated below the Friedrichsbad.
For further information:
info@baden-baden.com
www.baden-baden.com/en