22nd February is National Margarita Day, so why not celebrate with a delicious margarita (or two) from London's best bars!
From twists on the classic to bottled cocktails to enjoy at home, there is something for everyone this National Margarita Day!
If you're looking to head out then where better to celebrate than at the home of agave spirits, Hacha. Head to their Brixton or Dalston sites where you can sip on one of their award-winning crystal clear, Mirror Margaritas.
If staying in is more your vibe, you can also pick up a bottle of Mirror Margarita to enjoy at home. If you're over in Shoreditch, the award-winning Swift is serving its fresh, punchy twist on the classic, the Carmen. Over at Christina's, the bar at the Mondrian Hotel, you can enjoy its Coastal Margarita, which features a riff on the original, taking inspiration from the British coast.
Away from East London and over to the Southbank, you can head to Lyaness, the award-winning bar from Ryan Chetiyawardana, where they are serving the Shaky Fist Margarita – a twist on the classic from the brand new Ancestral Cookbook menu.
Mirror Margarita
The award-winning bottled cocktail
If you're looking to celebrate National Margarita Day at home, enjoy a bottle or two of the award-winning Mirror Margarita. Previously voted Time Out Global's 7th Best Cocktail in the World, this modern crystal-clear twist on the classic margarita makes a chic and stylish addition to any evening or an elegant gift for the cocktail connoisseur.
The Mirror Margarita was developed by Hacha's co-founder Deano Moncrieffe, who was inspired to create a cocktail that was familiar in both name and taste but strikingly different in appearance. The result is a wonderfully layered, innovative yet authentic liquid that elevates the notes of the agave plant. It is a bespoke, top secret recipe created by Deano which achieves the cocktail's wonderful flavour.
Mirror Margarita can be purchased from Mirror Margarita's website for £36
Hacha
Brixton & Dalston
Where better to celebrate National Margarita Day than at the home of agave spirits, Hacha! Since opening in April 2019 Hacha has received much praise for its innovative approach to agave spirits and in particular, its signature cocktail 'Mirror Margarita', voted the Best Cocktail in London and 7th Best Cocktail in the World by Time Out magazine.
If you're heading out this Margarita Day then you can head to either Hacha's Brixton or Dalston sites to enjoy their signature crystal clear Mirror Margarita. Hacha Brixton also has a Mirror Margarita takeaway bottle shop, so the celebrations can continue at home.
Hacha Brixton: 12 Market Row, London SW9 8LD | Hacha Dalston: 378 Kingsland Rd, London E8 4AA
Swift
Shoreditch
Nothing better than starting National Tequila Day with a Margarita twist from one of London's Best Bars, Swift! Fresh, punchy and smooth, Carmen is the drink to have. With tequila, lime sherbet and toasted blue corn this simple yet delicious cocktail is the one to order in Swift Shoreditch.
Swift Shoreditch, which launched in July 2020, is the second venue from the team behind the internationally acclaimed Swift in Soho. When open, Swift Shoreditch brings an all-day offering seven days a week and with their award winning cocktail menu, this is the spot to be as you enjoy the light atmosphere and sip on their delicious tipples.
91-93 Great Eastern St, London EC2A 3HZ
Lyaness
South Bank

Lyaness's new menu The Ancestral Cookbook has their very own Shaky Fist Margarita, perfect for celebrating National Tequila Day with. The Shaky Fist Margarita is made using Patron Silver, red pill cordial, B + B Curcaçao and green lemon, for their delicious take on the classic.
Award-winning bar Lyaness by internationally renowned bartender Ryan 'Mr Lyan' Chetiyawardana was awarded 'World's Best Bar' at Tales of Cocktail Spirited Awards 2022. Their 15 serve new menu focuses on core ingredients exclusively created by the team using proprietary processes and techniques. For The Ancestral Cookbook, they have focused on the natural, cultural and social effects of human evolution on ingredients and food to create 5 core ingredients for the menu.
20 Upper Ground, London SE1 9PD
Christina's
Shoreditch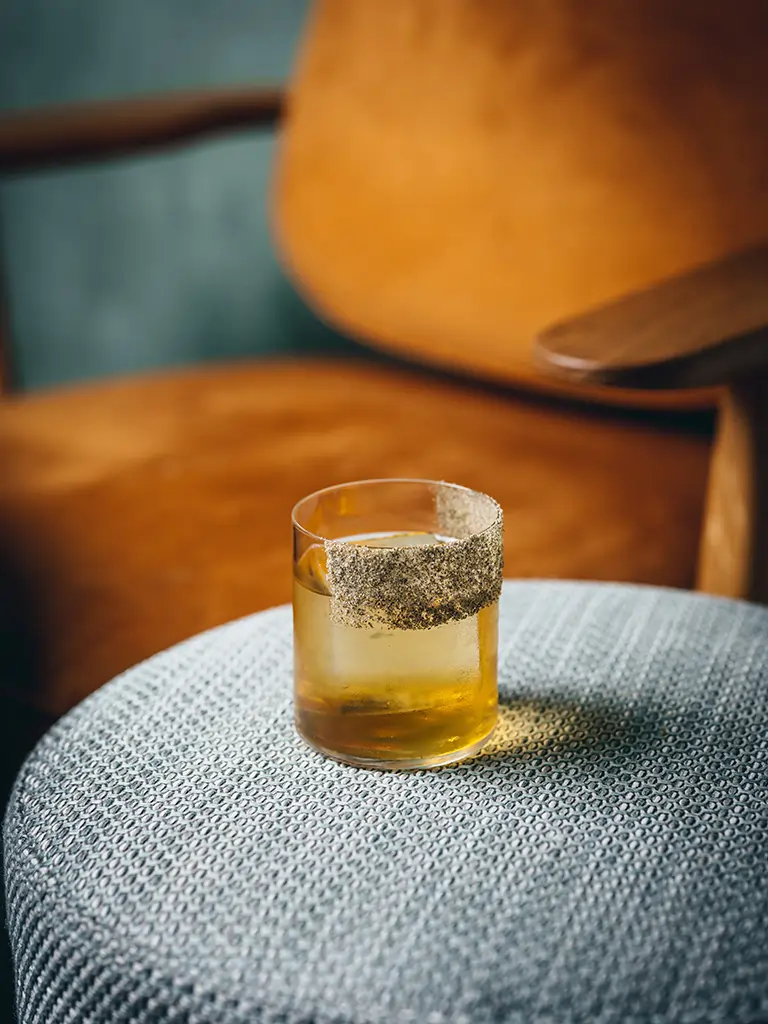 Christina's Coastal Margarita features-a riff on the original taking inspiration from the British coast and utilising acids from sustainable sources such as verjus instead of citrus fruits. Christina's champions local producers alongside natural wines, customised coffee blends and hearty snacks. In keeping with Christina's ethos of sustainability and quality, guests can expect a quintessentially British assortment of ingredients incorporated in the bar menu.
You can find Christina's Shoreditch on the ground floor of the Mondrian Shoreditch offering a menu of expertly-crafted original cocktails alongside Christina's signature twists on the classics, using locally sourced British products and foraged wild ingredients.
45 Curtain Rd, London EC2A 3PT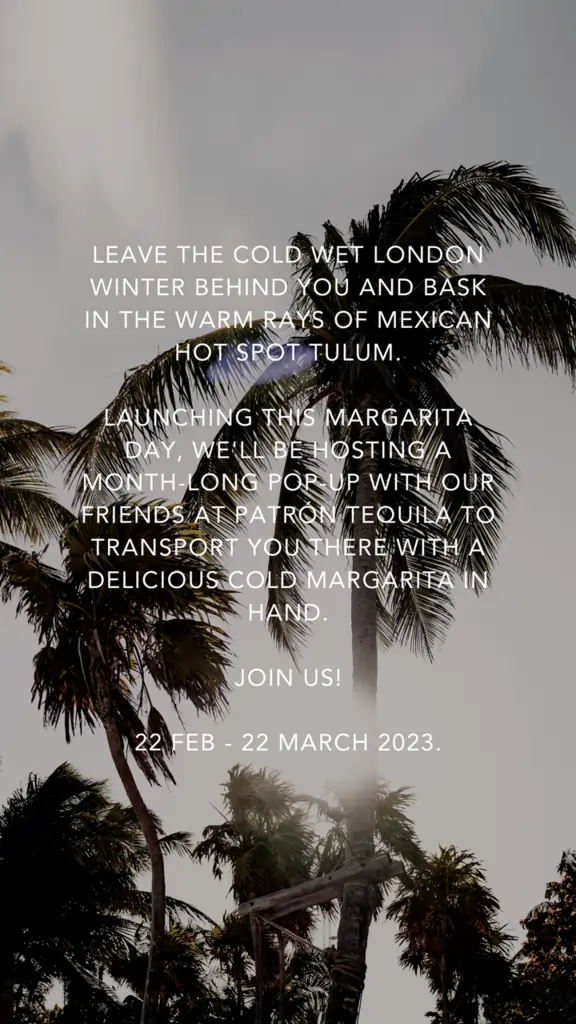 Hacha, the beloved London agaveria voted UK Specialist Bar of the Year 2022, and their award-winning bottled cocktail brand Mirror Margarita are delighted to unveil 'Escape to Tulum' – a special-month-long immersive activation in partnership with Patrón Tequila from Wednesday 22nd February. Together, they will transport guests from the cold, wintery streets of London to the lively Mexican party resort through an immersive pop-up – and the chance to win a trip for two to Tulum!