WEBER TRAILBLAZES NEW EXPERIENCES IN ELECTRIC AND GRIDDLE BASED OUTDOOR COOKING
New LUMIN Electric Barbecue Smokes, Steams, Grills and Warms Offering "Next Level" Versatility While Delivering Authentic Barbecue Flavours
Suite of Griddle Offerings Transform Gas Grilling and What's Possible to Cook Outside
Weber Inc. (NYSE: WEBR), the global leader in outdoor cooking, technology, and products, announced today its innovative new product offerings from the upcoming 2023 barbecue season. Featuring Weber's advanced technology, high-performance engineering, durable construction, and consumer-led design, the Company's latest electric barbecue and accessories offer extraordinary utility, flexibility, convenience, and endless flavour exploration for those who love to cook outside.
"Our product teams continue to push the boundaries of high-performance outdoor cooking in fuel and product categories that home cooks have just started to explore, including electric, griddle, and pellet grilling," said Mike Jacobs, Chief Operating Office of Weber. "To develop this year's product portfolio, we spend hundreds of hours talking to and cooking with people to determine how our products could help them more fully enjoy coming together around the barbecue. As a result, this line-up redefines what's possible when cooking outside by enabling our owners to create delicious new meal options, express their creativity, cook with greater ease, control, and predictability, and simplify clean up."
HIGH HEAT + VERSATILITY, THE LUMIN ELECTRIC BARBECUE
Weber's new LUMIN electric barbecue is a highly versatile, multifunctional grill. It is designed for those with limited outdoor space and electric-first people who crave authentic, delicious barbecue flavours yet desire a grill that fits their lifestyle and reflects their eco-conscious fuel choices. The ultra-modern LUMIN barbecue features a sleek, space-efficient design, making it ideal for smaller outdoor areas and where other forms of fuel, such as charcoal and gas, are not permitted.
To create a "next-level" electric cooking experience, Weber product experts engineered this first-of-its-kind barbecue to:
– Reach high heat temperatures of more than 315°C so that cooks can achieve that authentic barbecue flavour they have come to love with Weber products; owners can reach high heat-searing temperatures within 15 minutes.
– Infuse vegetables and proteins with rich, smokey tastes through a unique smoke mode.
– Steam vegetables, sear steaks, and keep cooked food warm via different cook settings and specially designed accessories.
– Thaw some frozen foods directly on the barbecue while it preheats to save time and simplify mealtimes for busy cooks.
– Make clean-up a breeze with a front-access grease tray and dishwasher-friendly, porcelain-enamel cast iron cooking grates.
The LUMIN barbecue also features a porcelain-enamel steel lid and cook box for superior durability and long-term corrosion resistance. Additionally, Weber engineers have created a line of accessories that further broadens what outdoor cooks can do on this unique grill, including a stand, grill cover, griddle insert, and more.
The LUMIN barbecue is available now on weber.com and from retail partners in the United Kingdom. Outdoor cooks can select from full-size or compact models, which will both be available in black in the UK. Weber is now offering everyone the chance to see just how the LUMIN will look in their home with 3D Augmented Reality. The two QR codes below will help everyone experience LUMIN up close and personal.
Prices for the LUMIN:
Lumin Compact black w/stand – £490.00
Lumin Compact black – £399.00
Lumin black w/stand – £679.00
Lumin black – £579.00
NEW POSSIBILITIES, WEBER'S GRIDDLE PRODUCT SUITE
Instantly Convert SPIRIT® and GENESIS® Gas Barbecues into Full-Size Griddles
To help SPIRIT and GENESIS (three-burner) gas barbecue owners effortlessly experience the different menu options and flavours griddle cooking opens, Weber product designers leveraged their deep expertise in high-performance heat management to create high-quality, durable, full-size griddle inserts. As a result, WEBER® barbecue owners can easily remove their gas grill's cooking grates and replace them with a new SPIRIT or GENESIS full-size griddle insert, transforming the entire cooking surface into a full griddle.
The griddle inserts, constructed of porcelain-enamelled cast iron, work with each barbecue's powerful burner system to direct, evenly spread, and hold heat across the entire griddle cooking surface. In addition, each griddle insert features a grease management system designed to prevent spills and capture grease for less mess during cleaning.
SPIRIT and GENESIS full-size griddles will be available on weber.com and from retail partners this spring in the United Kingdom, with full-size griddle SPIRIT 300 Series retailing at £185.99 and full-size griddle GENESIS 300 Series retailing at £279.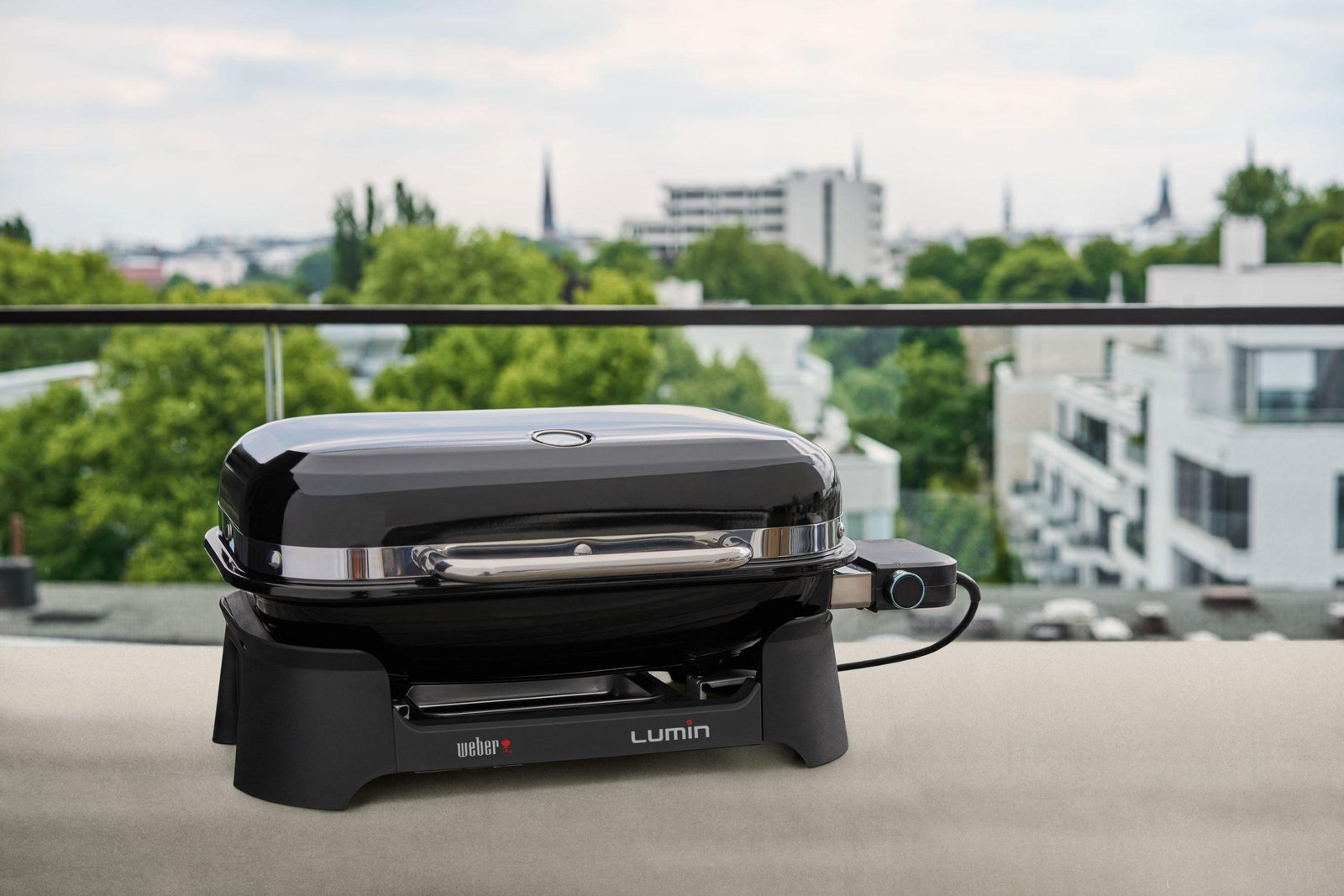 Expand What's Possible with Weber's New Griddle Accessories
To round out its griddle suite of products, Weber will also offer a series of new high-quality tools and accessories. Specially designed for novice and experienced griddle cooks alike, this accessory collection includes stainless steel spatulas, a cast iron press, and a basting dome, among others.
NEW WAYS TO COOK + MORE FLAVOUR, THE GENESIS EPX-470 GAS BARBECUE
With all the features of the reimagined GENESIS smart gas barbecue category, the new GENESIS EPX-470 fuses high-performance construction, superior durability, integrated WEBER CONNECT® smart grilling technology, and a GENSIS griddle insert to create an unforgettable culinary experience for any barbecue enthusiast.
The GENESIS EPX-470 is also compatible with the WEBER CRAFTED® OUTDOOR KITCHEN COLLECTION, a line of exclusive, high-quality, interchangeable grillware that enables a variety of different cooking methods, including steaming, baking, roasting, searing, or griddle cooking right at the barbecue. The GENESIS EPX-470 gas barbecue will be available on weber.com and from retail partners this spring in the United Kingdom, RRP: £2,699.