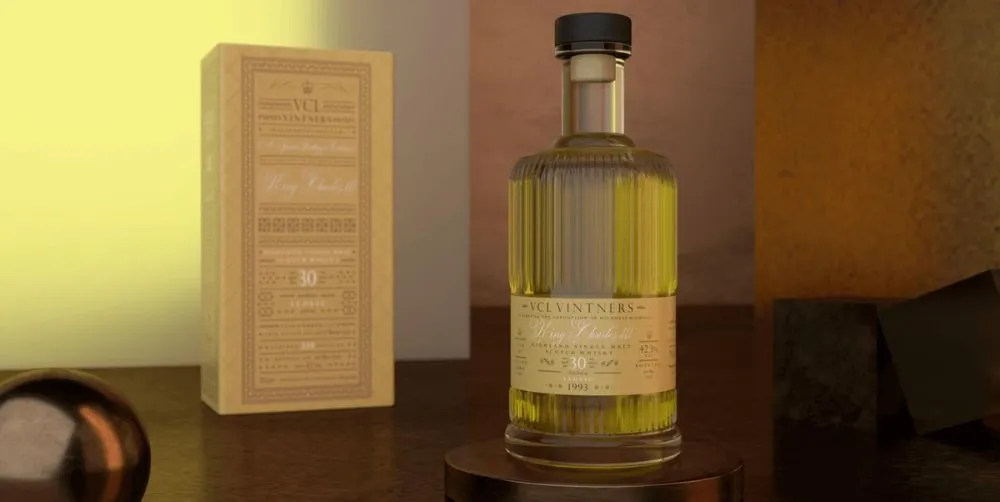 Forget Quiche, VCL Vintners have released an exclusive Coronation Whisky just in time for King Charles' III Coronation!
VCL Vintners unveils Highland 30-Year Single Malt from Ledaig as its limited-run Coronation whisky
VCL Vintners today announces its much-anticipated bottling line to commemorate the Coronation of His Majesty King Charles III. The Highland single malt Scotch whisky was filled on March 5, 1993. With a limited run for purchase, this bottling line will be available on VCL Vintners' website from 02 May 2023. The bottling line is made up of 249 bottles, distilled at the Ledaig distillery and bottled by VCL Vintners. The spirit was aged for 30 years. The bottling line will commemorate the first coronation in almost 70 years and embodies the life and passions His Majesty has enjoyed in his many decades of public service.
A special bottling to celebrate the Coronation of His Majesty King Charles III single malt scotch whisky:
ABV: 42.3%
AYS: 05/03/1993
Cask number: 252
Hailing from Ledaig distillery, this particular whisky represents the Royal Family's steadfast commitment to serving the nation, highlighted through the pageantry and sophistication of the Coronation. It contains depth in abundance and stays true to its roots of being a single malt from the much- loved Hebridean town of Tobermory. With a mellow nose feel and a dry prickle, the whisky accentuates an immediate hit of maritime nostalgia. Your mind is filled with memories of long summer days at sea, surrounded by family and loved ones. Your soul fills with the delicate notes of salt crystals, warm sand and the full-bodied crescendo of edible seaweed.
Beneath this, you'll find lighter, fruitier notes, as if cascading through a pergola in the summer heat, promenading past white grapes and apples in the British countryside. A balanced and complex finish awaits. A concoction of both sweet and salty notes with a trace of white pepper followed by a lingering aftertaste of green apple for the palate. The fading of fruit leaves the connoisseur wanting more. The Ledaig distillery, founded by John Sinclair, is based in the town of Tobermory, on the Hebridean island of Mull, where it has been operating since 1798. The distillery is still active under its current owners, Distell and has a capacity of 1 million litres. Now more widely known as its namesake 'Tobermory', the distillery's water source is the stunning Gearr Abhainn, meaning 'short river' in Gaelic, giving Ledaig its unique complexity across the generations.
Throughout its history, Tobermory has undergone several closures since it became licensed in 1823, most notably in 1930 due to the drop in demand because of the prohibition in the USA. The distillery re-opened in 1972 but closed for three years as it needed more storage space to keep up with the newfound demand. Since re-opening in 1975, the distillery predominantly distils black label scotch. Bespoke batches of peated whisky have also been bottled here, produced under the name Ledaig, aptly translating to 'safe haven.'
The bottles will retail at £495 (including VAT) on VCL Vintners' website, available from 02 May 2023.
Discussing the limited-run bottling launch, Director and co-founder of VCL Vintners, Stuart Thom, said: "His Majesty's Coronation is a once-in-a-lifetime moment that we wanted to celebrate. King Charles III is a great lover of Scotland and Hebridean whisky, and we believe this bottling line is an ode to his character as a public figure. We wanted to offer something that serves as a valuable memento for this great occasion, crafted by the soil and water of the land he protects. Whisky represents togetherness, craftsmanship and unity like no other spirit, and we want to commemorate that and put meaning at the heart of its creation."