TO KICK OFF THE EVENING: ENJOY A SCENTED APÉRITIF MOMENT THE STAGE WITH MILLER HARRIS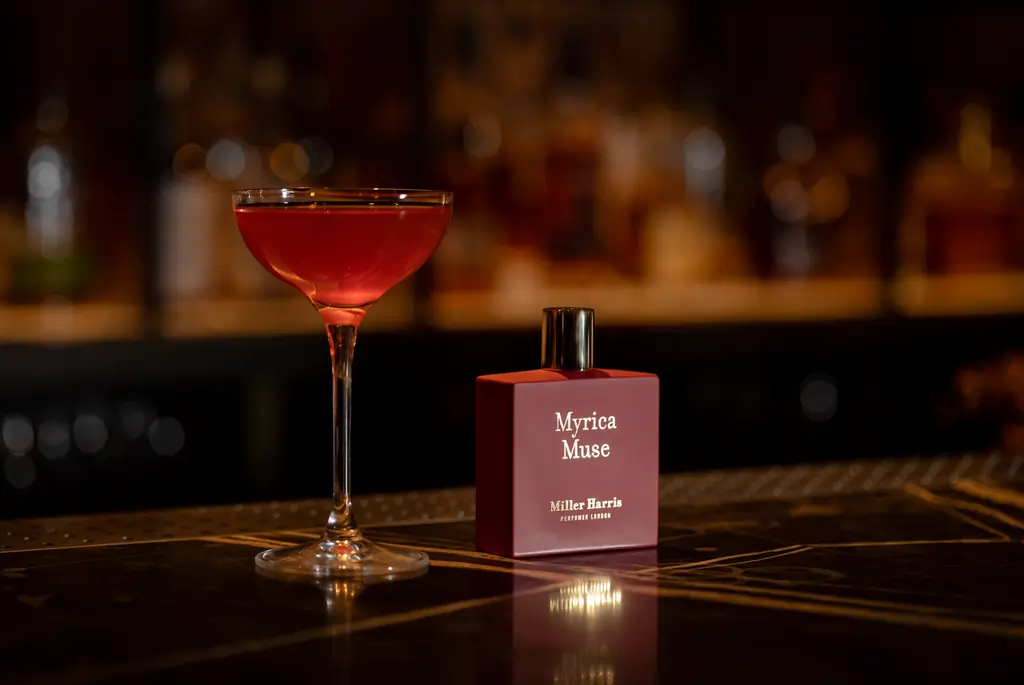 Leicester Square's super boutique hotel, The Londoner, has collaborated with couture British fragrance house, Miller Harris to add a unique cocktail and perfume pairing to the menu at The Stage – the property's signature champagne bar, situated in the hotel lobby. The Stage Muse apéritif will be served from 6th – 19th February in celebration of Valentine's Day.
Expertly created by The Londoner's innovative in-house Mixologists, The Stage Muse is inspired by London Perfumer, Miller Harris' latest fragrance, Myrica Muse. It blends notes of rose, red fruits and Jasmine, made with East India Company gin, Muyu Jasmine liqueur, citrus cordial, Jasmine tea infused with freeze-dried strawberries and topped with Billecart-Salmon Brut Rosé Champagne NV.
The limited-edition cocktail will be served alongside an enchanting vial of Myrica Muse – a fruity, floral, musk Eau de Parfum with notes of of bayberry, rum and rose, making for a multi-sensory and indulgent experience in the plush environs of The Stage, delicious on its own or as a special finishing touch to Afternoon Tea. And because a stage is not a stage without performance, guests at The Stage on Thursday, Friday and Saturday evenings as well as Saturday and Sunday afternoons can enjoy the cocktail with the accompaniment of live music.
Most-observant visitors of The Londoner will note that Miller Harris products can be found throughout its bathrooms. The two contemporary London brands are united in their embracing of the very best of British luxury, heritage and culture making this a truly special partnership.
The Stage Muse is available from 6th – 19th February at The Stage, The Londoner priced at £18.
FOLLOWED BY: VALENTINE'S OMAKASE WITH SAKE ON THE ROOFTOP AT 8
For one night only, The Londoner's rooftop bar, 8 will be serving an exquisite Japanese omakase tasting menu with a glass of Billecart-Salmon Brut Rosé for Valentine's Day.
Guests will enjoy six dishes including seared beef gyoza tacos with truffle chilli dressing, lobster tempura with ama ponzu and Chilean sea bass with shiso salsa. The Vegetarian Omakase menu features delicious vegetable gyoza tacos with spicy avocado salsa, chargrilled cabbage steak with japapeño truffle butter and black pepper vegetarian chicken.
Both menus can be complemented by four curated choices of Sake – expertly paired with the dishes.
The Valentine's Omakase Menu is available from – at 8, The Londoner priced at £220 per couple or £350 per couple with a sake pairing.