Those heading to the German capital on business should find time to explore the city's cultural hotspots and culinary magnificence – Finbarr Toesland shows the way



Home to more than three and a half million people, Berlin offers business travellers a deeply modern experience, cultivated in part by the diverse range of companies based in the German capital. It is the EU's most populous city, a global leader in industries such as biotechnology, creative, information technology, electronics and automotive, as well as being home to a broad array of high- ranking educational institutions, including the Hertie School, Free University and Humboldt University. Renowned for its vibrant cultural scene, Berlin offers a whole host of wonderful distractions for those in the city on assignment, backed up by terrific hotels and a sumptuous menu of dining options.


Suite appeal
Hotel de Rome, a Rocco Forte Hotel, is viewed by many as one of the finest hotels not just in Berlin, but in Germany, and for good reason. This five-star beauty sits in a prime position on historic Bebelplatz, just a short walk from Museum Island, and is well- located to access most of Berlin. A downtime dream for the curious business traveller, Museum Island brings together five cultural and historic centres that date back to the time of Prussian rulers.
Hotel de Rome is a firm favourite for those seeking an elevated experience. Much of the building's original marble columns and stunning iron staircase have been beautifully preserved and the services and amenities are pretty much impeccable. The former headquarters of the Dresdner bank, the hotel is able to accommodate hundreds of people for conferences and events, with the breathtaking grand ballroom arguably being one of the best locations for business events in Berlin.
A ten-minute walk from Hotel de Rome is Chateau Royal Berlin, which hit the Berlin hotel scene in September 2022 and has quickly made a name for itself as a must-stay for lovers of contemporary art and architecture. Mere seconds away from the Brandenburg Gate, in the heart of Berlin Mitte, the 93-rooms of Chateau Royal span five floors and all feature artwork from a diverse array of artists with connections to Berlin, including Alicja Kwade,
Thomas Demand and Danh Vo. Every space at Chateau Royal has been meticulously designed to create a high-end environment, all the way from custom-made furniture, to inventive design materials, including the colourful marble and herringbone parquet which the hotel says offers a "contemporary twist on Berlin Bohemia".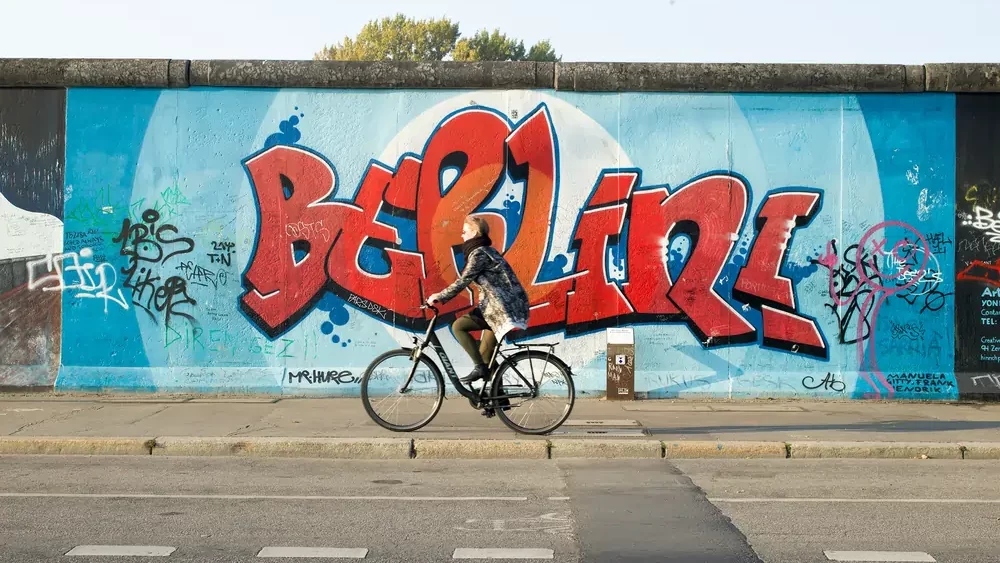 All-in-one
Housing a bar, restaurant, event space and even a club all under one roof, visitors to The Grand on Hirtenstraße will find it hard to leave this eclectic location. A shabby chic design philosophy serves as the inspiration for The Grand, with vintage objet d'art, elegant furniture and all manner of artworks found in this former primary school building. Hints of the past can be found for guests who look a little deeper, with old classroom portraits adorning the walls.
A great deal of thought has been put into the event spaces of The Grand. Covering 1,000-sqm, up to 800 can fit comfortably in the many areas of the building, and thanks to a flexible suite and room concept The Grand has been used for virtually every type of event from seminars to product launches and conferences to film shoots.
The relaxed bar has a definite old-school vibe; here cigars are smoked to the soundtrack of an expertly- curated set by DJ Don Rogall, and the signature cocktail – The Grand Mule – is not to be missed. Just one floor up sits The Grand Club, quintessentially Berlin, with a sophisticated decor and clientele.
Moving on to The Grand restaurant, where diners can expect German-French delicacies, as well as selections from The American Southbend grill. It's difficult to not overindulge in the prime cuts cooked in the grill, which reaches temperatures of 800°C to perfectly caramelise the meat. The vanilla crème brûlée with fruit sorbet is a clear stand-out, a classic dessert perfectly executed.
The Curtain Club at The Ritz-Carlton Berlin serves as an ideal location for after-work cocktails to sample drinks inspired by the Roaring Twenties, while listening to live music. Located on Potsdamer Platz, this lively hotel bar offers signature delights such as Roaring Scenography and TruffleTini. Indeed, lovers of heady cocktail innovation will find themselves right at home here. En route to The Curtain Club, take a quick detour through Palaces and Parks of Potsdam, which were marked as a World Heritage Site by UNESCO in 1990, and can provide much- needed respite after a long day of meetings.


Treat yourself
Holding two Michelin stars, gaining the highest rating of 19.5 from Gault Millau and ranking 26th on The World's 50 Best Restaurants 2022, Restaurant Tim Raue is one of the most acclaimed culinary destinations in Germany.
During his many trips to Thailand and China, chef Tim Raue developed a deep admiration for Asian cuisine, and Restaurant Tim Raue is the culmination of years of experimentation with German influenced Asian fusion. The open-plan main dining space feels effortlessly modern and chic, and its business- casual dress code is observed loosely by a clientele ranging from couples, to fine-dining aficionados, and businesspeople enjoying an extravagant lunch. Be sure to join them.
Guests can choose anything from a four-course menu up to eight courses, with the signature dishes of wasabi langoustine and Peking duck also able to be added to the experience. Starting off with white kim chi, elderflower and grapefruit and followed by goose liver, jiaogulan and matcha, palates are in for a complex culinary journey across the chef 's beloved Asia. Stand-outs from the lunch menu are sangohachi pikeperch, sauerkraut & peruvian mint, wagyu beef, red pepper & green pepper and the perfectly plated pecan, pear & andoa chocolate.
Before dining at Restaurant Tim Raue, pop over to Checkpoint Charlie, which is just steps away. This famous former crossing point between East Berlin and West Berlin is home to the Checkpoint Charlie Museum that showcases photographs and artefacts relating back to the separation of Germany.
A few minutes away from Restaurant Tim Raue on Friedrichstraße is Nobelhart & Schmutzig. Rather than simply a restaurant, Nobelhart & Schmutzig is best described as an experience in cuisine. With each of the ten-courses made using only local ingredients, it can take up to four hours to enjoy this irreverent dining journey. Operating a strictly enforced no-photos policy, Nobelhart & Schmutzig hope that guests take the opportunity to take a break from everyday life and the distractions it brings. The ever-changing menu names the supplier next to each course, with dishes such as spaghetti squash and egg yolk and Bresse chicken and coriander seeds being accompanied by a vast wine selection.


Fine dining, fine view
Nestled away on the 14th floor of the InterContinental Berlin, Hugos Restaurant offers unmatched views over Berlin. Maintaining a Michelin star since 1999, Hugos has continued to provide both locals and visitors alike with a culinary experience that will live long in the memory.
Led by Michelin-starred chef Eberhard Lange, the team at Hugos showcase creative cuisine built around hard-learned skill, rather than hype or spectacle. The eight-course degustation menu, with superb wine paring by noted sommelier Andrew Connor, succeeds where many other restaurants fail; serving a tasting menu that is innovative and broad, without becoming cluttered and overwhelming.
Ingredients are expertly combined to turn out balanced dishes, with the Brandenburg venison, with saddle, salted filet, buckwheat crêpes, mushrooms, romanesco and quince, displaying why high-quality produce is essential in fine dining. The Yellowtail kingfish, with tartar, sashimi, jalapeño, cucumber, seaweed and buttermilk, as well as the Veal sweetbread, with onion, sweetcorn, fermented radish and mizuna, are exceptionally good.
Even on a short business trip, Berlin presents a host of opportunities to experience some of the very best Germany has to offer. From high-end dinning options that run from experimental to classical, and hotels both old and new that interpret Berlin culture in a myriad of ways, every visit to Berlin offers visitors a new perspective on this historic city.