Dreams can come true, just ask Alistair Rankin, Murray Collins and Chris Hatshe. Alistair and Murray have been friends since childhood, Chris has known them for 20 years or so. They dreamt of building amazing safari camps in Botswana's Okavango Delta. Today that dream is a reality thanks to Machaba Safaris.
Machaba, the name of the sycamore fig in the local Setswana vernacular, is also known as the tree of life because of its abundant fruit. Fittingly, it's proved a fruitful name for the trio's business. Their first offering, Machaba Camp, which opened in the Khwai concession in 2013 has become a firm favourite on the safari circuit.
It has since been joined by Little Machaba, Gomoti Plains Camp and the brand new Gomoti Private camp, all of which have become synonymous with authentic, sustainable safaris in one of Africa's last great wilderness areas.
Not content to leave it at that, last year Alistair, Murray and Chris took the Machaba brand to Zimbabwe, teaming up with long-time friend Blessing Munyenyiwa, who joined the team at Machaba Safaris. Together they introduced the superb Verney's Camp in Hwange National Park.
"It's been a steady burner," says Alistair. "Machaba Camp grew organically from the day we opened it. We were blessed to be in an incredibly game-rich area and our guests were hungry for immersive, unobtrusive and completely sustainable safari experiences, and that's exactly what we have given them since day one," he adds.
Machaba Camp has become a flagship for just how environmentally friendly a safari operation can be. The entire camp is run on a hybrid electrical system that incorporates solar energy and a generator, with a solar farm harvesting energy from Botswana's legendary sunshine while the generator acts as a back-up during peak periods and the occasional cloudy day.
"Our hot water is also sustainable," says Alistair. "It's based on a thermodynamic solar energy system that ensures hot water no matter what the weather, and we use solar geysers throughout, even in our staff houses," he adds. Combine this with energy efficient fridges in the camp kitchen which are turned off each night, low wattage light bulbs, paraffin lanterns in the evening, a coal cold room and cellar and you'll begin to understand Machaba's commitment to living and working 'green'. "Even our septic tank system is environmentally friendly," laughs Alistair.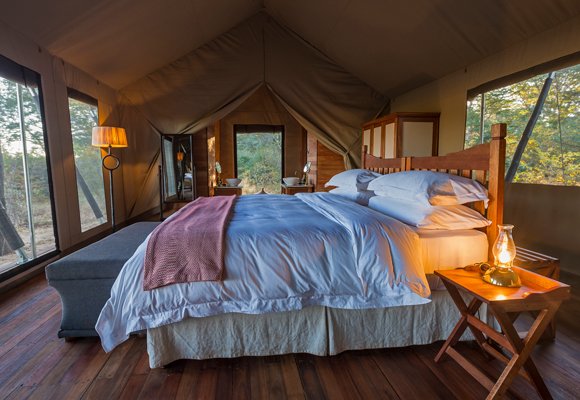 Stream of wildlife
The camp itself has 10 luxury tents built on the ground under a canopy of large, riverine trees. Secluded verandas allow guests to view a constant stream of wildlife coming down to drink from the river in front of the camp. Situated on the same island is Little Machaba, with four luxury tents raised on decks overlooking an expansive floodplain. It shares a similar style to its 'big sister' but is run separately, offering a smaller, more exclusive feel.
Gomoti Plains Camp has 10 luxury tents that enjoy views over the Gomoti river system's floodplains and waterways. It's an exclusive area, known for its large concentrations of wildlife and packs of wild dog. Its brand-new exclusive accommodation, Gomoti Private, has just opened with just two luxury tents plus a private dining and pool area.
Verney's Camp is in a 10,000-hectare private concession in the south-eastern section of Zimbabwe's Hwange National Park. Here, 10 luxury tents tucked away in a beautiful teak forest overlook a busy waterhole frequented by the area's elephants.
"Over the last few years we have been expanding slowly, identifying conservation areas which fit our brand and philosophy," says Alistair. "We've secured another two incredible areas in Hwange and one in Mana Pools National Park which will be home to three new camps, with the first one, Deteema Springs Camp, coming onboard in May this year," he says.
Deteema Springs will have eight luxury tents, all on decks connected by raised walkways meandering through a unique site that is home to a collection of rocks and trees overlooking the Deteema Seeps in the diverse, mountainous northern region of Hwange.
Opening a month after Deteema on 1 June 2019 will be Deka Camp, consisting of just six tents. Set on top of a small hill overlooking the permanent water of the Deka seeps, the views here stretch forever. Deka will offer some of the best walking in Zimbabwe, as well as night drives in its concession. Ingwe Pan Camp in the legendary Mana Pools National Park will open its doors in 2020.
"We're exceptionally excited at the prospect of expanding our Zimbabwe footprint," says Alistair. "The new camps are going to be amazing additions to the Machaba portfolio, and we look forward to welcoming our first guests," he says. Θ
Further information
machabasafaris.com