Cape Verde is a country full of surprises. Located around 570 km from the west coast of Africa, this stunning archipelago comprises nine inhabited islands – all are equally beautiful, yet each is truly unique in its own right.
You may have heard about the idyllic beaches and luxurious all-inclusive resorts, but Cape Verde offers so much more. It is a country rich in culture, otherworldly landscapes and fascinating experiences. Whether for leisure, or for corporate travel, local tour operator Terra Sab Group can provide customised products on each of the islands. Terra Sab offer unforgettable trips over one or two weeks, so you can get to know the islands in a myriad of ways.
Start with a relaxing stay on either Sal or Boa Vista, where the best hotels and restaurants are combined with year-round sunshine and immaculate white-sand beaches. The islands' dunes and deserts are home to some of nature's most treasured moments – not least the spawning of the Caretta Caretta sea turtles. Sal and Boa Vista are perfect to recharge your batteries before exploring the islands.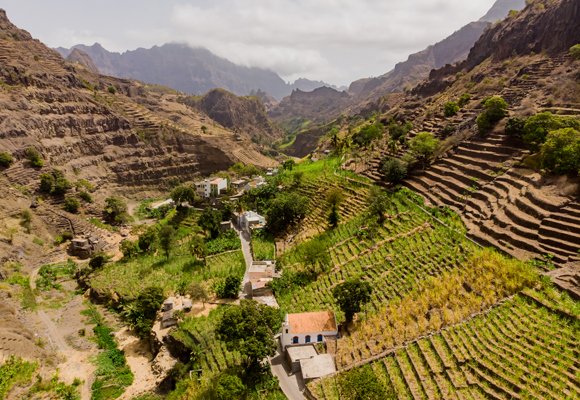 From here it's a 45-minute flight to São Vicente and Santo Antão, where you will discover just how diverse Cape Verde really is. São Vicente is a colourful island of culture, music and carnivals, while Santo Antão invites you to its verdant mountains and abundant trekking opportunities. A short, scenic boat transfer separates the two islands.
Next is Santiago, the most historic and traditional of the islands and a must-see on your tour. And then there are the lunar landscapes of Fogo, the site of several recent volcanic eruptions, the last in 2014. But don't worry, seismic activity is monitored and the volcano is now a big part of Fogo's attraction. Visitors have the chance to hike up the volcano or even spend the night in the surreal silence of the crater at the Chã de Caldeiras village.
Continue with a boat trip to the smallest inhabited island, Brava. Also known as the Flower's Island, Brava is big on hospitality and welcomes visitors with warm smiles and traditional cuisine.
A trip to Cape Verde is always guaranteed to be a rich, cultural experience. With its blend of cultures, the art of making you feel at home has come to define this Creole people. So much so, they even have a word for their openness and free spirit, "morabeza". So come, experience it for yourself. ✱

Further information
www.terrasab.com