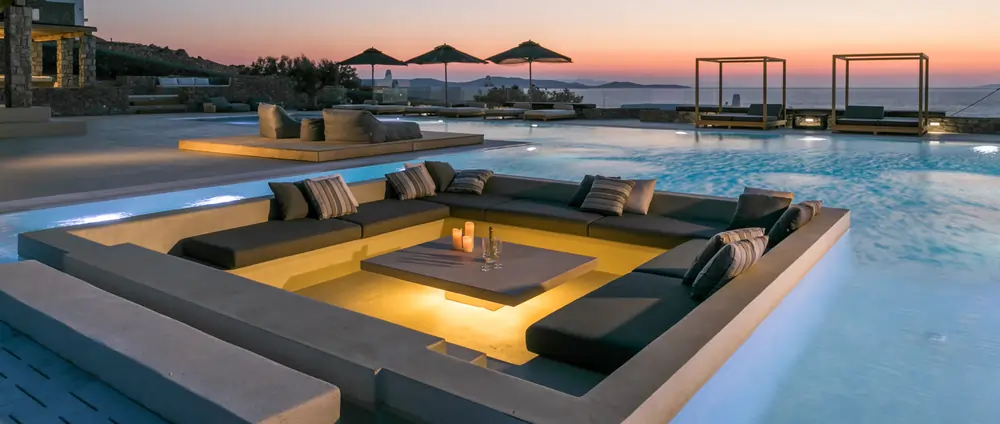 Picture summer how it should be – relaxing by the pool, dancing the days away and exploring new and wonderful places. And where better to spend it than under the warmth of the Mediterranean sun? Europe comes alive in summer, with its stylish beach bars, home to the rich and famous, and city centres bursting with glamour and vibrant energy. But it's often hard to pick the destination that ticks all the boxes.
So, take note of these 'must-try' Mediterranean destinations – all tried and tested by The Villa Edit team. These really are the hottest destinations for Summer 2023.


Best for Socialising: MYKONOS
With jet setters and the made-in-Chelsea crowd favouring this charming Greek island, Mykonos is tipped to be the hottest destination for Summer 2023. It's out with exhausting clubbing in Ibiza and in with the contrast and character of this mesmerising whitewashed island. Days are spent in the effortlessly cool boho beach clubs of Scorpios and Hippie Fish, sunbathing on golden sandy beaches and boutique-shopping in Mykonos town.
The fun doesn't stop after the sunset. Mykonos has a chic and lively nightlife and a gourmet restaurant scene. Spend the days at fabulous beach restaurants and then dance the night away at elegant nightclubs and international parties.
Where to stay: Villa Sahara, Mykonos
Villa Sahara in Mykonos is built to make the most of its spectacular sunset location. It's a 15-minute drive from Mykonos Town and a 6-minute drive from the beach at Agios Ioannis and its famous Hippie Fish restaurant – one of the best on the island. The jewel in the crown is the horseshoe- shaped pool dotted with several shaded alfresco dining areas, a pool bar, jacuzzi and a sunken conversation pit, the perfect setting for gazing at the turquoise Aegean Sea.
Features: Outdoor pool, Jacuzzi, sea views From €13,300 per week


Best for Indulgence: ST TROPEZ
Combining decadence and sunshine, St Tropez is truly one of a kind. St Tropez has attracted the international jet set since the 1960s and remains popular for its luxurious boutiques, Michelin- starred restaurants and picturesque Provençal harbour lined with superyachts. Moments from the town sits the 5-km-long white sandy beach of Pampelonne Bay. St Tropez has 24 beach clubs to explore – from Club 55, Moorea and Nikki Beach to the latest must-try beach club Byblos, with its laid-back Ibiza vibe and Mykonos-style decor. This French Riviera gem should be on everyone's summer villa holiday list.
Where to stay: Villa Waters Edge, St Tropez
Designed and styled by professional architectural designers, Water's Edge is an ultra-luxury home-from-home where everything has been thoughtfully put together. The change between indoor and outdoor living is seamless thanks to the large terrace off the elegant dining room. The covered terrace is the perfect place to enjoy a cold glass of Côte de Provence rosé, whilst the dining room is ideal for formal events and parties.
Features: Outdoor pool, cinema room, large garden From €40,000 per week


Best for Families: CORFU
Corfu is an island that charms quickly and impresses easily. The second largest of the idyllic Ionians, this Greek island boasts an impressive Roman and medieval history, unique culture, stunning natural beauty and a wonderfully slow pace of life. Corfu truly is a unique Mediterranean paradise. From the Venetian architecture of Corfu Town and the traditional tavernas in Agni Bay to the popular fishing village of Kassiopi in the north-east of the Island, Corfu is a favourite for families and it's easy to see why. Renting a small boat to explore is a must.
Where to stay: Villa Ulysses, Corfu
Perfectly combining privacy and ultra-luxury surroundings, Villa Ulysses is run like your own five-star deluxe hotel, where the only guests are your friends and family. This world-class luxury villa prides itself on being a cut above the rest.
Features: Outdoor pool, private dock, cinema room From €136,000 per week
Best for Culture: MALLORCA
The older, more sophisticated sister of Ibiza so to speak, Mallorca offers a more relaxed take on nightlife and the social scene, whilst not compromising on style. Picture endless beaches, delicious local tapas, a vibrant restaurant scene, lively beach clubs and dramatic sea views – Mallorca has it all. Packed with historic towns awash with small boutiques and markets, Mallorca is the perfect blend of modern sophistication and rustic beauty.
For adventurous travellers, a luxury yacht charter or a boat trip is a must-do, allowing you to dive in the hidden coves or take lunch on board, surrounded by aqua-blue vistas.
Where to stay: Villa Dulcina, Mallorca
Just a short 10-minute drive from Palma city centre sits Villa Dulcina, Mallorca, an old colonial manor house set in an oasis-like garden with a striking jet-black pool and a vast shaded outdoor kitchen. Perfect for large family groups, Villa Dulcina sleeps 16 guests in 8 immaculately furnished bedrooms. Located in a quiet part of Palma, Son Roqueta, and within easy reach of the island's nightlife and beaches, this luxury Mallorca villa offers you the best of both worlds – exquisite privacy and serenity, whilst being close to all that Palma has to offer. Indulge in luxury living at its finest.
Features: Outdoor pool, cinema room, large garden From €17,400 per week
Best for a Rural Escape: CORSICA
Want to visit Caribbean-style beaches without jet lag? Then Corsica is the answer for you. Aptly named Île de Beauté, this laid-back French island has vibrant scenery, with everything from a distinctive red granite mountain range to crystal clear waters in south Corsica. Whether you are looking for a luxury beach villa in Corsica or want to get lost in the wilderness in a private luxury villa with a pool, a luxury villa holiday at Corisca will never disappoint.
Where to stay: Villa Marie, Corsica
Offering both privacy and serenity, Villa Marie is a one-of-a-kind luxury Corsican villa, perfect for families and friends to enjoy together. Boasting magnificent panoramic views over Palombaggia Beach and onto the Cerbicales islands and Sardinia, Villa Marie will make you feel like you're in paradise.
Features: Outdoor pool, garden, terrace From €15,000 per week
Further information
Bookable with The Villa Edit: www.thevillaedit.com | info@thevillaedit.com
Tel or WhatsApp: +44(0) 208 133 1130