Baden-Baden is a hidden gem, an unforgettable city where wellness meets world-class gastronomy and opulent nightlife
Close your eyes and imagine your ideal destination. Do you picture a charming, cosmopolitan town that offers tranquility and excitement all in the same day? How about a home away from home with rolling vineyards and the famous Black Forest on your doorstep, where you can escape from the stresses of life and recharge your batteries in thermal baths?
Or maybe you seek adrenaline-fuelled activities? Such as flying from a mountain peak on a paraglider, trekking adventurous trails with magnificent views, or an excitement-filled evening in one of the world's most magnificent casinos.
Baden-Baden, nestled to the north of the Black Forest in Germany offers all of this and more. From hot thermal springs and soothing spas, to outdoor exploration and rich culture, there is never a shortage of things to see and do in the city.
Immerse yourself
To choose your accommodation in Baden-Baden is to choose from a world-class selection of superior spa and wellness hotels. Whether you're looking for the ultimate in five-star luxury, or romantic, quintessential charm, there is something for everyone. The very embodiment of relaxation can be found at the city's two thermal baths, where the healing properties of the warm, natural spring water combine with a range of high-quality beauty treatments that luxuriate the skin. The modern Caracalla Spa with more than 43,000 sq-ft of bathing and wellness space creates an exceptional ambience for relaxation in its thermal waters. The historic Friedrichsbad is home to more than 140 years of bathing history, and brings traditional Roman bathing culture and Irish hot-air bathing into the modern day. Having rejuvenated the Baden-Baden way, it's time to get out and about.
Natural wonders
Far from the hustle of Europe's metropolises, Baden-Baden is a haven of tranquillity where the natural world takes centre stage. The city centre is a car-free zone and everything can be reached on foot. For a breath of fresh air, visitors can stroll through the many picturesque parks and gardens, home to some of the most exotic floral varieties. The Lichtentaler Allee, a 3-kilometre-long green oasis, invites for relaxing walks or horse carriage rides. Home to Germany's largest municipal forest, Baden-Baden is a great destination for walks and hiking tours. The most beautiful view and the best spot for lovely sunsets is Merkur Mountain – the highest point of the city. A funicular railway takes you up to the peak in only few minutes. For those looking to get the adrenaline pumping, it's also the starting point for paragliding.
The city is also the gateway to the Black Forest Panoramic Route, which leads to the national park and impresses with its natural surroundings and splendid views over the mountains and the Rhine Valley.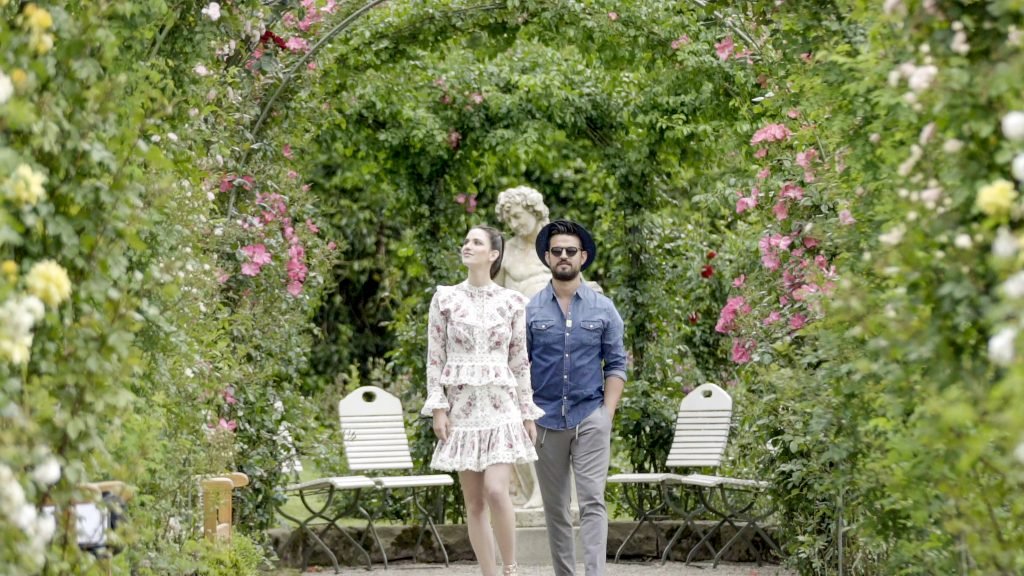 Out and about
From a shopping paradise, to mouthwatering cuisine and a wealth of exciting cultural events, Baden-Baden is a city that has everything. Wander down its picturesque streets and discover exquisite boutiques selling luxury brands and locally made gifts. Gastronomy abounds in Baden-Baden, with everything from world-renowned Michelin-starred restaurants, to charismatic local taverns. With a range of international and local cuisines available, delicious food is always just around the corner, while oenophiles can venture out to the city's wine region, the Rebland – Germany's second largest Riesling growing district.
Those with a passion for the arts can immerse themselves in a veritable wealth of cultural offerings. The Festival Hall Baden-Baden is Europe's second largest opera and concert hall, known for its incredible acoustics and world-class roster of artists. The Museum Frieder Burda, built by famed New York architect Richard Meier, is a must-see for visitors who love art and architecture, whilst the Fabergé Museum – dedicated to the life's work of Russian jeweller Carl Peter Fabergé – offers a completely unique experience. There are also a variety of annual events in and around the city, including international horse racing, vintage car meetings, food and music festivals, concerts, opera, ballet, and much more.
What a way to end the day
Arguably the city's crowning jewel is the Casino Baden-Baden. For an evening rich in excitement and unparalleled opulence, there is no better place than Germany's oldest casino, which was once named as the most beautiful casino in the world. Visitors can don their dresses and suits ready for an adventure into the world of roulette, blackjack, and poker.
Baden-Baden is a truly enchanting city, exuding class and sophistication at every turn. Yet, for every piece of modern luxury, there is an equally charming reminder of the city's historic traditions. A must-see for every traveller, this is one destination that cannot be missed. It's why locals like to describe living in Baden-Baden as 'the good-good life'.
Further Information