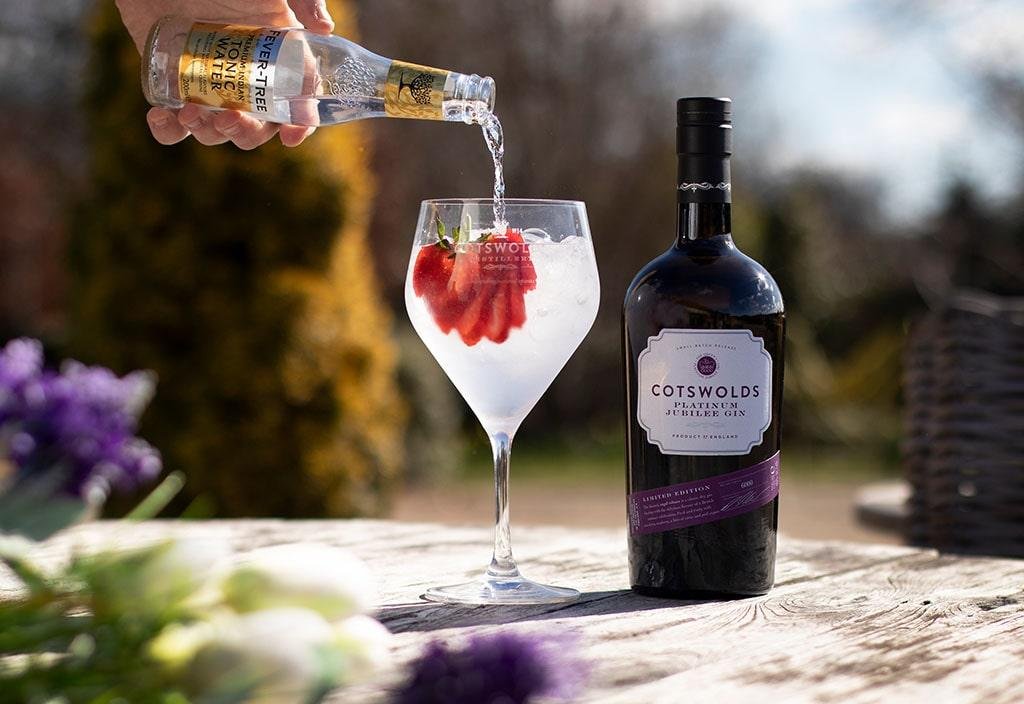 The Cotswolds Distillery is delighted to announce the launch of its limited edition Platinum Jubilee Gin, available in the UK this May. The limited edition Platinum Jubilee Gin is a delectable blend of nine carefully considered botanicals, layered with strawberry, raspberry and pink pepper. Bursting with fruity notes of jammy raspberry, strawberry and fresh citrus, it leaves a delicious taste of smooth vanilla ice cream in the mouth and is the perfect drink to toast the Queen's Platinum Jubilee!
Dan Szor, Founder of The Cotswolds Distillery, says: "We are delighted to launch our Platinum Jubilee Gin to celebrate the unprecedented anniversary of Her Majesty The Queen. It encapsulates the taste of summer in a bottle for everyone to enjoy with family and friends. The Platinum Jubilee Gin is the perfect addition to our best-selling Cotswolds Dry Gin and is a must have on your garden table this summer."
In regal livery, this limited edition release has been especially created in commemoration of the Platinum Jubilee of Queen Elizabeth II. Inspired by classic British summer desserts, the Cotswolds Distillery wanted to make a gin with all the depth of flavour and complexity expected of a Cotswolds Distillery gin, but with a delicious summertime twist.
The Platinum Jubilee Gin is a classic dry gin bursting with the delicious flavour of a British summer celebration – it is fresh and fruity with strawberry, raspberry and a hint of citrus and pink pepper. The Jubilee Gin is presented in a dark glass bottle with an eye-catching regal purple and silver label. The result is a bright gin bursting with summer flavour, creating the perfect combination between the classic and contemporary to mark this very special event.
Tasting Notes 
Nose: Fresh citrus notes of grapefruit, crushed juniper and pink pepper
Palete: Jammy raspberry bursting with fresh strawberry and a hint of vanilla
Finish: Lots of vanilla and smooth ice cream
Signature Serve
The Platinum Jubilee Gin makes for the perfect celebratory G&T when mixed with tonic and garnished with fresh strawberries.
The Cotswolds Distillery Platinum Jubilee Gin ABV: 46%. RRP £34.95
Available to purchase soon from Majestic Wine
For further information:
www.cotswoldsdistillery.com  
Instagram: @cotswoldsdistillery 
Facebook:  @cotswoldsdistillery 
Twitter: @cotswoldistill