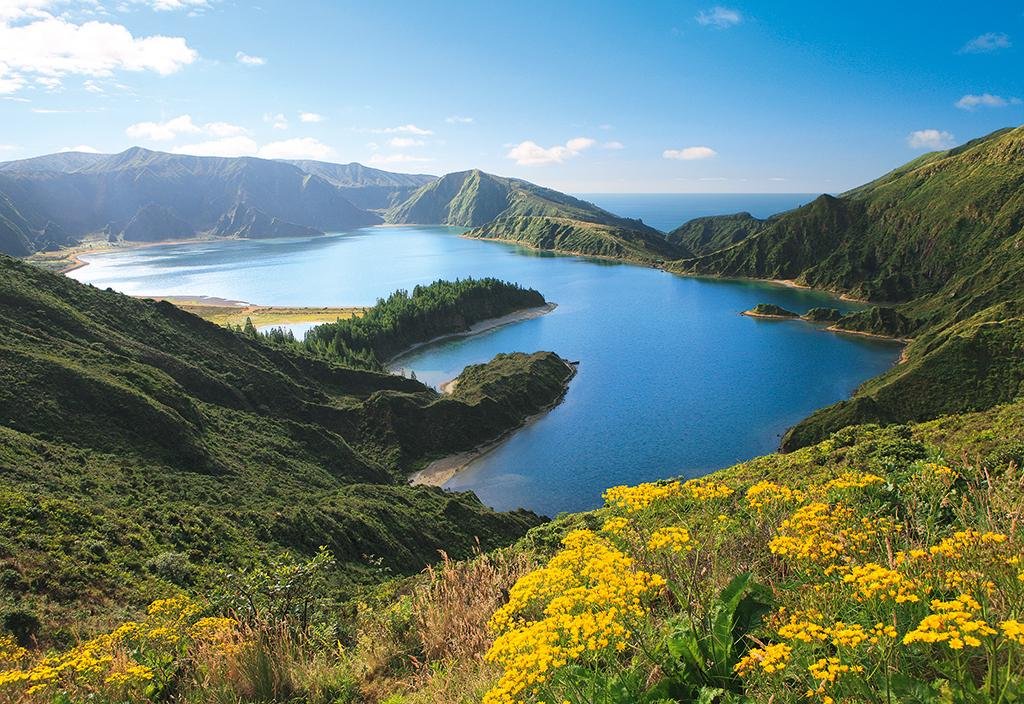 A place of warm, local hospitality and beguiling landscapes, the Azores offers a glimpse of our planet at its most beautiful. Tania Braukamper explores
Does paradise exist on Earth? If so, it might be the kind of place that is impossibly lush and green, where tropical fruits tempt you to sip their nectar and hot springs bubble up from the ground. A place with dramatic coastlines, picturesque beaches and emerald lakes – a place of raw beauty and palpable tranquillity.
But there's something else: beyond all that, we need to consider a new definition of Earthly paradise. One where the place of our dreams isn't just verdant and beautiful, but sustainably so.
If there's one destination that satisfies all of the above, it's the Portuguese archipelago of the Azores.
Sustainable beauty
The Azores is a cluster of nine small islands that sits roughly 1,600 kilometres west of Portugal's mainland. If that kind of measurement doesn't mean much to you, just know this – it's a hop, skip and a jump away from the UK by plane. Even better, flight options are about to expand in summer 2022, with British Airways opening up new direct flights from London to two of the archipelago's must-visit islands – São Miguel and Terceira Island.
The increasing tourism opportunities aren't a worry for the Azores – quite the opposite. This autonomous region of Portugal is committed to preserving all the things that make it so special, and tourism is seen not as a problem, but as part of the solution.
In fact, in December 2019, the Azores became officially recognised as the world's first island archipelago to be certified under the EarthCheck Sustainable Destination programme. In other words, it's one of the most sustainable tourism destinations in the world – an honour currently shared by only 13 regions across the globe.
So, thoughtful travellers rejoice. By lavishing in all that these verdant islands have to offer, you can support the very initiatives that sustain them.
Spoiled for choice
The nine islands, all volcanic in origin, share a number of common characteristics. But that doesn't mean it's a case of 'seen one, seem them all' – anything but. Each island has its own unique siren's call that beckons travellers to visit time and again.
São Miguel, the largest and most populous of the islands, proudly carries the nickname of The Green Island. One look at its rolling hills and lush landscapes will immediately tell you why. Embedded in those landscapes are breathtaking crater lakes that awe visitors with their jewel-bright colours. Hike around the stunning Lagoa do Fogo, or admire the twin lakes of Sete Cidades – one green as emerald and one sapphire blue, two gems set in the crown of a dormant volcano.
São Miguel is also home to Ponta Delgada, a charming city that acts as the economic hub of the islands. The civilised comforts of the city balance the unspoiled nature that surrounds it, making the island perfect for a luxury getaway.
Santa Maria is the Yellow Island, thanks to its sunny climate. Here, white sand beaches are sugar-soft and serene, in contrast to the dark and dramatic volcanic sands of the other islands.
Then there is Terceira, the Lilac Island, best known for the UNESCO World Heritage Site Angra do Heroísmo. The word 'picturesque' doesn't do this city justice, and from the historic fort to the fascinating museum, there is no shortage of things to see.
Graciosa, the White Island, is home to Flemish-style, red-roofed windmills, rare Azorean dwarf donkeys, and relaxing thermal spas. The Grey Island, Pico, is home to Portugal's highest peak –Mount Pico. Measuring 2,351 metres in height, it represents a real challenge, but if you're up for it, pack your hiking shoes, reach out to a qualified local guide and be prepared for views that you will never forget.
Every summer, thousands of pink, blue and purple hydrangeas awaken to turn each of the islands into a pastel-washed, efflorescent paradise – none more so than the island of Faial, nicknamed the Blue Island. A short ferry ride from Pico, it is also home to a vast volcanic caldera with a hikeable rim.
The fertile Brown Island of São Jorge is home to unique fajãs – plains created by flowing lava – as well as stunning surf spots and an excellent wining and dining scene.
Flores, the Pink Island, is a UNESCO Biosphere Reserve that welcomes visitors with cascading waterfalls, crystal lagoons, and virgin forests. And finally, the tiny island of Corvo, which happens to be Europe's most remote: dubbed the Black Island, it's a bird-watcher's dream destination.
All of that's just scratching the surface of what the Azores has to offer. From volcanic caves to scuba diving, thermal springs to wine tasting, unforgettable experiences as all around.
Wildlife wonders
Marine life in the Azores is impressively diverse. 1,883 marine species have been identified so far, and almost
a third of the world's 92 cetacean species can be found frolicking near the islands' shores. It is the various
types of baleen whales that draw the biggest gasps from onlookers: there's undeniable privilege in being able to observe the humble majesty of these gentle giants as they breach the blue waters.
In line with the Azores' conservation goals, there are strict regulations in place to make sure whale and dolphin watching activities are safe for both humans and wildlife. Biologists are on hand to brief tourists and monitor the activities, a practice that only adds value to the experience for all involved.
Deep flavours
If you've never eaten a hearty stew that's been slow-cooked in a volcano, now's your chance. Cozido das Furnas, which you can find in the town of Furnas on São Miguel, is just one of the deservedly famous dishes of the islands. How do you make it? Take a huge pot, fill it with various meats and vegetables, then bury it in the ground for five hours or so until it's been succulently cooked by the geothermal heat.
Elsewhere across the archipelago you can sample a bounty of fresh seafood, distinctive handmade cheeses (Queijo de São Jorge is a must), mouthwatering traditional cakes and pastries, and seasonal exotic fruits.
For the roving oenophiles, there is no shortage of unique wine experiences to be had. Don't miss the UNESCO World Heritage listed wine region on the island of Pico, where the vines creep wildly along the lava- formed rocky ground instead of on tidy trellises. It is a site to see – and a pleasure for the tastebuds.
Inimitable keepsakes
Artisanal offerings are bountiful on the islands, with Azorean handicrafts spanning ceramics, embroidery, weaving, and more. For something truly unique to the region, try flower arrangements made with fish scales, dolls made from corn leaves, and miniatures made from fig tree pith.
Take home a vibrant piece of local embroidery, a gown made from Azorean lace (called Rendas dos Açores), or even a viola da terra – a complex and beautiful Portuguese guitar that dates back to the times of the first settlers. As well as supporting local artisans, you'll have a one-of-a- kind keepsake that will forever stir up fond memories of your island adventures.
Safe by nature
Want yet another reason to go book your Azores adventure? Here it is: the islands are currently one of the safest holiday destinations in Europe. Pandemic measures here have been both strong and successful, and safety on the islands remains a top priority.
A safe, sustainable paradisiacal island getaway? It's time to get packing.
For further information: