Superyacht Foodie is a match making service that connects superyacht chefs, chief stews and provisioning companies with the producers of exquisitely unique, sustainable food and drinks, many of which are vegan or gluten free.
This extensive marketing platform delivers powerful social media directly to the digital superyacht community and curated tasting baskets directly to some of the largest yachts in the world!
Current Superyacht Foodie produce Includes:
INLAND ICE
INLAND ICE water is placed in an exceptionally rare category as the purest unprocessed drinking water on earth – with a taste that fully matches its uniqueness. The INLAND ICE has been encapsulated for more than 100,000 years – completely isolated from any contact with layers of soil and was formed long before the first human being set foot within the Arctic Circle. This process of preservation is what has kept this product of nature in a uniquely pristine state – free of any pollutants or contamination.
www.inlandice.gl
Hikiän Honey
Hikiän premium raw honey is some of the finest on the planet. Sourced from the purest areas, not processed, heated or pasteurised, free from heavy metals, pesticides and herbicides and served in deluxe UV protected glass to protect it from the suns natural aging process. This is superyacht honey.
www.hikian.com/
Laitilan
Award winning, all natural beers, lagers and long drinks made with 100% renewable energy. Gluten free, low calorie and alcohol-free options are all made with zero sugars, starch, or arrested fermentation.
www.laitilan.com
Dammenberg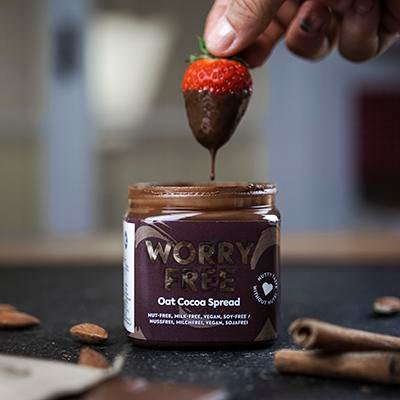 World of Food finalist Dammenberg offer Worry free™oat-cacao spreads, chocolates, truffles, and pralines that are nut free, gluten free, egg free, palm oil free, vegan and pair beautifully with a dry champagne.
www.dammenberg.fi/en
Fazer
Fazer produce Finnish hand-crafted chocolate made from 100% responsibly produced cocoa and presented in a reusable gift box made of compostable materials. They also supply gelatin and sugar free pastilles sweetened with Xylitol, a natural product that decreases the growth of harmful bacteria in the mouth. www.fazer.com
Rönkä & Maustaja
Veljekset Rönkä provide premium reindeer, beef and lamb locally sourced in the northern wilderness of Finnish Lapland with complimentary sauces from Maustaja. Quality, state of origin and animal welfare are at the forefront, giving people a healthy, ethical, and environmentally conscious choice.
www.ronka.fi & www.maustaja.fi
Elixi Oil
Elixi offer hempseed, flaxseed and fruit crush superfood mixes providing an excellent source of protein, fibre and omega 3. A perfect addition to smoothies, shakes and cereal dishes, their cold pressing process seals in all the vitamins and minerals you need.
Malax Loaf
Malax Loaf is a vegan, lactose and dairy free rye sourdough loaf that is high in fibre, doesn't contain any additives or preservatives and has a flavour you won't forget. This high-quality bread isn't just for toast or sandwiches, check out their website for fine dining main course options.
Poikain Parhaat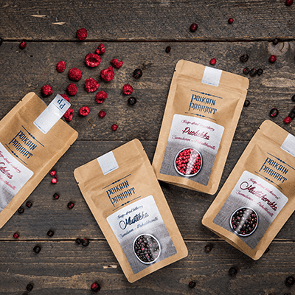 Enjoy vegan, gluten and lactose free freeze-dried berries containing no artificial flavours, colours or additives, just 100% Finnish berries. Super rich in vitamins and nutrients, processing is minimal keeping them lightly handcrafted and authentic in taste.
Ravintorengas
The secret of 'Finnish grit', this 100% organic pine extract health drink and supplement is an immune booster full of antioxidants, flavonoids and phenolic compounds found to possess many positive effects on your health.
METTÄ
All natural berries, herbs and mushrooms from the cleanest country in the world, Finland. Explore the exciting and exotic flavours of the Nordic forests in a range of herbal teas, salts, spices and dried berries.
Natural Nordic
Nothing is added to these 100% natural, nutrient dense vegan and gluten free berry, wild herb and mushroom powders and extracts. Added to smoothies, soups and other dishes, Natural Nordic products have a great shelf life and are easy to store.
Rosten
Rosten seed products are baked with love and handmade to the original recipe of a Finnish family bakery – all without yeast. Multiple flavours guarantee that you'll find your favourite in no time. Make sure you try the latest products, Seed Chips and Seed Crisp breads!
Biokia
Biokia powders are created from wild berries grown in the northern latitudes making especially rich in health-beneficial ingredients such as vitamins, flavonoids, minerals, and dietary fibre. Try Bilberry, cranberry, seabuckthorn and lingonberry mixes.
Further information