Experience the authenticity of life in an Arctic fishing village from the lap of Norwegian luxury
Hattvika Lodge -situated on the small island of Vestvagoya in Norway's idyllic Lofoten archipelago – offers exclusive accommodation in restored fishermen's cottages overlooking the harbour, together with newly-built, freestanding hotel rooms set on the hillside with mountains towering behind.
Privately-owned by the same family for six generations, Hattvika Lodge combines the authenticity of life in Ballstad, a picturesque fishing village just above the Arctic Circle, with the comfort and stylish design for which Scandinavia is so well known.
The recent restoration and refurbishment of 13 original fishermen's huts dating back to the 1880s, has resulted in a selection of luxurious accommodation ranging from 1 to 4 bedroom cabins. Modern upgrades include bathrooms with under floor heating, fully-equipped kitchens, and contemporary artwork, all of which meld seamlessly
with traditional features such as wood cladding from the original 150-year-old buildings.
High ceilings, clean lines, comfortable sofas, soft furnishings, log burners and clever lighting ideas, all add to the homely, yet exclusive ambience created by the owners, husband-and-wife duo, Guriand Kristian Boe.
The newly refurbished cabins include Seaside Suites for two, right by the waterfront, which include breakfast in the property's new restaurant just a short walk across the quay, and use of a private hot tub, overlooking the harbour.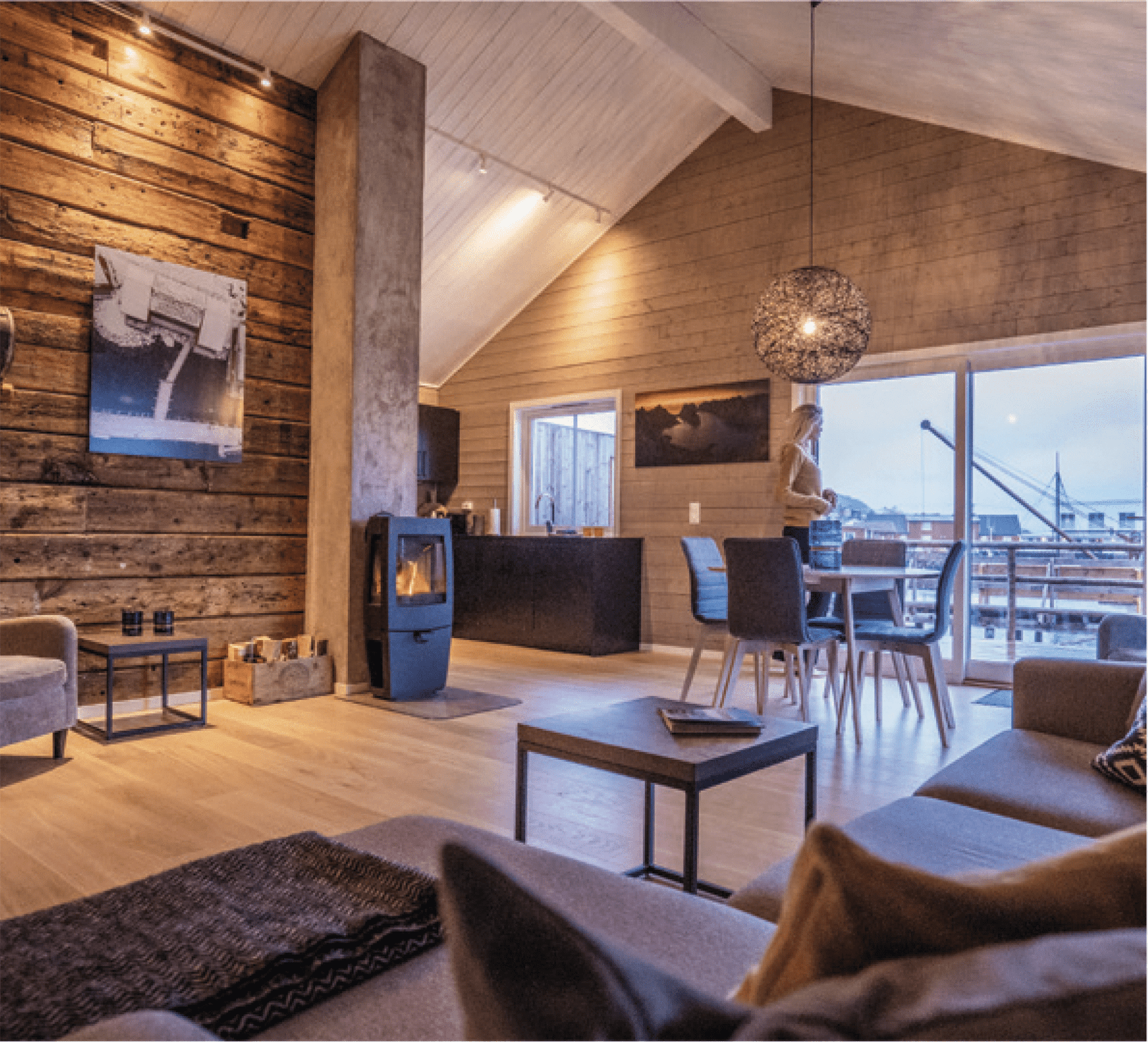 In addition to the fishermen's cabins, the Boes have also created Hattvika Hillside, ten newly built, modern freestanding hotel rooms, partly nestled into the rocky terrain, partly perched on impressive steel supports. Huge picture windows offer truly spectacular panoramic views over the Norwegian Sea and the mountains behind. It's even possible to enjoy the Northern Lights during the winter months from the comfort of your hotel bed!
Numerous guided activities are possible, such as sea kayaking, hiking, trail running, mountain biking and stand-up paddle boarding, as well as ski touring in the winter and photography tours taking in the spectacular landscape and the magical Northern Lights between September and April. Fishing trips, boat rentals, surfing, diving and RIB tours are also available through local operators, as well as the possibility of hiring a private chef.
Plus, the newly-opened bistro-style restaurant, Fangst, (meaning "catch") aims to provide a memorable dining experience for its guests by producing a range of tasting menus based on sustainable ingredients sourced locally.
Further information