If you're a seasoned traveller you may have seen your share of virgin rainforests, untamed mountains and pristine white, sandy beaches. Although such places have become few and far between, all three coalesce into the beautiful canvas of life that is Borneo – Southeast Asia's largest island and best-kept secret.
Whether you're an ardent thrill-seeker or a spiritual wanderer, there's something for everyone in Borneo. If you make your way to the shores of Sabah, Borneo's northernmost region, for instance, you'll find yourself stood before miles of white sand glistening under the tropical sun. But, if the eternal summer leaves you a little warm, simply pack your bags and take a boat ride to one of the many remote tropical islands nearby – perhaps the world-famous Sipadan – and immerse yourself in the cool, azure waters. Then, breathe in the salty freshness of the air and be taken back by one of Borneo's legendary red, orange and magenta-hued sunsets.
Whether you're lying on the beach or standing on mighty Mount Kinabalu, Borneo's highest peak, you'll be awe-struck by the incredible scenery. Those looking for something a little more raw and intimate may venture deeper inland. Here lies the heart of Borneo – its lush, unspoiled rainforests and abundance of exotic species can be found only here and nowhere else on Earth. As orangutans peer down from their abodes high in the jungle canopy, look a little closer and you might catch a glimpse of massive nose-like appendages wafting through the air – these belong to the peculiar looking Proboscis monkey. Then, as you emerge from the thick foliage and cruise along the Kinabatangan ➤ River, prepare yourself to be met by the trumpeting of Bornean pygmy elephants – the world's smallest species of elephant.
Rustling leaves, buzzing giant cicadas, hundreds of singing birds, howling monkeys, the cacophony of nature draws you in, tempting you to explore further, but by now you would be exhausted from the physical and near-spiritual experience. Fortunately, just along the same river you've been cruising, amid the backdrop of lush riverine jungles and swampy lowlands, lies the Sukau Rainforest Lodge.
Tropical luxury
As guests from around the world rest in their villas, enjoying the luxurious amenities and delicious traditional Bornean cuisine, the lodge never seems entirely separated from its surroundings. Designed in the Longhouse style of the locals and built on top of stilts that emerge from the riverside, the property exudes a rustic calm that unites you with the jungle.
The intricately crafted wooden walls and platforms are illuminated by a combination of natural light and kerosene oil lamps, creating a gorgeous ambiance as you gaze into the river at night. Electricity is available but is used sparingly. The same goes for water – the lodge is completely self-sufficient through the natural harvesting of rainwater, while solar heaters provide a constant supply of hot water to the rooms. As much as possible, the carbon footprint is kept to a minimum.
Just before dusk you might be tempted to join a night cruise, stopping by the Gomantong Caves. Although, it's not an experience for the timid – as the dark, humid depths are home to all sorts of insects and nocturnal creatures. As night falls, hundreds of thousands of bats leave their roost, covering the moonlit ground in a blanket of fluttering shadows. It is a breath-taking sight, one that leaves you wanting to discover more about this incredible island.
Borneo Eco Tours
There is no tour operator more tried and trusted in delivering these memorable experiences than the multiple-award-winning Borneo Eco Tours. Founded some 27 years ago by Albert Teo, the company has pioneered environmentally responsible travel in Borneo. Guests are brought as close as possible to mother nature, without ever threatening her existence.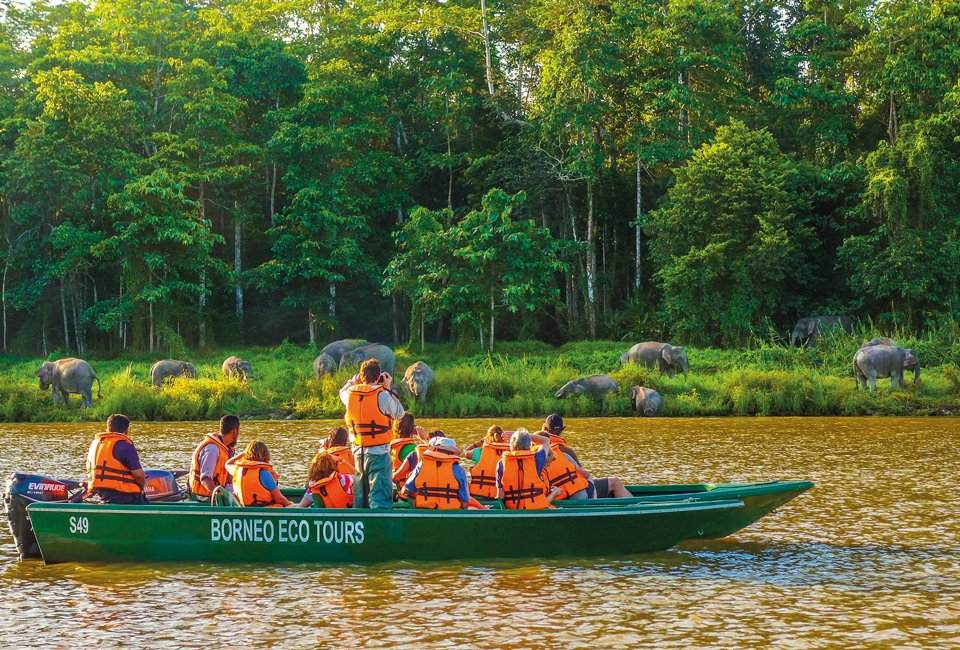 Travelife-certified Sukau Rainforest Lodge, one of the company's own offerings, is the culmination of these eco-friendly and sustainable principles, leading to its recognition as a charter member of National Geographic Unique Lodges of the World. Over the years, the company has had the privilege of hosting many esteemed guests, including Sir David Attenborough, Jeff Corwin, and the late Prince Henrik of Denmark.
As the premier luxury tour experience provider in Borneo, Borneo Eco Tours specialises in making locally-enriching, tailor-made adventures for its guests. Their friendly and experienced guides will help you unearth Borneo's many secrets with a sense of both wonder and respect, and you'll discover that it is a place more magical than any other.
Further information
www.borneoecotours.com