Some men can be really tricky to buy for, which is why luxury label Anya Hindmarch has put a unique twist on their gifts this season
Anya Hindmarch is renowned for luxury, creativity, and fun. There is a variety of stunning products available from quirky bags to luxurious gifts. The Something for Him collection includes a variety of leather luxury gifts including designer wallets, card cases, travel bags, backpacks, candles, and phone cases. With products ranging from practical to fun, humorous presents that you can tailor perfectly to the recipient in mind. Many products include the option to personalise with a name, initials or message for a truly unique gift this festive season. These could be the perfect options for loved ones and those that are hard to buy for – be inspired by Anya Hindmarch.
Bespoke 8 card wallet 
This men's leather wallet holds eight cards. It can be personalised with the owner's name or initials and a message or drawing to make it unique and create the perfect gift! Each wallet comes with an old-fashioned lucky penny tucked away inside.  
Polo charm 
If you want something a little smaller, why not go for this beautifully crafted leather Polo charm. Clip it to the outside of your bag or use it as a key ring to add a touch of individuality! 
Bespoke tennis balls
The perfect gift for the tennis lover in your life! Each ball can be monogrammed with a name up to nine letters long and comes in a tube for a fun and thoughtful gift.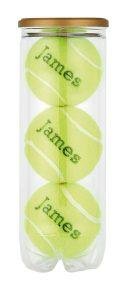 Tennis bag 
Recycled nylon in black, this tennis bag is designed with ease and comfort in mind. It features a detachable bag for tennis balls, and a host of embossed labelled pockets, including external pockets for sunglasses, snacks and water, giving you a place for everything. 
Cycling backpack
This backpack is the perfect cycling accessory. Made from recycled nylon, the backpack features a host of labelled pockets inside and out, including a place for your sunglasses and tools, and has a convenient mesh holder for your helmet that can be neatly zipped away when not in use.
For further information: 
www.anyahindmarch.com