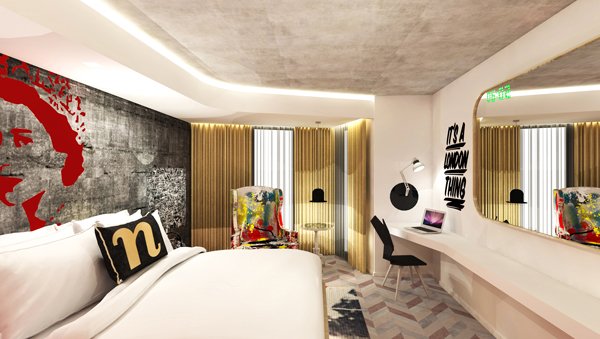 Feast your eyes on the unconventional. The theme 'nhow' by the NH Hotel group is an hip, up-and-coming trend that introduces guests to designs that are unique and eccentric. The hotel group's design and lifestyle brand currently has hotels in Berlin, Rotterdam, Milan and Marseille, and they're due to open the first one in London this coming August.
London-based Project Orange is responsible for nhow London's interior design, taking on the theme 'London reloaded'. Walking through the hotel, you are enveloped in a abstract, aesthetic version of Her Majesty's rainy city – bold and fresh design takes inspiration from traditional British icons, such as the Royal Family, London landmarks and the underground. Embracing contemporary art, stand-out features include a Big Ben rocket sculpture in the lobby, tables featuring cockney rhyming slang and oversized gold bell lights (a reminder of the city's famous church bells). Punk will meet high-tech style, while graffiti will appear alongside unconventional images of past monarchs – pretty much synonymous with the vibrant murals Shoreditch (where this hotel is located in) is famous for.
Here's a sneak peek for you to enjoy: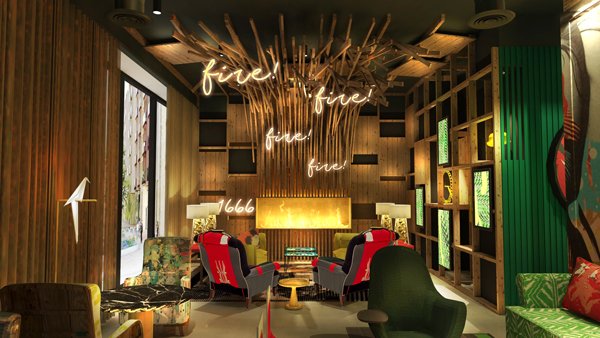 The eight-floor hotel will house 190 vibrant rooms, a restaurant conceptualised as a reinvention of the British pub, bar, gym and three meeting rooms called Laboratories. Perhaps it's quite safe to say that the future is "nhow".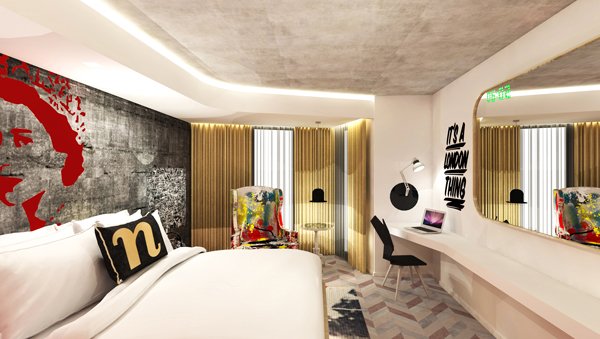 More information: