– Smeg raises a toast, collaborating with Veuve Clicquot, which is launching this Friday –
Italian appliance brand, Smeg is ecstatic to reveal it has partnered with renowned champagne brand, Veuve Clicquot. Marrying two iconic figures, limited edition FAB28 and FAB10 refrigerators have been introduced, applying Veuve Clicquot's staple yellow shade to Smeg's signature retro FAB designs. An addition to Smeg's impressive portfolio of partnerships, with previous collaborations including Disney, Dolce & Gabbana and Mini, the brand is no stranger to partnering with legendary firms to pair its pioneering designs with iconic brands. Both fridges are going to be available to buy from this Friday 23rd September!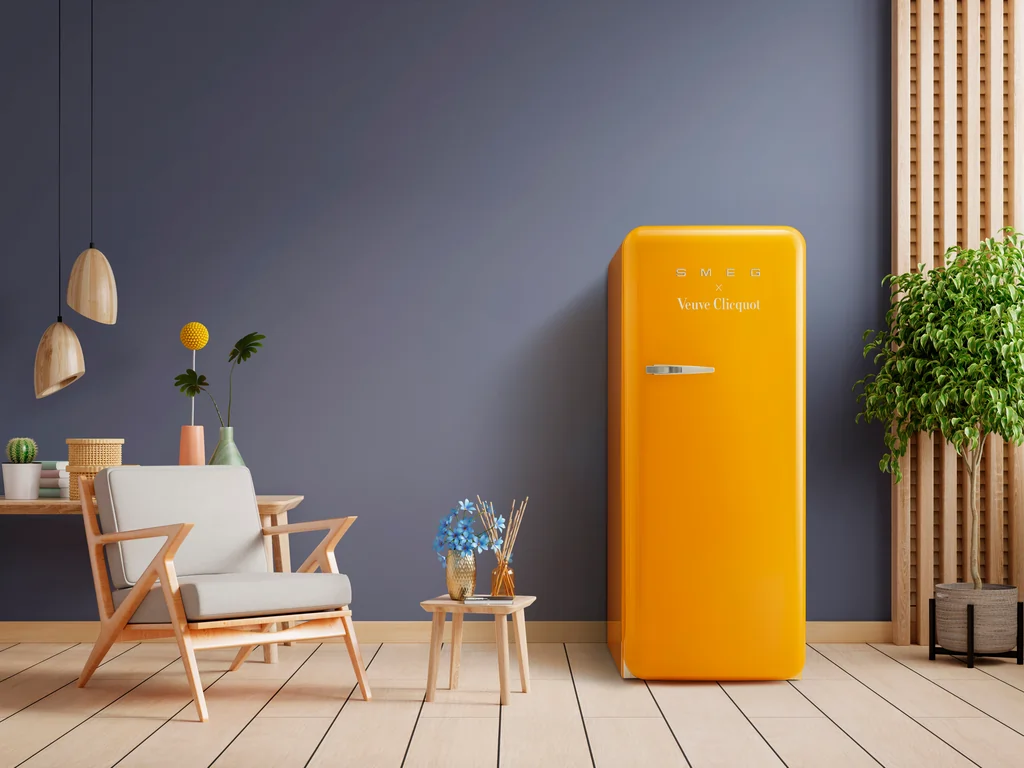 Celebrating the 250th anniversary of the Champagne Maison, Veuve Clicquot's winery which has been crafting luxury champagne since 1772, the "Clicquot fridge" represents the Maison's French legacy, merging this with the FAB's Italian heritage. Commemorating this momentous anniversary, Veuve Clicquot has unveiled its "The Icons" project – a collection of revived products which symbolised the champagne brand's innovation and design throughout its rich history. First produced in 1997, Smeg's FAB has become an iconic figure in design and culture, making it the perfect partner to celebrate Veuve Clicquot's anniversary.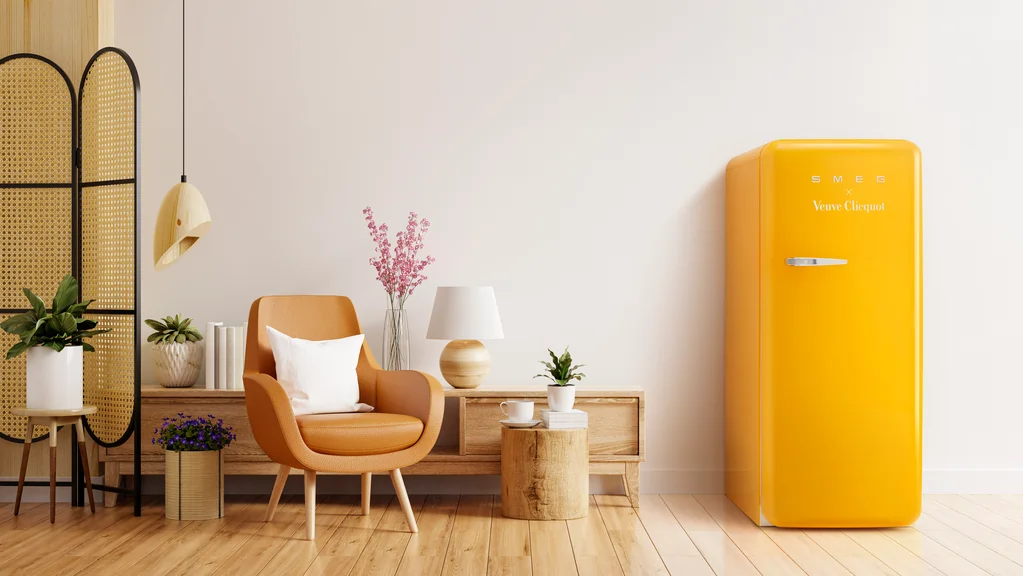 Any champagne connoisseur requires a mini fridge in their home bar and the limited edition FAB10 offers an eye-catching one-off option. Still featuring Smeg's synonymous soft curves, the mini marvel stands at just 970mm tall and 545mm wide and has been adorned with Smeg's signature stainless steel lettering and Veuve Clicquot's instantly recognisable logo and shade of yellow. The fridge's door provides convenient storage whilst its inner shelves can be adjusted for convenience.
For those adding a celebratory statement to the home, the partnership's limited edition FAB28 delivers a full-sized refrigerator, allowing users to store up to 54 bottles of the finest champagne. The partnership's pièce de resistance boasts adjustable shelves, making it suitable for an array of families and preferences. In addition to LED strip lighting and detailed chrome supports, the larger "Clicquot fridge" features metal win racks to ensure bottles of Veuve Clicquot are displayed and stored at their best.
With the FAB10 retailing for £2,499.99 and the FAB28 retailing for £3,499.99, both will be available from the Smeg website and Smeg's flagship London store, located on Regent Street, from November 2022.
About Smeg
Smeg, founded in 1948, is one of the largest Italian home appliance companies. It was founded by a family of entrepreneurs, with great passion and know-how, who managed to develop a strong and growing company. Today, Smeg is run by the third generation of Bertazzoni but it still keeps the memory of its beginnings alive in its name, an acronym for Smalterie Metallurgiche Emiliane Guastalla ("Emilian metallurgical enamel works of Guastalla").
Further information