Iconic Italian appliance brand Smeg, is delighted to be launching its BCC02 Bean to Cup coffee machine. An exciting addition to Smeg's line-up of coffee appliances, the BCC02 is a small but smart gadget packed with innovative features to grind and brew your coffee to perfection from start to finish with just the touch of a button.
Smeg's latest coffee machine packs a punch in both design and functionality. Whilst resembling the 50s style curves Smeg is famous for, the BCC02 offers a more contemporary finish thanks to a stylish brushed aluminium and soft touch matte exterior. The controls have been ergonomically integrated into the design for a smooth finish.
Capturing Smeg's home nations love for great coffee, the BCC02 has been designed to create the ultimate home barista experience that promises to brew aromatic coffee awaken your senses and comfort your soul.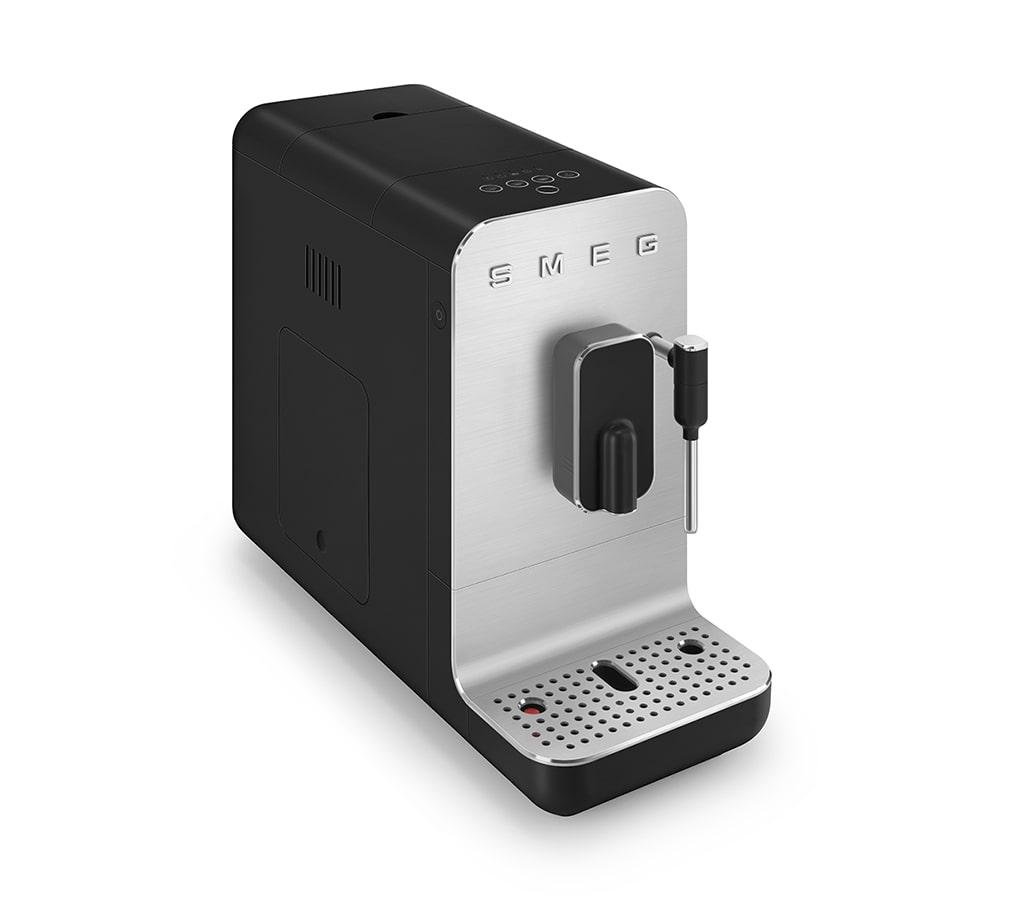 The perfect brew is right at your fingertips thanks to the BCC02's intuitive soft touchcontrol. Offering an array of coffee styles and grinding levels, the BCC02 allows users to experiment and discover the optimum coffee experience for them. Offering a primary and secondary menu function, the BCC02 will pour ristretto coffee, espresso, americano, and as well as hot water. For those after a caffeine hit, different strengths and levels can also be selected via the touch menu. Lattes, macchiatos or cappuccinos more your thing? Frothy milk can be produced at the touch of a button and the machine will grind coffee to the perfect texture, depending on your beverage of choice.
Designed with ease in mind, the one touch menu grinds and prepares coffee beans almost instantly, while a Thermoblock system quickly heats water, so you can enjoy your personalised beverage in a matter of seconds.
For further convenience, its 1.4 litre capacity means you can enjoy up to six cups of coffee before refills, so you can sip on your espresso at your own pace. The adjustable cup holder and nozzle height means you can enjoy coffee shop quality in your favourite
mug.
Sick of descaling? The BCC02 features a convenient descaling alarm ensuring optimum up-keep of your machine. In addition, users are also able to adjust the machine's settings based on the area's water hardness, helping to promote the longevity of your coffee machine.
The BCC02 will be available in Matte Black, Matte Red, Matte Taupe and Matte White. For coffee connoisseurs with an eye for minimalism and high-end design, Smeg's Bean to Cup machine is second to none in terms of both style and performance. In fact, it has already scooped a 2021 Good Design Award.
The BCC02 Bean to Cup coffee machine will retail at £679.95 and will retail at: Smeg's Flagship London store, 14 Regent Street, St James's and Smeg's online shop
For further information: