Complete his home bar with a Compass Box whisky gift this father's day
Compass Box Hedonism
Hedonism – the first whisky created by Compass Box in 2000. It's something special for both the collector and the new whisky enthusiast.
Tasting Profile: Vanilla Cream, Toffee and Coconut
RRP £68 ABV 43%. Available from Compass Box and Master of Malt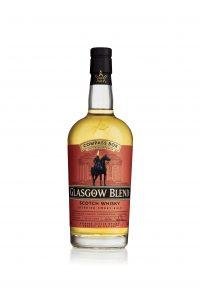 Compass Box Artist Blend & Glasgow Blend
These two versatile Compass Box whiskies, loved by bartenders around the world, can now take pride of place in home bars and are set to become the essential ingredient for home cocktail creation. Two cities, two whiskies in two different styles.
These blended Scotch whiskies, created by Compass Box founder and lead whiskymaker John Glaser, were inspired by the writing of Aeneas MacDonald in his classic 1930 book, 'Whisky' which explored the distinct differences in whisky taste between the citizens of Edinburgh and Glasgow. Artist Blend, released in 2011, is a tribute to Edinburgh. It has a vibrantly fruity and creamy flavour profile that complements the artistic endeavour and creative flair that the city is famous for. In contrast, Glasgow Blend is an old-school peaty blended Scotch whisky, originally created in 2014, that draws on a historical reference that Glaswegians have long preferred fuller-bodied, smokier whiskies.
RRP: £37 for a 70cl bottle. ABV: 43%, natural colour and non-chill-filtered.
Available to purchase from Compass Box
Compass Box Signature Malt Whisky Collection
This gift box is the perfect way to introduce your father to the craftsmanship and variety of Compass Box. An immaculate and compact collection of miniatures, it provides an introduction to Compass Box's core malt whisky range with three very different styles.
Included: 3 x 50ml Compass Box malt whiskies: The Peat Monster, The Spice Tree and The Story of The Spaniard
The Peat Monster – A balancing act between the beautifully peaty, smoky aromas and flavours of classic Islay malts, and subtly sweet, fruity notes.
The Spice Tree – A rich, intense malt whisky with an underlying character of dried fruit, notes of baking spices and accents of toasty oak, aged in custom casks.
The Story of The Spaniard – Full, soft and sumptuous owing to a base of malt whiskies aged in Spanish wine casks, with flavours of citrus peel and ripe red fruits.
RRP: £20. Available from Compass Box Whisky
Further information