After prevailing in online voting, Schmuckmuseum Pforzheim have been Awarded 'Best Jewellery Museum Germany' in The Luxury Report 2023 Awards program. Scott Balinski, Managing Editor of The Luxury Report Magazine caught up with Cornelie Holzach. Cornelie serves an important role as the director of the Schmuckmuseum Pforzheim, a jewellery museum of global renown. This interview not only spans her career and impact on bringing new contemporary artists into the spotlight, but also touches on the historical and modern collections of the Jewellery Museum.
Tell us about your background. Where did you grow up, where did you study, previous experience?
First of all, I am of course very delighted about this vote, it is a great honour to the whole museum!
To your question: I grew up in Reutlingen near Stuttgart. After my A-levels I made an apprenticeship as a goldsmith, which was followed by studies of jewellery design at the University of Applied Arts in Pforzheim, where I later worked as a scientific officer as well as art history in Karlsruhe. Among others I worked at the Museum of Applied Arts in Vienna and came to Pforzheim's Jewellery Museum in 1997, which I have been directing since 2005.
Introduce us to the Schmuckmuseum Pforzheim (Pforzheim Jewellery Museum). What makes it so special?
Devoted to the history of jewellery, Pforzheim's Jewellery Museum is the world's only museum in public ownership that is dedicated exclusively to jewellery. Its collections comprise thousands of historical, as well as contemporary pieces: originals from five millennia, starting from prehistoric times to the present day. The museum's highlights include exquisite specimens from Greek and Etruscan antiquity and from the Renaissance and the Baroque periods, as well as outstanding examples of Art Nouveau jewellery, plus its unique collection of contemporary art jewellery created since 1960.
Special exhibitions spotlight individual facets of jewellery, thus giving visitors an opportunity to repeatedly rediscover the museum.
Furthermore, the building it is housed in, the Reuchlinhaus, is a gem in its own right. Designed in the International Style it is an homage to Ludwig Mies van der Rohe.
Tell us about the visitor types and the guest services you can provide. What are the visitor profiles?
Our visitors range from individual travellers to tour groups and school classes as well as professionals from all over the world and of course people from Pforzheim. The museum also has a café, where you can enjoy the views of the municipal garden. Architect Manfred Lehmbruck planned the building for this place from the start.
If you're an individual traveller you can be accompanied through our collections by friendly robot Loui. Polite as he is, he asks for your favours and offers a tour according to your points of interest, whether chronologically or by other criteria. Children can go in search of animals that "live" in the museum or discover the diverse materials of the jewellery pieces on display. At the moment he only speaks German, but he wishes to learn English in the future.
Furthermore, there is an audio-guide, in German, English and French as well as for children, which in addition also is available as an app on the visitors' phones.
And of course, you can take part in a classic guided tour, either booked for a group or every Sunday at 3pm for single visitors.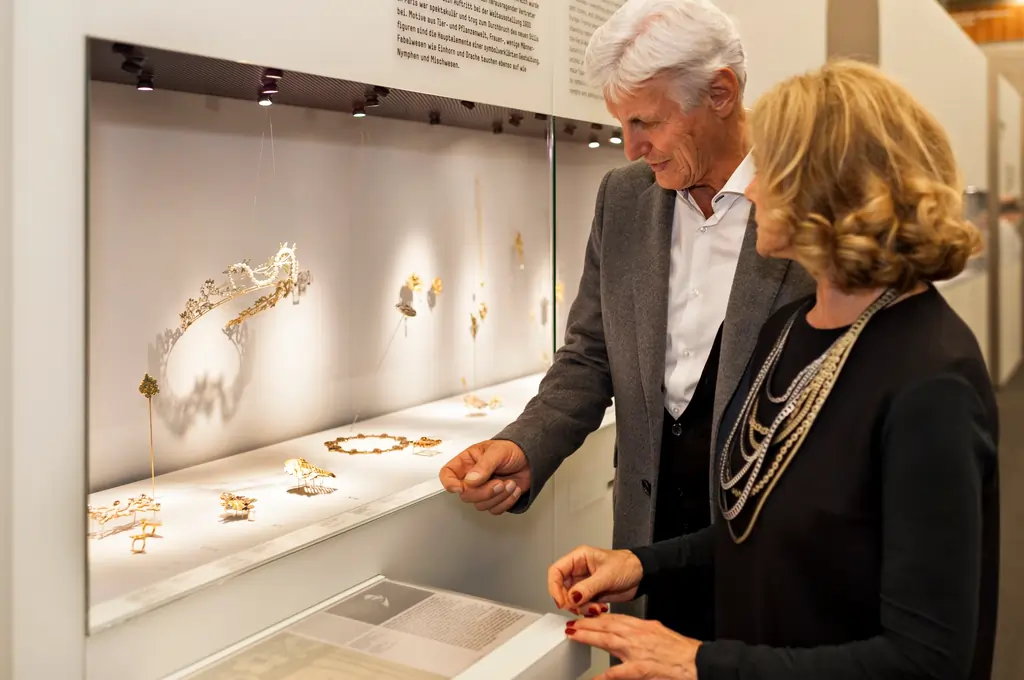 What do you feel impresses your guests most about the Schmuckmuseum?
What I keep hearing from visitors is that they are impressed by the breadth of the collection and its quality – there are only originals on display. Also, it's the way our pieces are presented in this building and its special architecture, which is a total work of art decidedly planned as a jewellery museum. In addition, they like its location in the green and the views of the garden you can have from different places inside – and the treats in the café…
How would you describe your leadership style and what does it mean to the Schmuckmuseum Team?
Compared to the number of objects in our collection we are a rather small team, the core of which consists of four people including me. Thus, we have short ways and a low hierarchy. We decide about our exhibition and project plans together and also have developed several exhibitions together in the meantime. Our December 2021 newly designed ethnographic collection was such a "democratic project". All in all, my experience is that we work best together if everyone has a certain amount of freedom for their own creativity in their area.
How does Schmuckmuseum choose what kind of exhibitions to host or which artists to show? What are the criteria for this judgment?
The criteria are basically linked to our permanent exhibition and its focal points. We alternate between historical and contemporary topics as well as others focusing on ethnographic jewellery or on pieces that are linked to Pforzheim. Furthermore, cultural-historical issues are important to us – our aim is to tell history and stories about jewellery and through jewellery.
In your dealings with the contemporary jewellery community over the past 15 years, what are the most noticeable changes you have observed?
One aspect that strikes me is that jewellery designers often find interesting combinations of old and new styles or techniques for their new creations. Their look back is not nostalgic, but innovative and thus allows for forward-looking designs. Guilloche, a kind of mechanical engraving, can be taken as an example. It is no longer just used for metal, but also for plastic, and combined with 3D-printing in one and the same piece.
Let me insert a short "commercial break" here: Close by there is another museum, which belongs to us: the Technical Museum of Pforzheim's Jewellery and Watchmaking Industries. There you can see, for instance, how guilloche used to be made, and there are many other historical machines from the city's heyday in the jewellery sector giving a vivid insight into traditional manufacturing techniques.
What excites you about the future of Schmuckmuseum?
One project is "Ornamenta 2024" (ornamenta2024.eu/en), which is Pforzheim-based but extends to the northern Black Forest, including exhibitions, interaction, installations, participation etc. and which the Jewellery Museum will also be part of. Regarding exhibitions of our own, I am curious about new artists and new thematical combinations. I am also very excited about the digital expansion of our collections as well as of the visitor approach.
Further information
General: schmuckmuseum.de/en/index.html
Exhibitions: schmuckmuseum.de/en/exhibitions.html
Events (German language only): schmuckmuseum.de/veranstaltungen.html
Words of Welcome by Cornelie Holzach, Director of Pforzheim Jewellery Museum – youtube.com/watch?v=KXRBtLaiuMo