The award-winning Scarfes Bar brings together mixology and craftsmanship with a touch of British history
Scarfes Bar at Rosewood London opened its doors in 2014 and the artfully social bar is located just moments away from Covent Garden. Scarfes Bar is named after the renowned British artist and caricaturist Gerald Scarfe, whose original artwork adorns the walls. With live jazz music playing each day from a host of talented performers, the bar evokes a convivial and sophisticated yet cosy and intimate atmosphere.


Celebrate good times
In April 2023, Scarfes Bar at Rosewood London launched its new menu '10', in celebration of its milestone 10-year anniversary. The menu is a homage to all that has made Scarfes Bar what it is today, from the characterful cocktails, resident musicians and caricatures to their loyal guests who visit from all over the world. Ten of the cocktails are dedicated to guests' favourites from years gone by and another ten are new creations by the Area Director of Bars Martin Siska, the Head of Mixology Yann Bouvignies and their teams. The bar's namesake, British artist and caricaturist, Gerald Scarfe has created a special edition of his caricature commemorating the 10-year anniversary which will adorn the wall outside the bar.
Kicking off the list of the top ten bestsellers is the Scarfes Bar signature staple 'Crescent City'. In a tribute to New Orleans' famed jazz music, this twist on a modern sour is aromatic and woody and served straight from the freezer, it is a mix of The Macallan 12yo, Discarded Banana Peel rum and Pandan. Bright and fresh with rich notes of Pandan singing through!
From the 2019's menu dedicated to music, is the 'Zingy Stardust', a citrus cocktail that pays homage to David Bowie. A delicate twist on a Gimlet, using Bombay Premier Cru, topped with Muscat, Kaffir, Neroli and a zingy orange dust sustainably sourced from leftover orange zest, accrued behind the bar, playfully mixed with popping candy. For a modern twist on the Paloma, the fruity and spiced cocktail 'El Bandito' is a blend of Ojo de Dios Mezcal, Baldoria Verdant, Thai Basil, Watermelon and CO2.
To complement the returning favourites, their mixologists have curated a special selection of ten new releases. 'Oui Madame!' is a fun and bubbly cocktail with a tropical twist, composed of Grey Goose, Peach Wine, Jasmine and Sri Lankan Clarified Coconut, served over flower-encased ice cubes, to create a decorative, layered cocktail with tropical notes. 'No. 6' is a playful take on an Old Fashioned, blended with The Lakes Whiskymakers Reserve No. 6, Chocolate & Hazelnut and Sauternes to create a rich and complex cocktail with nutty undertones.
The 'Buen Palo' is a woody and aromatic delight, made using Appleton 12, Palo Santo, Mint Amaro and London Essence soda, and topped with a spritz of Palo Santo at the table to stimulate the senses. Additional new creations include the 'Higher Power', 'Silk Sonic', 'Beyond', Love Me Tender', 'Last Call' and 'Rum'N Roll'.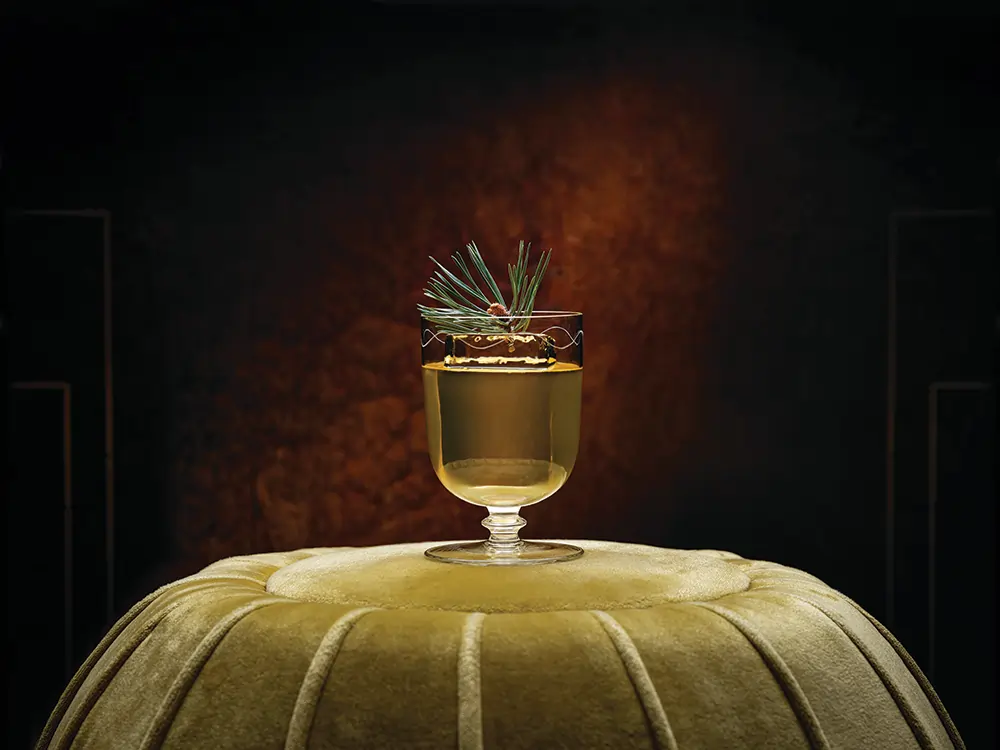 High achievers

The new menu has been led by Scarfes Bar's Area Director of Bars Martin Siska and the Head of Mixology Yann Bouvignies, who alongside their teams have most recently been awarded #22 on the Top 50 Cocktail Bars 2023, Top 10 World's Best Cocktail Menu 2022 and #1 Best International Hotel Bar 2020 at Tales of the Cocktail. Martin, Yann and the teams have focussed the menu on honouring the last 10 years of Scarfes Bar with their famed cocktails from previous menus as well as completely new serves to celebrate the future of the bar. Led by Siska and Bouvignies, the mixology team has created their very own home-made cordials, ferments and distillates within their laboratory, which they use within all their cocktails and menus at the bar. This menu promises to be Scarfes Bar's most considered and exciting to date; a culmination of finessed minimalism, perfectly paired with innovative flavours using modern technologies to create exquisite drinks ingrained with layers and texture. For the last 10 years, the Scarfes Bar team has travelled the world representing the bar, and this year will continue their travels with a global tour visiting ten of the best bars in the world.




Central refinement

Rosewood London is centrally located in the heart of London on High Holborn and is house in the original headquarters of the Pearl Assurance Company. The retained Belle Époque architectural features include the original carriageway entrance to the grand courtyard, and a spectacular Pavonazzo marble staircase rising over seven stories —altogether combining English heritage with contemporary sophistication.