For those who believe travel is about the journey not the destination, there can only be one way to see the world
A steward in a crisp uniform grabs your suitcase with a white-gloved hand.You step into the carriage, where you're greeted with wood-panelled interiors, old-world charm, and a sense of anticipation. A whistle blows, the platform rolls away, and the adventure begins.
Welcome to the world of luxury train travel, where the journey takes centre stage. In a fast-paced world, this mode of transport implores you to sit back and enjoy the ride. Watch the scenery unfold like a moving postcard outside your window. Savour fine food and wine as the landscapes change around you. Curl up in bed with a book and wake up in another world. Regardless of which country- or indeed continent- you find yourself travelling through, there's bound to be a luxury train experience to indulge in.
From Italy to Africa to Japan, these seven favourites will whisk you back to the golden age of train travel. Time to get out your suitcase.
The Royal Scotsman, Scotland
'This Belmond train service is like a fine Edwardian country house on wheels. Inside there are mahogany-clad interiors, tweed furnishings, and all the comforts you could want. Outside is a world of shimmering lochs, craggy mountains, and virgin coasts.
Admire the dramatic landscapes of the Scottish Highlands as they unfurl outside the window or, if that's not enough for you, take advantage of one of your stops to immerse yourself in them. Go for an exhilarating cold water swim in a private loch, spend an evening stargazing in the Scottish wilderness, or spread out a blanket for a chef-prepared picnic.
The magic begins right from the moment of boarding: walk the red carpet as a piper in full Highland dress heralds your arrival. From there, your trip only gets better, with candlelit dinners featuring the best of Scottish produce served in the mahogany-panelled dining cars, and indulgent spa treatments delivered in one of two tranquil treatment rooms.
When darkness falls and sleep starts to steal in, retire to your luxury cabin where you can nestle into a plush bed fitted with soft Scottish wool blankets. But not before taking one last sip of the country's finest malt whiskey, of course.
The Maharajas' Express, India
If the idea of being treated like royalty appeals to you, hop aboard the Maharajas' Express. On this award-winning service, your every whim is catered to by tireless staff, and interiors are decorated to replicate the lavishness experienced by the kings of ancient times.
The Maharajas' Express connects several of the most prominent tourist destinations of North-Central India, and with trips lasting 4-8 days, you can find yourself marvelling at the Taj Mahal, exploring the Ajanta caves in Maharashtra, getting swept up in a jungle safari in the wilderness of Ranthambore National Park, and much more in your off-train excursions. On board, spacious cabins, a well-stocked bar and two lavish restaurants await – as does your personal butler for the journey.
When your trip kicks off with a traditional Indian welcome – picture marigold garlands around your neck and rose petals strewn at your feet – you know you're in for a memorable time. Don't forget your camera.
The Venice Simplon-Orient-Express
Name any of Europe's grandest and most romantic cities, and odds are the Venice Simplon-Orient-Express has it on the map. From Paris to Prague, Brussels to Verona, the routes are both expansive and enticing.
The best thing, of course, is that venturing from one city to another is done in absolute style. The sleeping cabins cocoon you in old-world luxury, imploring you to take breakfast in bed as the morning sun filters through the window. Opt for a Grand Suite for the added luxury of a marbled en-suite bathroom and 24-hour butler service.
In the meticulously hand-restored 1920s dining cars, gastronomic delights are served up with flourish. And service is so discreet and attentive that champagne seems to refill itself. A Belmond-owned train, the Venice Simplon-Orient-Express is a truly world-class experience – and one you won't forget in a hurry.
Hiram Bingham, South America
The Hiram Bingham takes you on a journey into the heart of the Incan Empire.This Belmond train shuttles you from the historic Cusco through the Sacred Valley and up to the iconic Machu Picchu, where the majestic ruins have to be seen to be believed.
Part of the Hiram Bingham's appeal is its nod to the early 20th century – a period that evokes nostalgia for the thrill of exploration, as well as the golden age of slow travel. Named after the American explorer, and with polished wood and brass interiors styled after classic 1920s parlour cars, you get the distinct sense of stepping back into another time.
That said, the soul of the Hiram Bingham is certainly South American. As you dine on fine Peruvian cuisine, live music of cajon and tambourine will beckon you to get up and dance. Don't ignore the call: getting into the lively spirit of the traditional performance as the train snakes through the Sacred Valley is all part of the fun.
Seven Stars in Kyushu, Japan
It's love at first sight when you step inside the Seven Stars in Kyushu cruise train. The style of the interiors is a magnificent fusion of Japanese and Western, classic and modern, and every detail is meticulously designed – from the rich wood panelling and brass light fittings to the beautifully carved screens and plush fabrics.
This super-exclusive service features just 8 Suites and 2 Deluxe Suites- a total of 20 passengers per journey – with tickets allocated via a lottery system. Once you manage to snag a spot, then you're in for an unforgettable ride.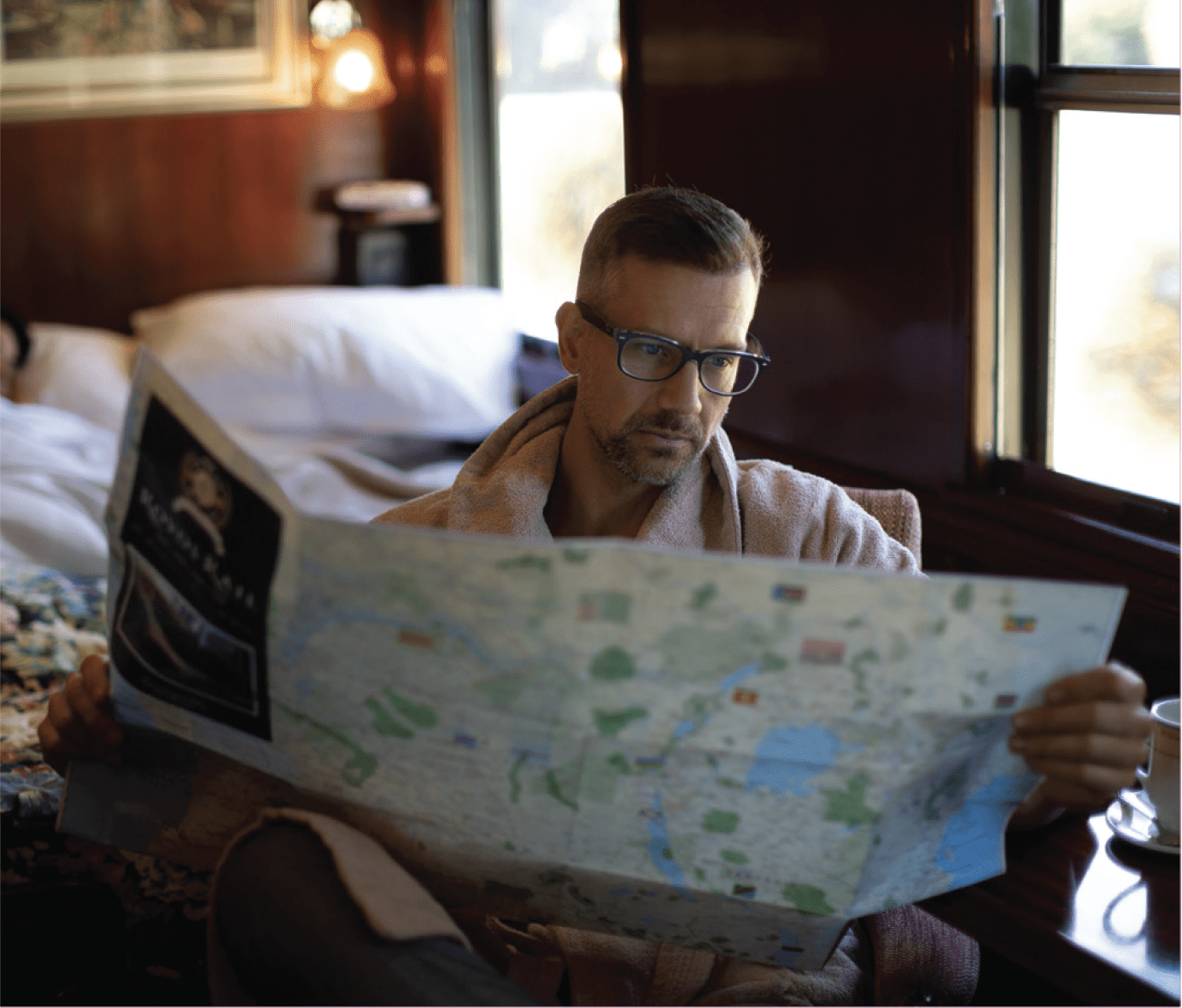 Enjoy the views from the panoramic windows as the natural and cultural treasures of Kyushu Island reveal themselves. Dine on exceptional seasonal cuisine crafted by a team of local masters. Head into the lounge car, where the sounds of cocktails being artfully shaken provides a gentle percussion to a pianist's tunes, or, when you desire some tranquillity, settle into the train's ryurei-style tea room for a cup of fragrant Japanese tea.
On this train, whichever way you turn there's something special just waiting to surprise you.
www.cruisetrain-sevenstars.jp/english/
Rovos Rail, Africa
Exploring the wonders of Africa by rail sounds rather enticing, and Rovos Rail doesn't disappoint. The trains are extravagant,the excursions thrilling, and scenery divine.
All the cabins are stunningly decked out in a vintage style, with modern comforts and plenty of space. If you really want to live it up, however, opt for one of the Royal suites: each of these comes with its own private lounge area and an en-suite bathroom complete with full-sized Victorian clawfoot bath.
A favourite feature of each train is the observation car at the end, with wide windows and an open-air balcony, where you can sit and contemplate the sprawling African landscapes with the wind in your hair. When the gong sounds for dinner, you have yourself a perfect excuse to dress your best: formal attire is encouraged at evening meals, and the atmosphere is all the better for it.
Whether you're indulging in chef-crafted perfection, sipping on cocktails or soaking up the scenery, every moment on board is designed to be cherished. As Paulo Coelho wrote, "Life is the train and not the station." So, hop on board and enjoy the ride.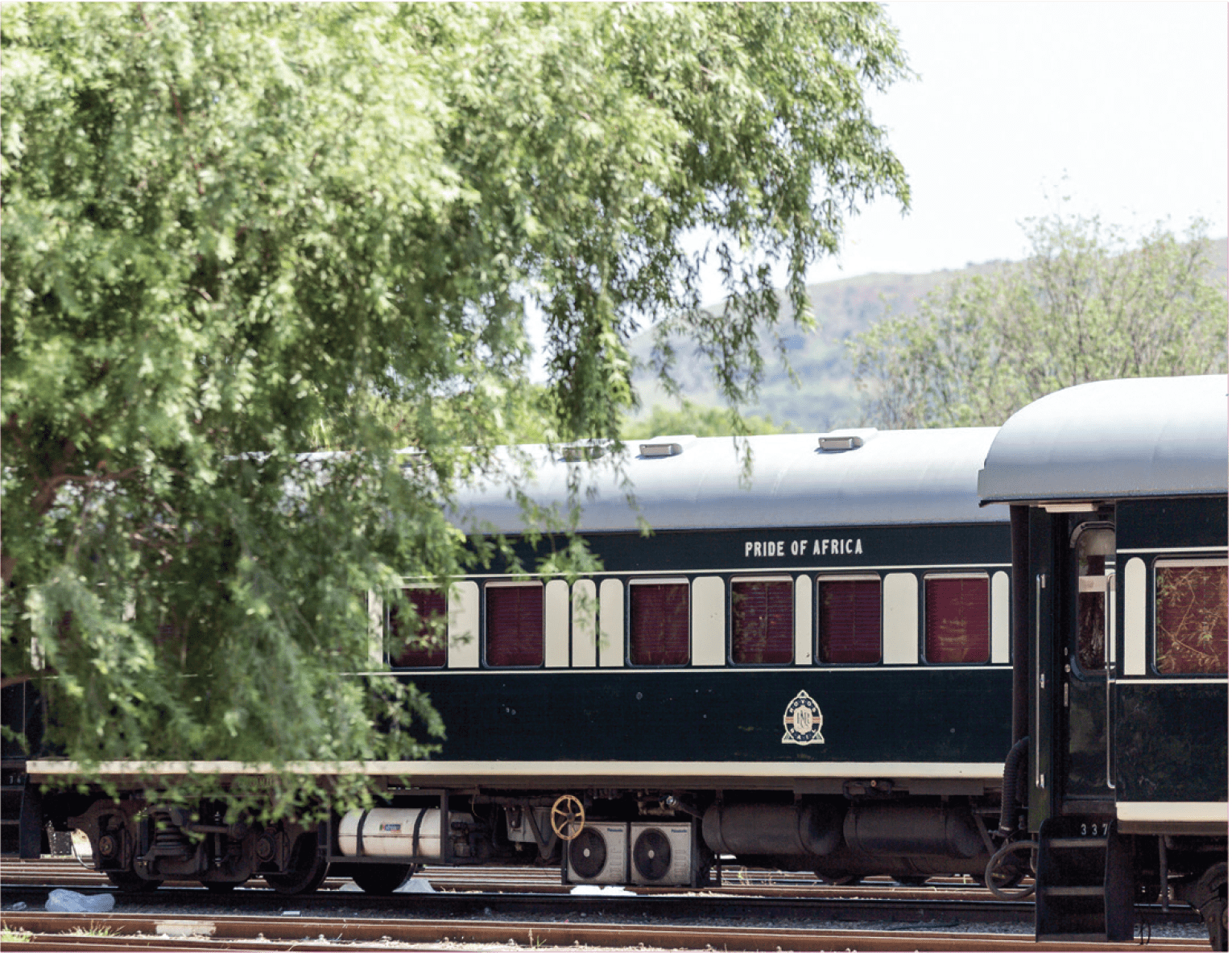 The Orient Express La Dolce Vita
The words "La Dolce Vita" conjure up visions of many things: aromatic espressos sipped on sun-dappled terraces, citrus trees in full bloom, and of course, Anita Eckberg frolicking in the Trevi Fountain. Now, that spirit of the sweet life has been captured in a 1960s-inspired rail service that connects experiences as well as places.
Launching in 2023, the new Orient Express La Dolce Vita will pass through 14 Italian regions as well as Istanbul, Paris, and Croatia. Each itinerary is designed to allow for unique excursions along the way: head off to the opera in Milan, perhaps,or go truffle hunting in Piedmont. And when the sun sets on the excitement of each activity-filled day, an impeccably-designed room and five-star service will be waiting to welcome you. Each of the six trains will feature 12 Deluxe cabins, 18 Suites, one Honor Suite and, of course, a restaurant where you can savour Italian wines and cuisine. With award-winning local and international chefs crafting the menus, you know you're in good hands.
La Dolce Vita is being billed as an update on the Orient g Express legend-the next chapter in the story of the rail line that redefined luxury travel when it opened in 1883. With this incarnation, the legend is also being expanded to a string of dedicated Orient Express hotels, with the first – called the Minerva – set to open in Rome in 2024.
Pausing your journey to spend a night or two in a 17th-century Baroque palace? The sweet life, indeed.