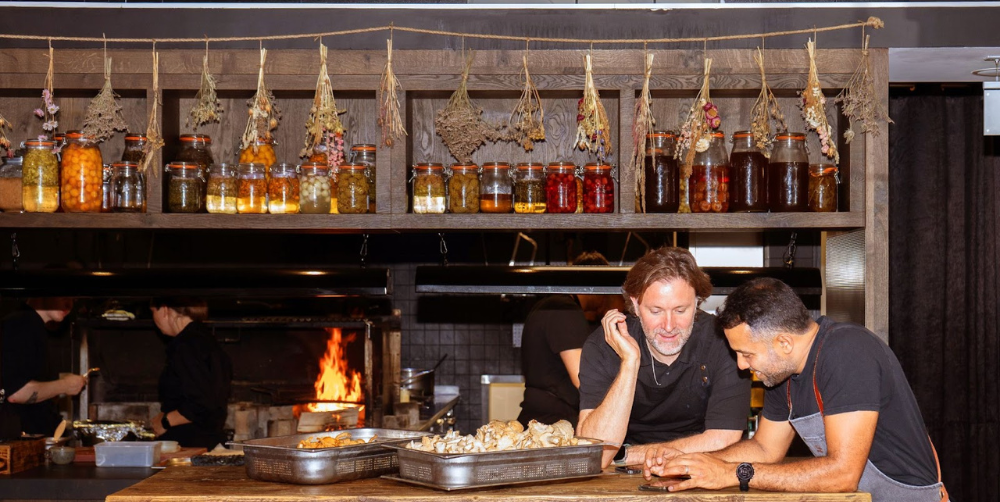 Niklas Ekstedt & Karan Gokani Collaborate For An Evening of Spice and Smoke 
A one of a kind dinner at Ekstedt at The Yard on November 16th 
November 16th will see Niklas Ekstedt, culinary leader of Scandi destination, Ekstedt at The Yard, and Karan Gokani, Co-Founder and Creative Director of award-winning Sri-Lankan and South Indian restaurant, Hoppers, come together for an evening of spice and smoke. Hosted at Ekstedt at The Yard, the one-off dinner will be a celebration of flavours and a meeting of two culinary minds: Niklas and Karan will join forces in the kitchen to bring together their beloved cultures and create an unexpected dining experience, available for one night only. 
Served family style, each course has been created to incorporate Sri-Lankan spices and Swedish ingredients, all cooked over Ekstedt at The Yard's signature open fire. The evening will be an opportunity for guests to share a communal table with fellow foodies, laden with a wealth of dishes to feast upon. The menu, created collaboratively and introduced by Niklas and Karan, will include:
Burnt scallop with buttermilk and apple
Sourdough bread and lingonberry sambal, served with pickles
Smoked chilli cashews
Grilled lobster, Kiri hodi and dill with oven dried tomatoes and pickle
Banana leaf roasted fish and onion salad
Dirty steak and charcoal smoked curry with roasted bone marrow, coconut crumble, hasselback potatoes and charred wintergreens
Mushroom souffle and black pepper ice cream
Ekstedt at The Yard's Head Sommelier, Kleo Kanellakis, will be pouring exquisite wines throughout the evening, expertly selected to complement the dishes. Wines will be served in a 'free flowing' style, to add to the informal and celebratory atmosphere of the evening. 
£5 from each ticket sold will be donated to Feeding The Future, a charity setup by Hoppers, in aid of the political and economic crisis in Sri Lanka to help feed schools in the poorest districts.
This one-off spice and smoke dinner will take place at Ekstedt at The Yard on November 16th at 7pm. Tickets are available for purchase online HERE and will be priced at £95 per head, with the option for wine pairings priced at an additional £75.