Golden Rock Inn on the paradise island of Nevis has launched its brand-new menu and invites foodies to sample its delights. The Rocks, which is mentioned in the Michelin Guide, is one of Nevis' best-kept secrets, visited by celebrities and locals alike.
The head chef James Eaton worked at the Four Seasons before joining Golden Rock and his menu already offers a range of exciting gourmet choices to suit all guests' palates. Every year, TripAdvisor celebrates restaurants that consistently deliver amazing experiences with a Travellers' Choice Award. This year it has been named in the top 10 per cent of restaurants worldwide, according to the award.
The hotel, in the Gingerland Hills, high on Mount Nevis is owned by New York artists Brice and Helen Marden. It is a tranquil retreat where you can truly get away from it all, encircled by lush gardens and breath-taking views where you can be inspired as you enjoy a delicious breakfast surrounded by wonderful scenery.
Breakfasts here have earned a legendary status due to the wide variety of options for guests to choose from. Select Golden Rock Benedict, poached eggs, English muffin or Canadian ham, sautéed spinach and Creole hollandaise. Try some local smoked wahoo for something different or a Nevisian style omelette with sautéed onions, mixed local peppers, tomatoes, fresh herbs and cheddar cheese for vegetarians and gluten-free egg white frittata with baby spinach, roasted peppers. The menu also includes vegan options, from the chickpea omelette with avocado, corn, onion, tomato, herbs and crispy kale.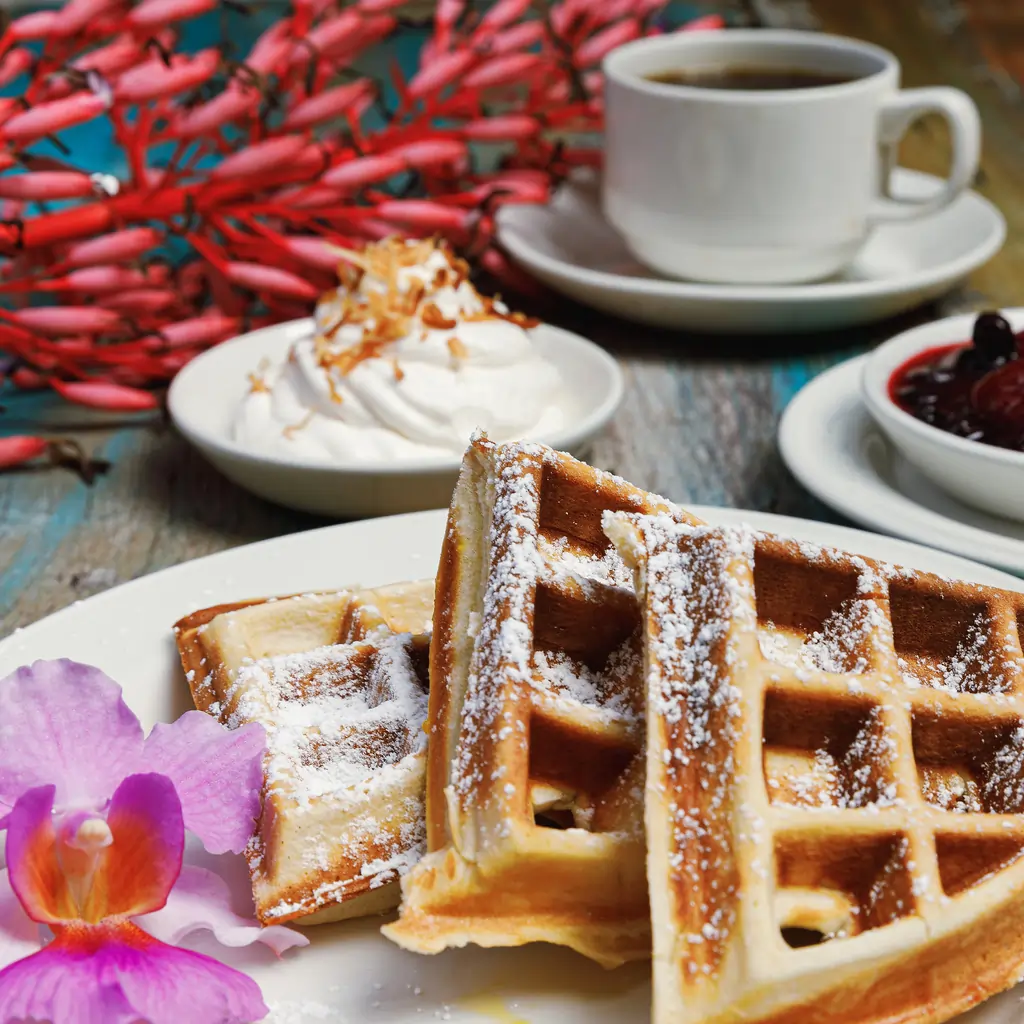 Alternatively, there is also the oat and banana pancake with fresh berries and pure maple syrup. Dishes are served with pineapple, cranberry, apple juice or orange juice and loaded with local fruits. You can also choose ham, sausage, or apple-smoked bacon, breakfast potatoes and bread.
Those with smaller appetites can enjoy the Rocks breakfast parfait with homemade granola, mixed berries and Greek yogurt. There's a breakfast bread basket with assorted homemade bread and pastries, butter and homemade jams or even a bowl of house-made granola with yogurt or milk. You can also choose two eggs, bacon and sausage with white toast. Coffee and tea are included. 
Healthy options include tasty Caesar salads, Caprese salad, fresh garden tomato, buffalo mozzarella basil pesto, balsamic reduction, house garden salad, mixed local greens with sliced radishes, tomatoes and house vinaigrette, crispy risotto cake as well as local spinach can also enjoy sheep milk feta, avocado and garden salad. Guests can also enjoy the tasty Caesar and Caprese salads, fresh garden tomato, buffalo mozzarella basil pesto, balsamic reduction, house garden salad, mixed local greens with sliced radishes, tomatoes and the house vinaigrette, crispy risotto cake as well as local spinach. 
Meanwhile, the West Indian French toast with homemade bread, maple syrup, berry compote and coconut compote is also delicious. Those with a sweet tooth will find Belgian Waffles with berry compote, crème Chantilly and pure maple syrup, or traditional pancakes with fresh berries, crème Chantilly and pure maple syrup.
Situated on the wild Atlantic coast, Golden Rock Nevis is renowned for its seafood, which is selected by local fishermen. Whether you choose a local chunky conch chowder, the famous lobster salad, or locally caught fish of the day served with West Indian creole sauce, rice and beans, and fresh vegetables, you won't be disappointed. Enjoy delectable shrimp, seared sesame tuna, coconut-crusted shrimp, and crab cake. Lobster is a speciality here and the chef finds many inventive ways to cook this delicacy from the grilled Caribbean Spiny Lobster Tail to lobster linguine with fresh tomato, garlic and parmesan and lobster hash with poached egg, potatoes, onions, peppers, parsley and cilantro. The grilled local snapper with saffron and lemon beurre blanc is also wonderful and the green curry shrimp with coconut and basil served with coconut rice and fried sweet plantain is a delight to the tastebuds. 
Meat lovers can sink their teeth into a beef tenderloin with peppercorn sauce, sautéed mushroom, Asparagus and mash potato or even a pan-seared rack of lamb with rosemary baby potato cauliflower puree. Then there is a t-bone steak with truffle potato, assorted vegetables, red wine jus. You'll also want to try Helen's Moroccan Chicken, the owner's renowned recipe with green cracked olives, house preserved lemon, and couscous. You'll also want to check out the local Mahi Mahi with Chimichurri sauce, rice, and beans.
For guests who prefer sweeter dishes, the restaurant has a great selection of home-made cakes, pies, ice creams, and sorbets.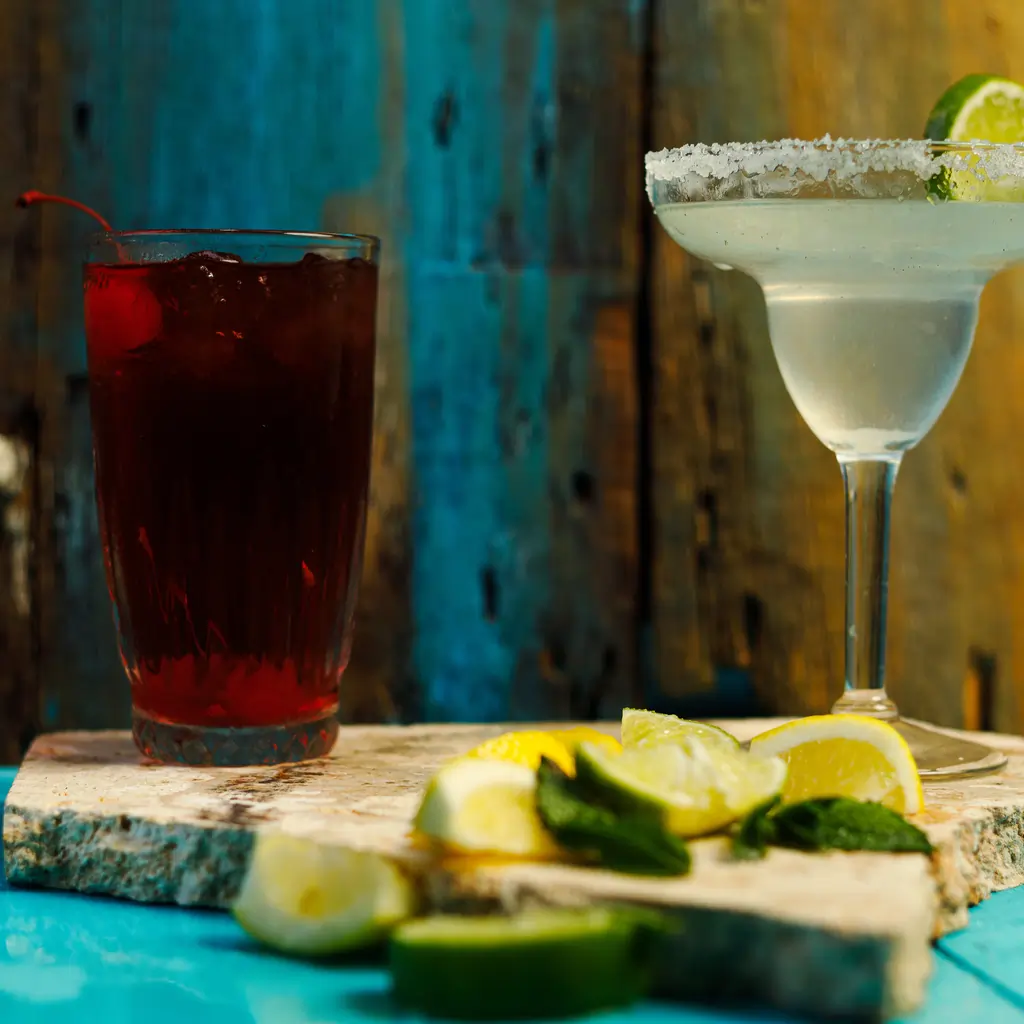 If you are looking for the best food on the island of Nevis, look no further than Golden Rock Nevis, a blissful hideaway which is ready to welcome you to the island to sample their culinary delights on their delicious new menu.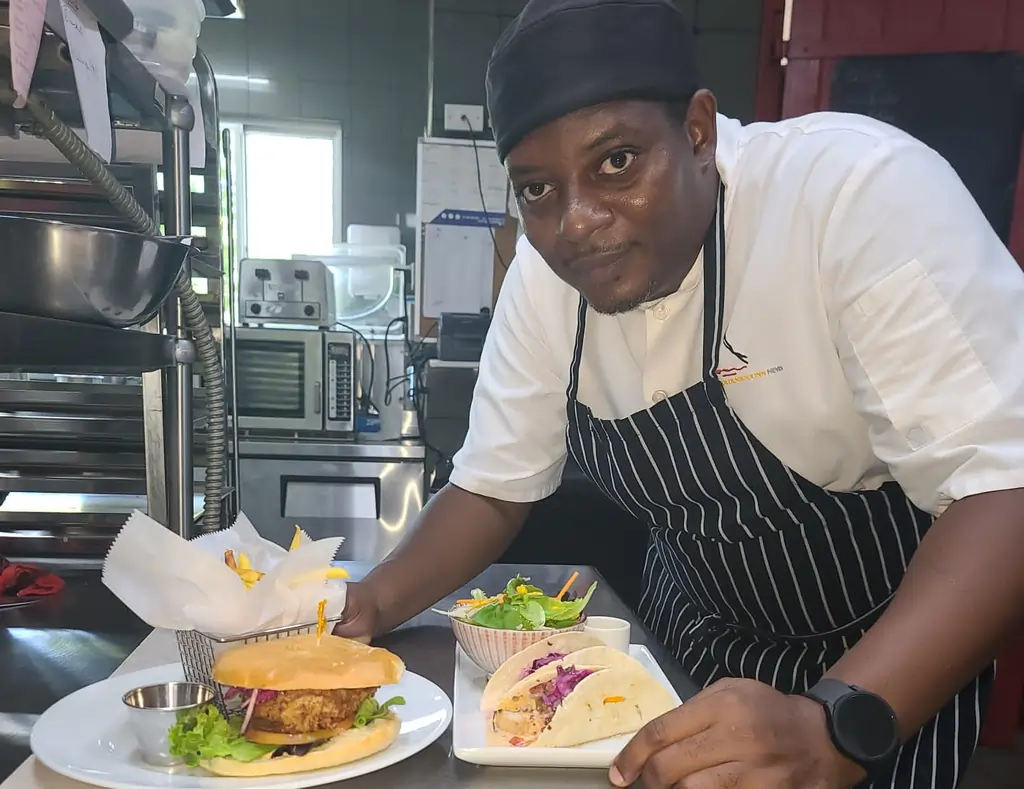 "I am delighted to reveal our new menu which as well as our classic menu and extensive range of fine seafood and breakfast options now includes items such as chicken wings, niçoise salad, and grilled fish tacos. We have also added t-bone steak, caprese salad and seared sesame tuna for patrons as we know our guests enjoy these dishes."
– James Eaton, Head Chef