National Vodka Day with Kavka
National Vodka Day on Wednesday 4th October is a cause for celebration and these cocktail suggestions from Kavka Vodka are sure to get your taste buds tingling.
The three expressions, made with all natural ingredients, are presented in contemporary packaging and between them provide a premium vodka for every drinking occasion. The design has at its centre a woodcut of a jackdaw, which translates to Kavka in Polish. Kavka can also mean 'a little coffee', a phrase often used to get vodka in times when it was illegal to do so.
Drawing on the long vodka making heritage of Poland, Kavka Vodka go back to a time in the 19th century when distilleries would produce spirits that emphasised taste and individuality rather than trying to filter them out. Following a traditional method that was famed for producing some of the best vodkas, Kavka blends fine rye and wheat spirits and then adds small quantities of aged pot stilled fruit spirits. The fruits are distilled at the ancient market town of Sandomierz in the heart of Poland's orchards, using old varietals that give an amazing intensity.
— KAVKA ESTATE MARTINI — 
100ml Kavka Estate Vodka | A spray of Cocchi Vermouth | Garnish – a Green Olive
Spray a frozen martini glass with the vermouth and pour in the Kavka Vodka. Drop in a green olive.
— KAVKA ESTATE CAIPIROSKA — 
50ml Kavka Estate Vodka | 10ml Sugar Syrup | 1 Lime | Lime Slices to Garnish | Crushed ice
Half-fill a cocktail shaker with crushed ice. Squeeze the lime quarters and add them to the shaker with Kavka Vodka and syrup. Shake well and pour into an old-fashioned glass. Garnish with lime slices.
— KAVKA TOKAJI ESPRESSO MARTINI — 
50ml Kavka Tokaji Vodka | 50ml Fresh Coffee | 25ml Coffee Liqueur | 5ml Sugar Syrup | Garnish – Coffee Beans
Combine all the ingredients with ice and shake well. Strain into a martini glass and garnish with coffee beans
—  KAVKA ORCHARD SPRITZ —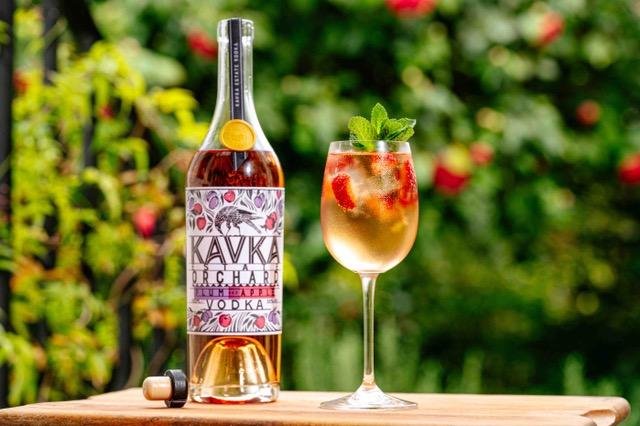 30ml Kavka Orchard Vodka | 20ml Rose Vermouth | Fresh Strawberries | Fresh Lime | Prosecco | Fresh Mint 
Add Kavka Orchard Vodka, rose vermouth and fresh lime to a glass. Top up with prosecco and garnish with strawberries and mint.
— KAVKA ORCHARD COSMOPOLITAN — 
50ml Kavka Orchard Vodka | 25ml Cranberry Juice | 15ml Triple Sec | 15ml Fresh Lime Juice | Garnish – a Lime Wheel
Shake and strain into chilled cocktail coupe or martini glass. Garnish with a lime wheel.
— KAVKA ESTATE NEGRONI — 
50ml Kavka Estate Vodka | 40ml Sweet Vermouth | 40ml Campari Bitter | Garnish – Orange Peel
Combine ingredients into a rocks glass with ice and stir. Garnish with orange peel.
KAVKA ESTATE VODKA 
Award-winning Kavka Estate Vodka is a blend of rye and wheat spirits with added apple and plum spirits. The apple brings a crisp acidity while the plum gives the vodka its natural sweetness and depth. This is a classic, bold, and versatile vodka. Drink it as a shot, with a mixer or in a rather fabulous negroni.
Kavka Estate Vodka RRP: From £29.65 for 70cl. ABV: 40%. Available from: Amazon, Master of Malt and Spiritly
KAVKA ORCHARD VODKA
Kavka Orchard Plum & Apple is a naturally sweet and delicate blend of plum, apple and fine grain spirits, sourced and distilled in the ancient Polish market town of Sandomierz. It has a depth and sweetness making it ideal for spritzes and summer drinking and the perfect base for a Cosmopolitan.
Kavka Orchard Vodka RRP: From £29.95 for 70cl. ABV: 38%. Available from: Amazon and Master of Malt
KAVKA TOKAJI VODKA
Launched last year, Kavka Tokaji Cask Aged Vodka, made in small batches, is a blend of fine grain spirits with extra quantities of plum and apple pot-still fruit spirits which is aged for 18 months in Hungarian 6 Puttonyos Tokaji casks. This vodka pays homage to the classic Polish spirit, Starka, where a father would bury a cask of spirit on the birth of a daughter and dig up again on her wedding day. The elegant, indulgent mouth feel with a light richness, underlined by light oak notes, followed by a creaminess with grain and rye bread notes makes the most delicious Espresso Martini.
Kavka Tokaji Vodka RRP: From £44.95 for 70cl. ABV: 46%. Available from: Amazon, Master of Malt and Hedonism Wines