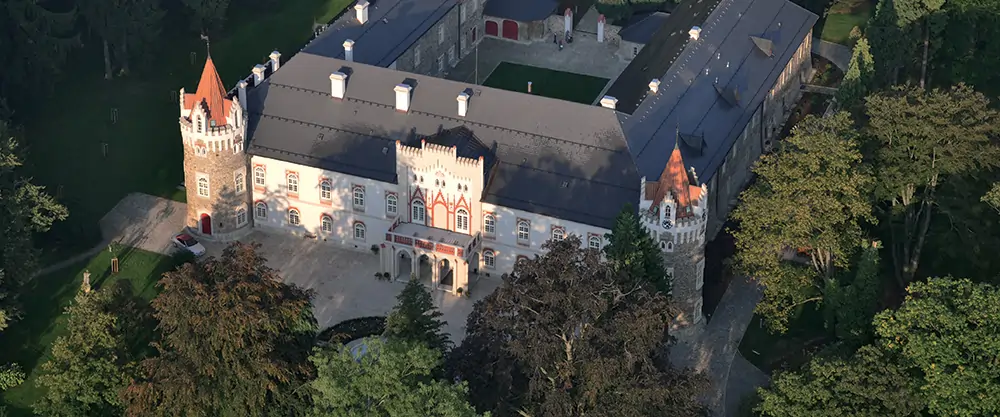 Experience a luxury 5-star stay in a 13th century castle
Chateau Herálec Boutique Hotel & Spa by L'Occitane is located in the heart of the Czech Republic, in the Highlands, or as the locals would call it, Vysočina. Since it was unveiled after an expansion and renovation in 2011, the Chateau Herálec, a castle from the 13th century, has been a gem that every traveller should visit when in the Czech Republic. One of the main reasons a lot of guests enjoy coming back is the family touch present in every corner of the property. Due to its convenient location with direct access to the D1 highway, the property is only a 1-hour drive from Prague and Brno, 2 hours from Bratislava and 2.5 hours from Vienna.
Chateau Herálec has something for every type of guest and will accommodate every need in every season. During the spring and summer, guests can experience the birds singing outside their windows and witness the breathtaking beauty of nature that Herálec and Vysočina provide. For those guests who prefer the cooler autumn or winter months, one can enjoy the soft relaxing sound of the crunch of fallen leaves or freshly powdered snow. The oasis that this hotel provides is incomparable.


Chateau Herálec's spa area also includes a feature showpiece swimming pool, built under the arches of the former horse stables. There is also a whirlpool bath which, like the swimming pool, is built in a stunning location: the turret. This has proven to be ideal — just behind the resting room in the spa's southern wing — and is a serene spot to further unwind after a massage or time spent in the sauna or fitness centre.
Each guest can indulge in one of the 19 spacious rooms, named after one of the chateau's former owners or a painting from the Regional Gallery of Vysočina. For food lovers, it is a definite must to experience the farm-to-table restaurant. Restaurant Honoria only works with fresh and local ingredients depending on the seasons. As well as an à la carte offering, there's a seasonal, six-course tasting menu pairing each dish with a wine. The cellar stocks not only Moravian wines but also one of the largest collections of Bordeaux wines in the country.



The chateau offers a wide range of activities for both corporate and leisure travellers and can host everything from weddings to family parties or business events. If you decide to visit the Chateau Herálec, your experience at this landmark luxury hotel will guarantee you a memorable and inspiring stay. Chateau Herálec is a combination of a friendly/family atmosphere with 5-star luxury, you do not want to miss.
Further information
www.chateauheralec.com
+420 569 669 111
reception@chateauheralec.com