Luxury On The Shores Of Lago Di Lugano
A project of refined architecture integrating with the mountains, at the heart of which is a philosophy focused on all-round well-being.
A feeling of freedom, protection and well-being greets you once you cross the threshold of the new luxury hotel project ARIA Retreat & SPA. Overlooking the emerald waters of Lake Lugano, in Cima di Porlezza, Como, on the southern slope of Mount Bronzone, immersed in a subtropical park of 40,000 square metres and a forest of over 200,000 square metres, ARIA Retreat & SPA is intended for true lovers of nature and beauty.
It is an architectural project with a low environmental impact that integrates well with the territory in a harmonious embrace with the lake. The structure was built in energy class A thanks to the application of the best materials and technological plant solutions of the highest level. At the heart of this project is the clients' all-round well-being, which is built through a tailor-made, personalised service and facilities.
ARIA Retreat & SPA works on the concept of an "emotional experience" for its guests: the SPA CEò with wellness centre, the Lounge Bar "Dolce Vita Lounge & Terrace", the gourmet restaurant La Musa Restaurant & Rooftop Terrace combine to make the offer of this luxury hotel truly experiential.
Architectural Project
A project entirely handled by the well-known Milan architecture firm, R4M Engineering, ARIA Retreat & SPA was developed in 2000 square metres of residential area. With 15 suites created across three floors, it is a unique and truly tailor-made architectural project.
The first "terrace" houses the 130 m2 heated indoor swimming pool with an important relaxation area; the large windows give this environment great luminosity as well as a splendid view of the lake. On the same floor, through a "passage" in the water, you can reach the outdoor salted and heated swimming pool; an "infinity pool" where you can enjoy, in total relaxation, the beauty of a place full of charm.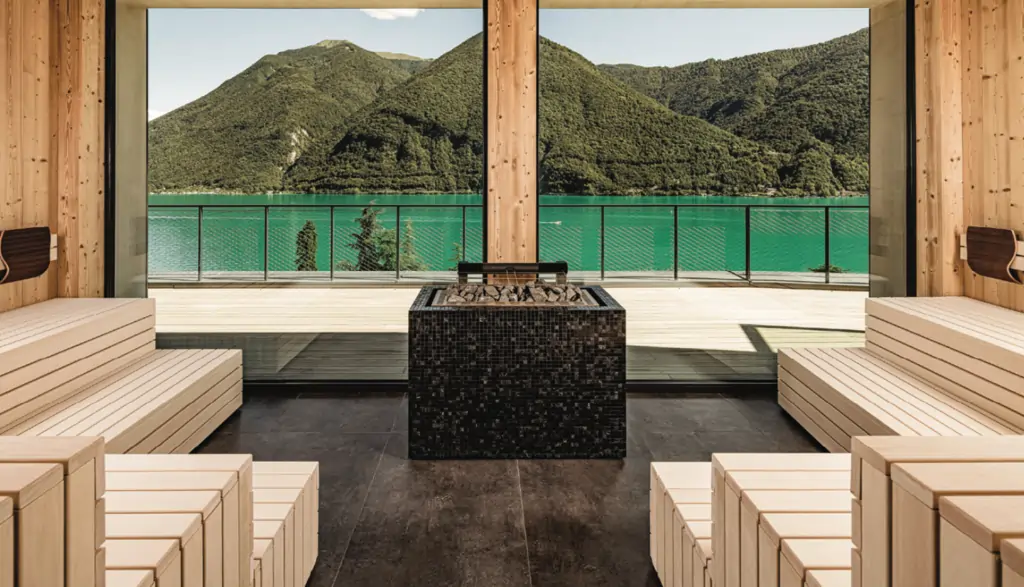 The next floor houses the SPA CEò, an important wellness area with panoramic saunas, Turkish bath, private SPA, outdoor Jacuzzi and treatment rooms. Also on the same floor is the Lounge Bar "Dolce Vita" with its charming terrace and the reception. Above the swimming pools and spa, but set back, are the 3 separate residential blocks consisting of the LOGGIA SUITES, GRAND LOGGIA SUITES and PENTHOUSE SUITES.
Each individual suite has an exclusive loggia with a lake view which serves to extend the living room even during the sunny hours of winter and offers itself as a very motivating home office. Brightly lit rooms with luxury furnishings, exclusive materials and fine fabrics characterise the interior of each of the suites, all of which are hypoallergenic. With elegant, refined and comfortable interiors, attention to detail is at the heart of ARIA's ongoing hospitality endeavor.
All the units have a separate entrance from the outside, are accessible by lift and are directly connected with the La Musa gourmet restaurant and also with the Parco San Marco Resort through a mystically lit tunnel. It is a true experiential journey of light and sound that takes guests on a sensory journey between inside and outside.
Lounge Bar "Dolce Vita Lounge & Terrace"
A designer lounge bar with an elegant and welcoming ambience, a splendid view of Lake Lugano and a summer terrace that allows you to enjoy moments of pure relaxation surrounded by beauty. Delectable offers are available throughout the day: from small but tasty snacks, simple but sophisticated and high-quality creations curated by Chef Michele Pili during the day, to an aperitif or an after-dinner drink.
The Cocktail List offers a selection of alcoholic and non-alcoholic "homemade infusions"; inspired creations created by Matteo Zecchini, Maître and Sommelier at ARIA, a bartender and sommelier with decades of experience in the world of beverage. Cocktails are made according to the best tradition of the American "old school", with a decidedly Italian twist and identity. Of great interest are the home- brewed infusions and Aria's own hand-crafted gins:
– PREMIUM ARIA PINK GIN, a rosewater infusion
– ARIAOLOGIST, a gin made from alpine herbs and flowers
Every year, "Dolce Vita" offers a Cocktail Special Edition with drinks that Matteo has brought back from his international experiences over the years. Alongside the cocktails, is a wine selection with the best national labels, but with the option to choose from the resort's wine cellar with more than 300 national and international labels. The main wine list features both nationally and internationally renowned wineries and products from small estates. Included are Italian and French sparkling wines and quality wines with a selection of sustainable labels.
A Coravin list is available for guests of La Musa, allowing guests to sample fine wines by the glass and have dedicated tasting. The service is provided by an expert staff, led by Maître Sommelier Matteo Zecchini, who is also La Musa's service manager. He is young and dynamic, with experience in luxury hotels and starred restaurants in London, St. Moritz and Spain.
"Dolce Vita Lounge & Terrace" is dedicated mainly to ARIA guests but with an opportunity for outsiders, by reservation and subject to availability, to enjoy a drink overlooking the lake.
SPA CEò
SPA CEò was inspired by the Celtic world: ceò in fact is derived from Celtic and means "fog". The Celts used to say that fog had a magical power, it enveloped them like a veil and made them invisible. SPA CEò is a true oasis of tranquillity and well-being offering an extensive wellness programme inspired by the four elements of water, air, earth and fire. The SPA covers an area of approximately 1,500 m2 where you can experience moments of pure well-being in a unique dimension in close contact with the nature that surrounds ARIA.
An exclusive adults-only SPA with:
– 5 individual cabins
– Panorama Private SPA with sauna/sanarium and saltwater whirlpool on the private terrace
– Finnish sauna with spectacular panoramic view of the lake and the Alps
– Bio hay sauna with panoramic view
– Turkish bath
– Snowflake cold cabin
– Indoor pool (20 m)
– Infinity Pool with salt water
– Infrared oasis
– Foot bath with foot reflexology
All this with exquisite view of Lake Lugano and the surrounding mountains.
The SPA also has a small gym equipped with the latest "Techogym" machines. A corner dedicated to sportsmen and women. SPA CEò offers a range of beauty and wellness treatments for both him and her. These are signature treatments, all centred on the elements of WATER, AIR and EARTH. Each treatment has been specially developed for CEò by a team of experts.
Each wellness and beauty treatment has been developed with the exclusive Biologique Recherche cosmetic line, whose methodology is based on the combination of a clinical approach and customised cosmetic treatments. Probably the best-known international brand in the beauty world, its highly customised protocols, composed of a very high concentration of botanical, marine and biological active ingredients, produce unparalleled results.
SPA CEò is a true "Temple of Energy".
Further information – www.aria.retreat.it