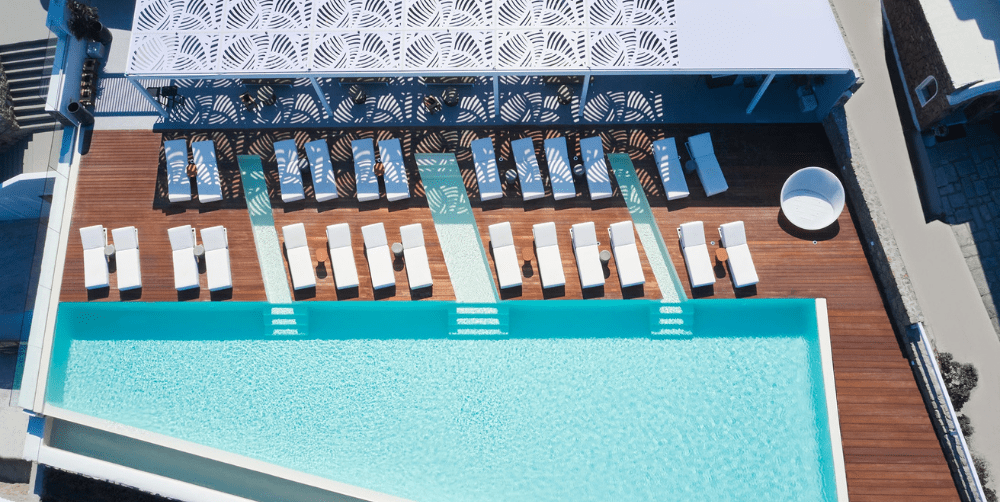 Kouros Hotel & Suites in Mykonos Celebrates the New Season with Exciting News! 
Ahead of its much-awaited, seasonal reopening on 10th May, Kouros Hotel & Suites is preparing to greet holidaymakers and VIPs with a myriad of new and exciting additions to the idyllic Myconian boutique hotel designed for 5* getaways.
From its perch within the face of the island, Kouros boasts unobstructed vistas of both the Aegean Sea, the town and the sparkling sunsets, in their entireties. Offering a white-washed haven of Cycladic serenity, Kouros is located in a "sweet spot" on the island, just a 10-minute, scenic stroll from the bustling streets and nightlife of Mykonos town.
As part of their ongoing refreshes, the hotel launched their acclaimed new fine dining restaurant, Narcissus, just last year, where travellers can drink in uninterrupted sea views while dining on decadent dishes. Cleverly positioned to overlook the evening sun as it melts into the Aegean Sea, this newly opened, intimate restaurant is any culinary buff's dream.With the introduction of an all-new menu for 2023, you'll be welcomed with mouth-watering, signature dishes. Using locally hand-sourced, fresh produce of the highest standard, chef Anastasios Sakellariou crafts dishes for the most demanding of foodies. Traditional Greek dishes juxtapose a contemporary setting creating the ultimate, refined dining experience. Especially retouched for 2023, Kouros has been working on soft renovations in four of their premium rooms, which have been turned into the lush Sanctuary Sea view Suites with Private Pool. The hotel has also created a brand-new Sanctuary Grande Sea view Suite for 2023, now totalling 50 spacious, Aegean-overlooking rooms. 
These suites join other luxurious recent additions to the resort, including last year's new bar, sea-view pool, plus nine suites and villas. Elegantly crafted in the style of French designer Fabienne Spahn, Kouros incorporates white-stoned structures and a monochromatic palette for a familiar feel of Grecian-style luxury.
Priding itself on its bespoke concierge and VIP services, Kouros is a resort designed with five stars in mind. The hotel offers tailored experiences to all guests including private yacht hire, helicopter, or private jet and many more.
Amenities include the Zoe spa featuring organic brand Kos-Paris, complete with hydrotherapy area with built-in Jacuzzi and hammam.
For more information on Kouros Hotel & Suites, please visit https://www.kouroshotelmykonos.gr/ or contact kouros@prm-global.com.