Golden Rock Inn, is a boutique four star hotel on the tropical island of Nevis and is the ideal choice for destination weddings, honeymoon, anniversary celebrations or vow renewals. Consider a visit to an island renowned as a top romance destination. Dominated by the 3,232ft Nevis Peak, the island is a lover's paradise. Walk hand in hand with your beloved along the pure white beaches of Nevis, with the roar of the wild Atlantic Ocean in your ears. Ride horseback on the beach together or wander through the paradisiacal gardens of Golden Rock Inn's grounds. As you gaze out over the top of the dormant volcano you feel like you have been transported back to the land that time forgot. Couples can spend infinite intimate moments here on this island of love.
Rooms
Golden Rock Inn, owned by New York Artists Helen and Brice Marden, has just 11 rooms., making it the perfect romantic bolthole for you and your partner. The Sugar Mill is the most unique property on the island, its tower rising majestically out of the lush foliage. The cut-stone mill dates back to the 19th century and is suitable for a couple with two children, or three adults with two bedrooms, one double and one with two single beds as well as living space. There is a courtyard and garden which overlooks the mountain and the ocean. Sprawling across 630sqft it has two floors one room with one king-size bed and another with two twin beds making it perfect for families. There's also a sitting area and a terrace where you can enjoy the views of Windward Beach whilst enjoying a Caribbean rum on ice. Design accents include bright red shutters which strike harmoniously against the antique stone walls.
Paradise Cottage is set back in nature amidst massive fig trees and has wonderful sea views. With a king-size bed and bath, Paradise is perfect for two. There are also eight private terrace Hillside rooms: Coco Walk cottage (free-standing), Winward cottage, and three duplex cottages: Scarborough, Mt Pleasant, and Morningstar.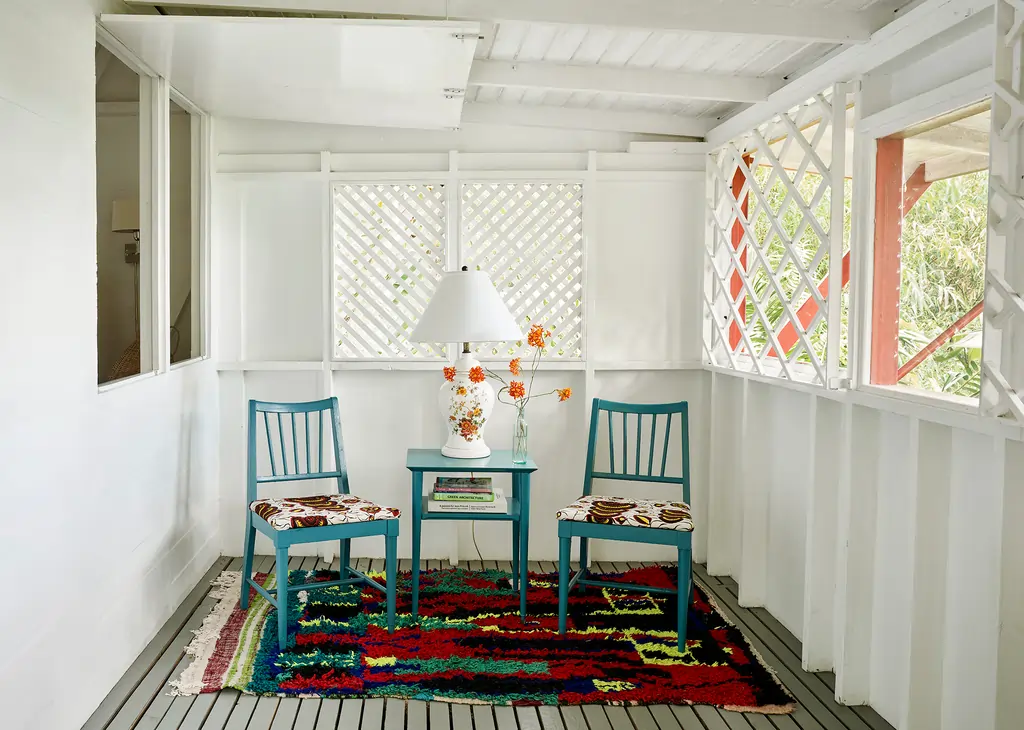 The Gardens
Hotels are rarely famed for their gardens, but the Golden Rock Inn is somewhat of a paradise on the exotic island of Nevis in the Caribbean. Exotic flora and fauna grow all around the 40-acre grounds that are fertile with rare species of flowers and plants found nowhere else on the island. This landscape is magical and a place you can really let your imagination run wild.
They are undoubtedly a muse for the owners, New York artists Helen and Brice Marden in more ways than one. Not only are they inspiring to paint, the green-fingered artists personally rolled their sleeves up to help Miami-based designer Raymond Jungles cultivate it. Helen tended to the plant selection and Brice placed lava boulders that were unearthed during excavation throughout the property.
During your stay, you will be given a personal tour of the gardens by the head gardener. He will show you some of the hundreds of species of plants that were lovingly planted by the owners. Now Golden Rock is home to more than 60 species of palms, including the rare Talipot Palm (Corypha umbracullifera), Yaray Palm (Copernicia fallaensis) and Guano Palm (Coccothrinax borhidiana). You can also find the Pagoda flower (Clerodendrum paniculatum, native to tropical Asia). You'll also find an impressive collection of cycads, seed plants bearing a resemblance to palms and ferns that date back approximately 280 million years.
A striking feature that struts out of the jungle foliage is a pavilion designed by Edward Tuttle. This is a striking centrepiece at the helm of an oversized freshwater swimming pool and alfresco dining area. As they feast on delicious clam chowder and lobster sandwiches from the award-winning Rocks restaurant they can enjoy the calm reflection of the spring-fed pools, surrounded by the flora and fauna and the sounds of nature. Up in the trees, you'll hear the chatter of verdant monkeys and spot hummingbirds flitting between the branches. You might also happen to chance upon a local donkey on your walk. Golden Rock Inn is a place to relax and enjoy the natural health benefits associated with immersion in nature, and the chance to reset, are prime reasons guests choose this property.
Stroll the meandering paths and get lost under a canopy of foliage as you overlook the islands of Montserrat, Redondo, and Antigua and turn your head towards the inactive volcano of Mount Nevis. This is a wonderful place to behold the sunset over its peak which casts a brilliant glow over it and gives the hotel its name. You'll spot Green Vervet Monkeys swinging in the trees and hummingbirds flitting between the branches. There are many avian species like the Purple Throated Carib, the Bananaquit, Bullfinch, Kestrel, Zenaida Dove, as well as numerous small amphibians and reptiles. There are so many sights and sounds to enjoy at Golden Rock, from the earthy musk that hangs in the air after passing rain, to the rustling of palm fronds. Birds chirrup in the trees and tree frogs (Antilles coqui) begin a chorus that reaches a crescendo by night's fall. With a glass of Golden Rock's renowned Rum Punch and you will feel completely relaxed as you surrender your senses to nature which is abundant in these gardens and on the wider island.
Food
Foodies will be awed by the incredible dining options curated by James Eaton. It is well known that food is the language of love, and you can enjoy a romantic meal together under the stars or lunch beneath a jungle canopy as verdant monkeys skittle around you and birds sing above you. The Rocks, which is mentioned in the Michelin Guide, is one of Nevis' best-kept secrets, visited by celebrities and locals alike. The head chef James Eaton worked at the Four Seasons before joining Golden Rock and his menu already offers a range of exciting gourmet choices to suit all guests' paletes. Every year, TripAdvisor celebrates restaurants that consistently deliver amazing experiences with a Travellers' Choice Award. This year it has been named in the top 10 per cent of restaurants worldwide.
Breakfasts here have earned a legendary status due to the wide variety of options for guests to choose from. Select Golden Rock Benedict, poached eggs, English muffin or Canadian ham, sautéed spinach and Creole hollandaise. Try some local smoked wahoo for something different or a Nevisian style omelette with sautéed onions, mixed local peppers, tomatoes, fresh herbs and cheddar cheese for vegetarians and gluten-free egg white frittata with baby spinach, roasted peppers. The menu also includes vegan options, from the chickpea omelette with avocado, corn, onion, tomato, herbs and crispy kale.
Alternatively, there is also the oat and banana pancake with fresh berries and pure maple syrup. Dishes are served with pineapple, cranberry, apple juice or orange juice and loaded with local fruits. You can also choose ham, sausage, or apple-smoked bacon, breakfast potatoes and bread.
Those with smaller appetites can enjoy the Rocks breakfast parfait with homemade granola, mixed berries and Greek yogurt. There's a breakfast bread basket with assorted homemade bread and pastries, butter and homemade jams or even a bowl of house-made granola with yogurt or milk. You can also choose two eggs, bacon and sausage with white toast. Coffee and tea are included.
Golden Rock Nevis is renowned for its seafood, which is selected by local fishermen. Whether you choose a local chunky conch chowder, the famous lobster salad, or locally caught fish of the day served with West Indian creole sauce, rice and beans, and fresh vegetables, you won't be disappointed. Enjoy delectable shrimp, seared sesame tuna, coconut-crusted shrimp, and crab cake. Lobster is a speciality here and the chef finds many inventive ways to cook this delicacy from the grilled Caribbean Spiny Lobster Tail to lobster linguine with fresh tomato, garlic and parmesan and lobster hash with poached egg, potatoes, onions, peppers, parsley and cilantro. The grilled local snapper with saffron and lemon beurre blanc is also wonderful and the green curry shrimp with coconut and basil served with coconut rice and fried sweet plantain is a delight to the tastebuds.
Meat lovers can sink their teeth into a beef tenderloin with peppercorn sauce, sautéed mushroom, Asparagus and mash potato or even a pan-seared rack of lamb with rosemary baby potato cauliflower puree. Then there is a t-bone steak with truffle potato, assorted vegetables, red wine jus. You'll also want to try Helen's Moroccan Chicken, the owner's renowned recipe with green cracked olives, house preserved lemon, and couscous. You'll also want to check out the local Mahi Mahi with Chimichurri sauce, rice, and beans.
For guests who prefer sweeter dishes, the restaurant has a great selection of home-made cakes, pies, ice creams, and sorbets.
If you are looking for the best food on the island of Nevis, look no further than Golden Rock Nevis, a blissful hideaway which is ready to welcome you to the island to sample their culinary delights on their delicious new menu.
Wellness
The hotel can arrange poolside yoga for the ultimate in-resort wellness as well as excursions to explore the natural beauty of the island. Enjoy activities such as horse-riding on the beach or a thrilling journey off-road in a Funky Monkey all-terrain vehicle (ATV). Take a hike through the rainforest to reach the summit of Nevis peak and then when you are ready to unwind return to the 11-bedroom boutique hotel for some R and R. Whether you choose the honeymoon suite in the sugar mill or a paradise cottage you will be surrounded by nature. What are you waiting for? Make sure you book an exotic break here and enjoy the beautiful tropical gardens.
If you are interested in finding out more about Golden Rock or would like to book, visit goldenrocknevis.com