London Cocktail Week will take the capital by storm once again this month, with a stellar lineup of events featuring London's best bars running from 12th – 22nd October 2023!
Nipperkin X Bird Copenhagen Takeover
London's recently opened Nipperkin Bar, hidden away within Mayfair's 20 Berkeley, will celebrate their inaugural year taking part in the festival, by teaming up with Islay's Ardbeg Scotch Whisky. Available throughout London Cocktail Week (12th – 22nd October), Nipperkin's team will serve up their signature cocktail – Ardbeg & Stonefruits [£8] – featuring Ardbeg 10 yo Scotch Whisky, apricot liqueur and plum wine, topped with a mix of ginger ale and ginger beer.
Kicking off London Cocktail Week on Friday 13th October, Copenhagen's BIRD will takeover Nipperkin for an evening filled with exceptional cocktails, in partnership with Ardbeg Whisky. The cosy neighbourhood Copenhagen bar is known for its soulful jazz and modern takes on classic cocktails, will serve up an Ardbeg cocktail menu for one night only.
Hidden away within 20 Berkeley, Nipperkin's intimate space features a centralised table where the focus is on ingredients and spirits that are predominantly sourced, distilled or harvested in the UK.
Address: 20 Berkeley Street, Mayfair, London, W1J 8EE
Website: www.20berkeley.com
Instagram: @20BerkeleyLondon
The Umbrella Workshop Serve an all-star London Cocktail Week Menu featuring some of the Best Bars in East London
The Umbrella Workshop, the experimental bar from the group behind The Sun Tavern and Discount Suit Company, will be running an exclusive menu of guest cocktails from some of London's hottest bars throughout London Cocktail Week.
From 12th October to 22nd October, visitors can order the likes of the Pastel from A Bar With Shapes for a Name – Grey Goose Vodka, Rhubarb, Citrus, Capreolus Eau De Vie, or the Mole Margarita from Three Sheets – Patron Silver, Mole Tinture, Merlet Trois Citrus, Apricot, Agave.
Also available is the Honey Bush Highball from Funkidory – Honey Bush Angel's Envy Whiskey, Mead Cordial, Club Soda and Tokyo Collins from Happiness Forgets – Bombay Sapphire Gin, Yuzu Sake, Grapefruit, Citrus, Club Soda. The Umbrella Workshop will also be serving their own bespoke London Cocktail Week serve. The Easy Rider mixes Dewar's 12yr whiskey with Sauternes, Jasmine, Nectarine, and Sparkling Oolong Tea.
Address: Unit 10, Cleeve Workshops, Boundary Street, E2 7JD
Website: https://theumbrellaproject.co.uk/shop/
Instagram: @umbrellaproject
Fazenda Debuts at London Cocktail Week with a South-American Inspired Serve
Premium South-American restaurant and bar Fazenda debuts at London Cocktail Week this year, following their launch in Bishopsgate in August. The restaurant has already won plaudits for their elevated take on Pampas cuisine, whilst the expansive standalone bar and lounge focuses on alternative and innovative expressions of South-American classics, curated by Bar Manager Michela Castiglioni (ex-Disrepute).
Throughout London Cocktail Week, Fazenda will serve a South-American inspired Chimichurri Paloma, which marries herbaceous flavours with the delicate earthy profile of Volcan Tequila, with a piquant kick. Fresh and citrusy with a hint of savoury, this delicious chimichurri infused tequila offers a twist on a classic that harnesses their Pampas routes.
The bar is set within an elegant, stylish, and refined space that promises to give visitors the atmosphere they need to feel special, with the interior created by hospitality design studio Carroll Design. Every element of the space is intended to transport guests into a top-of-class cosmopolitan bar and restaurant in South America, with design elements including intricate walnut wall finishes, honed Bardiglio nuvolato marble, custom Italian leathers for seating, and stunning one-off feature chandeliers, drawing attention to the space's high ceilings.
Address: Fazenda, 100 Bishopsgate Tower, London EC2M 1GT
Website: www.fazenda.co.uk/location/bishopsgate
Instagram: @fazenda.group
Acclaimed Barcelona Bar 'FOCO' to Host Takeover of cult east-London Bar 'The Sun Tavern'
Expect exclusive cocktails and free sandwiches courtesy of Dom's Subs
Cult East London cocktail bar The Sun Tavern will host a London Cocktail Week takeover from Barcelona's FOCO on Thursday 19th October. FOCO opened in 2023 and has already won plaudits in Barcelona's cocktail scene for their classically inspired menu with contemporary twists – featuring unexpected ingredients and innovative ways of manipulating flavour.
From 6pm to 2am, drinkers can expect an exclusive menu curated by FOCO and built around Dewar's 12yr whiskey, with the signature serve being the Brooklyn: mixing Dewar's 12yr whisky with bourbon, Martini Rubino, amaretto, mulled cherry wine cordial, maraschino, and apple. This cocktail will also be available all week from 12th to 22nd October for £8 with a London Cocktail Week wristband.
On the night, sustenance will be supplied free of charge by Hackney sandwich kings Dom's Subs and rolling through to 2am, live music from Metronomy's Olugbenga – who will be on the decks bringing some of the Brighton quintet's electricity to keep the vibes high all evening long.
A gift box featuring a bottled version of FOCO's exclusive cocktail and a t-shirt is also available for £20 on The Umbrella Project's online shop until 31st October here.
Address: 441 Bethnal Green Rd, London E2 0AN.
Website: www.thesuntavern.co.uk
Instagram: @thesuntavernbg
AMANO Rooftop Bar at London Cocktail Week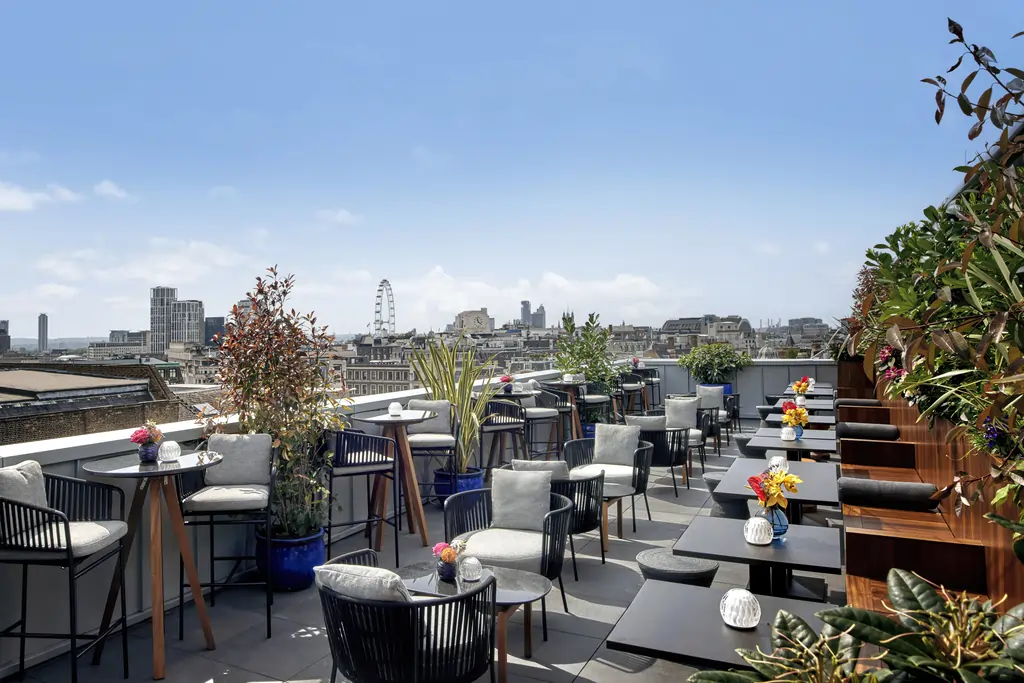 Located on the seventh floor of the Hotel AMANO Covent Garden, this swanky rooftop bar offers phenomenal city views and a first-class drinks menu – in the stylish lounge or on the covered terrace. For London Cocktail Week 12th-22nd October, AMANO Bar will be showcasing their Sweet Melon Spritz Cocktail, Belvedere vodka, melon liqueur, green Chartreuse, lime juice and topped with soda water at £8.
Amano Rooftop Bar is a breathtaking venue overlooking Covent Garden. Furnished with low-level blue stools and wooden benches, the decor exhibits opulence and luxury. Lit solely by candlelight, the terrace is super romantic, perfect for a fancy date night. Or you can choose to sit inside the bar in the comfort of sumptuous sofas under the glow of the stylishly dim ceiling lights – with a full view of our wonderful city. Amano is the ideal venue to spend your next very special evening.
Address: Drury House, 34-43 Russell St, London, WC2B 5HA
Website: here
Instagram: @amanocoventgarden
Discount Suit Company's Disco-themed London Cocktail Week Party with Angel's Envy Bourbon
Cult East London cocktail bar Discount Suit Company will host a free disco-themed London Cocktail Week party on Thursday 12th October in collaboration with Angel's Envy – bourbon legends from Louisville, Kentucky.
From 6pm to 2am, drinkers can expect an exclusive menu built around Angel's Envy bourbon, with the signature serve being the Averall Dalton: mixing Angel Envy bourbon, cranberry, peach wine, galaxy hops, and club soda. This cocktail will also be available all week from 12th to 22nd October for £8 with a London Cocktail Week wristband.
In the 70's Louisville supplied 90% of the world's disco balls, and in recognition of this heritage, Discount Suit Company will be transformed into a Studio 54 disco paradise, adorned with disco balls aplenty, and soundtracked by Disco hits supplied by DJ, model & icon, Princess Julia alongside WAG club legend, Chris Sullivan, as part of Umbrella Radio's infamous PTO nights.
Address: 29A Wentworth Street, London E1 7TB.
Website: www.discountsuitcompany.co.uk
Instagram: @discountsuitco
SUSHISAMBA Covent Garden at London Cocktail Week
Second London outpost of the famed SUSHISAMBA restaurants, this time atop the historic Market Building in Covent Garden. Bold in design, with an Eric Parry-designed glass roof, airy living canopy bar area and views over The Piazza throughout.
This London Cocktail Week, SUSHISAMBA are showcasing their Spice of Samba cocktail at £8 a light combination of Tequila, triple sec, guava juice, yuzu, chilli, Tabasco and foaming bitters.
Address: SUSHISAMBA Covent Garden, 35 The Mkt, London WC2E 8RF
Website: here
Instagram: @sushisamba_ldn
Booking Office 1869 at London Cocktail Week
Located in the St Pancras Renaissance Hotel lies the incredibly elegant Booking Office 1869. With an endless drinks menu with cocktail choices paying homage to the 1800s but with contemporary twists.
Booking Office 1869 is an all-day drinking and dining destination, complete with late licence, in the heart of King's Cross. A reimagining of the original, 19th century St. Pancras ticket hall.
For London Cocktail Week on the 12th-22nd October, Booking Office 1869 will be showcasing the cocktail: 1869 Vida. This delicious cocktail will consist of Del Maguey Mezcal, lemon juice, bitters, sugar syrup, maraschino liqueur and orange liqueur at just £8.
Address: St Pancras Renaissance Hotel, Euston Rd., London NW1 2AR
Website: https://www.booking-office.co.uk/
Instagram: @bookingoffice
Sabine Rooftop Bar at London Cocktail Week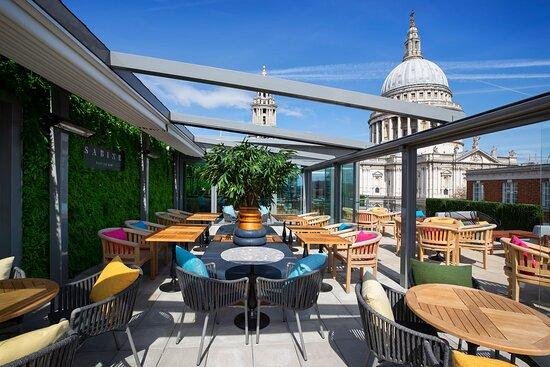 A rooftop escape in the City that boasts botanical décor, fruity cocktails, two outside terraces (one with a retractable roof) and spectacular views of St. Paul's. For London Cocktail Week Sabine is showcasing Bloddy Volcan X.A at £8 a sublime mix of
Volcan de mi guerra tequila, homemade clarified tomato juice, Ancho Reyes verde and citric solution. A £6 non alcoholic Rasperry G&T Whitley Neill Raspberry 0% topped with slimline tonic water will also be showcased.
Climb up to this botanical rooftop for a breather from the busy streets below, and to take in the un-rivalled views over St. Paul's Cathedral as you sip on a cheeky Spritz. With two terraces – one with a retractable roof to save you from any un-schedule downpours – this is the perfect pit-stop during an afternoon shopping spree or a great shout for an after-work drink too… Plenty of plants and colourful touches to the décor compliment the fruity and fresh cocktails on offer and there's a menu of light bites for when you're feeling a little peckish. We'd highly recommend heading to Sabine at sundown, to make the most of that sunset view over the London skyline and enjoy their excellent drinks when you're in this part of town!
Address: Sabine, 10 Godliman St, London EC4V 5AJ
Website: here
Instagram: @sabinerooftopbar