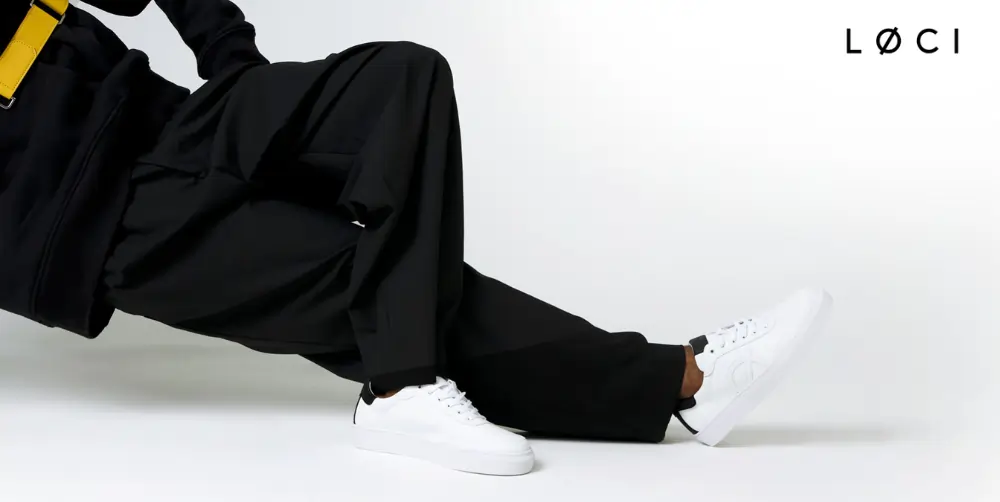 LØCI DIVE FROM SEA TO LAND BY LAUNCHING INNOVATIVE MAIZE ECO-LEATHER COLLECTION
Taking it to the next level, disruptor luxury brand LØCI announce new wave of footwear
LØCI, the fashion-forward, eco-luxury, unisex footwear brand is excited to announce their new maize collection. Since launching, LØCI is committed to using recycled ocean plastic in their deep-rooted mission to undertake ethical and sustainable measures. With the launch of their Maize collection, LØCI is now surfing new waves, as they continue to make a positive impact by combating deforestation and reducing their tread on the planet.
LØCI's newest collection is made using 100% innovative vegan material, replicating the look and feel of leather but with sustainable and durable benefits. Style is never sacrificed for sustainability at LØCI and the Maize collection's unique blend of 50% corn waste and 50% recycled polyurethane allows it to retain its shape with it being 4 times tougher than commercial animal hide.
Each trainer is hand-crafted in Porto, Portugal and has been created following years of development and research into LØCI's maize eco- leather. The material is totally comprised of recycled polytextiles, 63% biodegradable and REACH compliant, meaning that no chemicals are used in the creation of its material. Paired with 100% natural rubber sole, 100% recycled foam midsoles, and natural cork insoles, the brand is out to provide the most environmentally conscious footwear.
Available in the brand's core silhouettes, LØCI's first maize collection offers a variety of monochromatic options for a sleek high-end style, showing that looking good doesn't have to come at an ethical, sustainable cost. The new maize trainers are also naturally water resistant, easy to clean, and offers a lightweight breathable material that is built for long wearing comfort, making them the ideal trainer choice for any eco- conscious, fashion-forward trainer wearer.
LØCI is a brand with a purpose, conscientiously creating its products from innovative 100% vegan materials, starting with recycled ocean plastic, a major contributor to pollution worldwide, and now adding maize to their materials list. Giving back is at the heart of LØCI's brand and 10% of all online profits from the Maize collection will be donated to the wildlife charity Re:Wild in the fight against the loss of bio-diversity around the world.
CEO Emmanuel Eribo states: "We believe that the greater the impact, the more successful we are. Today, it's essential we do more than just make a fantastic product and we are here to change things. That is why it's always important for us to think differently, to swim against the tide."
LØCI sneakers start at £140 and are available online at www.lociwear.com.
Further information