Have you ever considered a luxury real estate investment in one of the world's most desirable alpine regions? If not, what follows will most probably change your mind. But for those not in the know, Edelweiss.re would like to introduce you to Alta Badia – the jewel of the UNESCO-listed Italian Dolomites. This celebrated valley regularly plays host to the Alpine Skiing World Cup and is often the focus of lifestyle magazines, thanks to its legendary hotels and restaurants. Among them St. Hubertus, holder of three Michelin stars, is just one of the many reasons so many fall in love with Alta Badia.
The sheer beauty of the landscape in the Dolomites needs little by way of introduction. The breath-taking peaks, bathed in hues of red and pink as the sun rises, is something most can only dream of seeing from their home. When winter rolls around, the skiing from Alta Badia is simply world-class. Dolomiti Superski provides alpine enthusiasts with access to 12 ski areas across 1,200 kilometres of slopes. Experience the Sella Ronda ski tour, which takes you through Ladin valleys of Val Gardena, Alta Badia, Arabba and Fassa in a flurry of pure, unadulterated skiing fun. For something different, take a tour of the gourmet lodges, trekking with snowshoes or on a fat-tyre bike, stopping to reward yourself with a delicious lunch, hot chocolate, or maybe something stronger.
Summer is the time for hiking, climbing and cycling – maybe even an electric-bike ride through the circuit of the legendary Giro d'Italia. Edelweiss.re is the recognised real estate specialist for this iconic region. A passionate, dynamic company with an unrivalled knowledge of the local market, Edelweiss.re offers exclusive, high quality, property services to those looking to invest in this extraordinary destination. The head office is located in the beautiful village of Colfosco in the municipality of Corvara, Alta Badia. Yet Edelweiss.re has a reach beyond the Dolomites, with other UNESCO World Heritage sites on the radar. In recent years, the company has expanded its portfolio to Venice and the Land of Prosecco – Treviso. Treviso is not only famous for the production of sparkling white wine but also for its stunning landscapes, cloaked in verdant vineyards. The region is also much loved for its prime location between Venice and the Dolomites. Edelweiss.re CEO Edward Mazzer is justifiably proud of the company's success in Italy's luxury real estate sector: "Our company aims to promote and encourage investments in estates in our target locations, supporting our clients in every step of their adventure. We offer a range of services, starting from market analysis, and progressing to legal support, urban planning verification, contracts, architecture and interior design."
STUNNING NEW PENTHOUSE
Corvara, Alta Badia
Edelweiss.re is pleased to announce plans for a new penthouse in Corvara, Alta Badia. This stunning property has three large bedrooms, three bathrooms, a large living area with fireplace, minimal-frame, triple-glazed windows, a mezzanine, a designer kitchen and a large south-facing balcony complete with small swimming pool. There are three parking spaces in the basement, a private cellar, ski storage, a laundry and a gym. The property has automated technology, LED lights and is exquisitely finished with stylish touches and natural materials.
Floor-space 235-sqm gross. Property ID 681385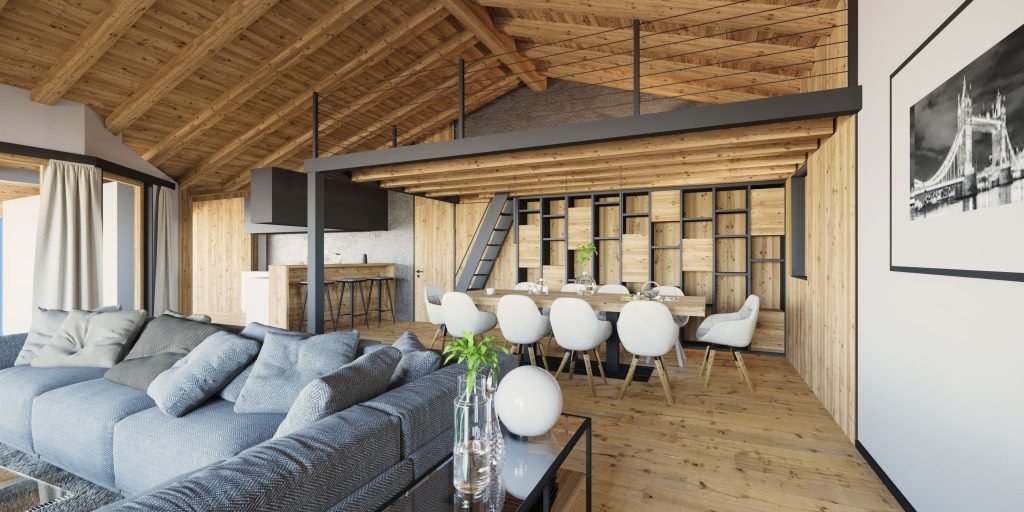 Cima Fanis, San Cassiano
Located within a new development in the picturesque town of San Cassiano, Alta Badia, are three exclusive duplex penthouses. The properties achieve alpine perfection with stunning mountain views. Clean, modern features characterise the properties, which are enhanced by the use of natural materials and finished with unique touches.
LA VILLA – NEW DEVELOPMENT IN ALTA BADIA
Close to world-class ski slopes, these exclusive and luxury chalets will be "A Nature", classifi ed. This certifi cation from the Casaclima Agency notes particular attention to ecological initiatives, including the use of sustainable materials and ecofriendly heating systems. High-quality standard materials are used throughout. Home automation systems, minimal-frame, triple-glazed windows, and LED lighting are just some of the features that set these properties apart.
Availability:
CHALET 1 – 108-sqm. gross. Property ID 283583
CHALET 2 – 165-sqm. gross. Property ID 169466
CHALET C – 208-sqm. gross. Property ID 13041
FROM THE DOLOMITES TO VENICE
INSPIRED BY NATURE – NEAR VENICE
A luxury villa located in San Biagio di Callalta, Treviso. The property is set in absolute privacy, and combines sublime natural surroundings with architectural elegance. The
interior design is by a famous luxury yacht designer, so every detail has a unique touch with specially selected materials.
LUXURY IN THE LAND OF PROSECCO
Two prestigious villas are now available in one of Italy's most desirable locations. These exclusive art nouveau and modern-style villas are located in Vittorio Veneto, Treviso – the Land of Prosecco – a UNESCO World Heritage site.
Property ID 327143; Property ID 320139
STUNNING PERIOD VILLAS – SAN MARCO, VENICE
A stunning duplex penthouse with 18th century murals is for sale in one of Venice's most prestigious residential districts, San Marco. Set in a historic palace, the property
boasts several stunning murals in its grand reception rooms, painted by the Italian artist Pietro Antonio Perotti.
Property surface approx.: 1,000-sqm. gross
To find out more about these opportunities contact:
Edelweiss.re: +0471 830 316,
info@edelweissre.it or visit: www.edelweissre.it