Tuscany is a place rich in natural beauty, a region blooming with a sense of community and eco-awareness, renowned for its art and culture over the centuries. With its exquisite vistas and lush green countryside, many regard Tuscany as a paradise. 
At the heart of Tuscany is Castelfalfi. A private estate of some 3,000 acres, consisting of rolling countryside, olive groves and vineyards. At its centre is Borgo, a stunning medieval hilltop village.
Castelfalfi is home to a vibrant international community, boutique hotels and restaurants, as well as a spa and wide choice of sport. And of course, indulgence in the delights of fine Tuscan wine and olive oil. Castelfalfi offers seclusion, yet it is easily accessible via national and international transport links. A rural haven all of your own, connected yet untouched.
Rich history
Architectural evidence shows that the history of Castelfalfi dates back 2,500 years to the Etruscan civilisation. As centuries went by, this sought-after location was passed from family to family, detaching itself from San Miniato and becoming part of the Republic of Florence, until it landed in the hands of the Medici dynasty. This famous banking family made a holiday home out of the location, transforming it into a picturesque villa with rolling meadows.
Following an acquisition by TUI AG, a huge restoration and recovery project was carried out. After the cultivation of over 25 hectares of vineyards and the restoration of buildings for the four-star La Tabaccaia and the Trattoria Pizzeria Il Rosmarino, the Toscana Resort Castelfalfi took shape.
Sustainable luxury
Nature has always been at the heart of Castelfalfi's beauty. Toscana Resort Castelfalfi is nestled among green fields that reach out towards the horizon. It is a location that embraces an air of sustainability in its design and amenities.
Each building on the resort is restored or constructed according to green building principles, using traditional materials such as wood and stone. Il Castelfalfi – TUI BLUE SELECTION, one of the two hotels within the village embraces these principles. A model of energy efficient luxury, the hotel uses fully recycled materials low in environmental impact. It is also considered a "Clima Hotel" – ensuring a microclimate free of dust – and promotes a philosophy of holistic wellbeing.
Within the estate is a sustainable 27-hole golf course. The course is GEO Certified® and is part of the Golf Environment Organization association OnCourse™ programme, which promotes sustainability across golf courses. Divided into an 18-hole mountain course, and a far more forgiving 9-hole lake course, there really is something for both seasoned golfers and novices alike. There is also the brand new Countryside Club House opening its doors in the summer of this year. Restored from of an ancient farmhouse, it will include the estate's fourth restaurant.
Be part of the dream
Not only does Toscana Resort Castelfalfi allow visitors to bask in the majesty of Tuscany, but it also offers a unique opportunity to invest in your very own part of the splendour by purchasing real estate on location. Stunning collections of restored farmhouses, new eco-sustainable villas and apartments, and private plots of land for restoration are available. You can even be responsible for an olive grove or a row of vines on the estate and experience first-hand the delicate, painstaking efforts required to produce outstanding food and wine in the "Be a Farmer" project. There are three main choices of investment available to those looking for the ultimate lifestyle.
The Casali Collection
The Casali Collection offers the chance to recreate the romance of life as a Castelfalfi farmer. These unique restored buildings are an integral part of the history of Tuscany. An endearing blend of old and new, with materials imbuing a distinctive sense of identity, time and place.
The majesty of the stone staircases, the homely warmth of wooden beams, the ancient fireplaces restored in full working order, every little aspect of the spacious farmhouses is engineered for comfort and authenticity.
La Collina Collection
Offering a choice between authentic Tuscan residences and newly built apartments, the La Collina apartment collection provides a special sense of community. With beautifully designed communal spaces, light-filled living areas, doors opening to expansive terraces and secluded dining areas, this collection is not to be missed. Residences even have a beautiful communal pool, perfect for moments of total relaxation. Each apartment invites residents to discover Tuscan life at their own pace.
Castelfalfi Villas
These villas present the opportunity to enjoy all of the beauty of the Tuscan landscape in the comfort of a bespoke, newly built home. A team of expert architects and designers work tirelessly to deliver homes built to specifications whilst also in keeping with the rich, traditional style. From the initial design process, to the final finish delivered by local craftsmen, this enables you to have control over your new venture into the lush terrain of Tuscany.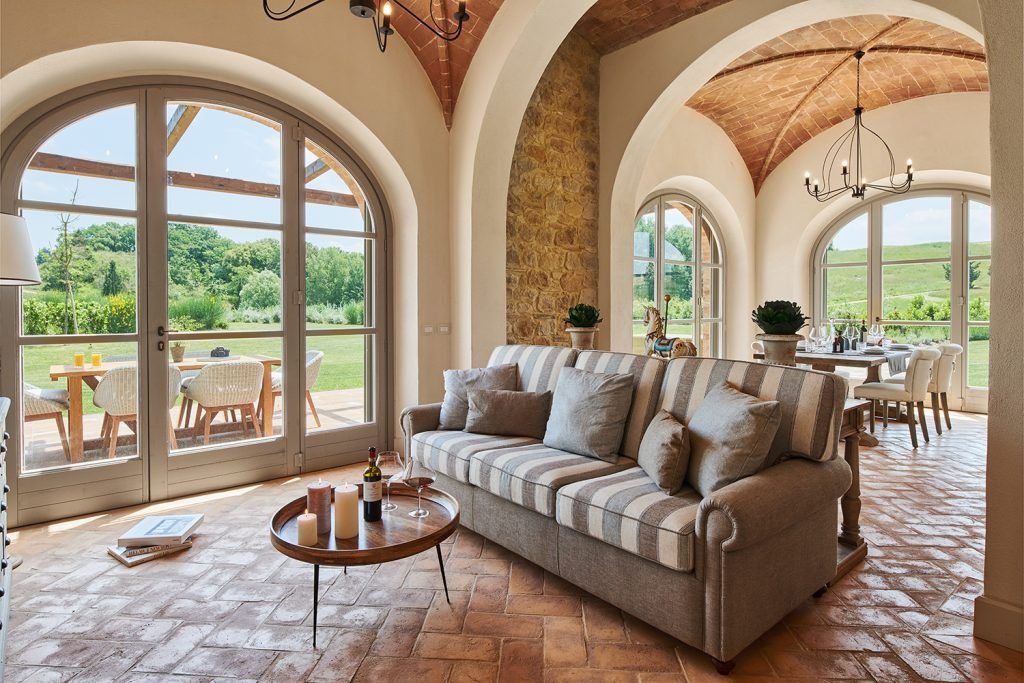 Further information