The New Roseblood Summer Collection
This summer, Ladurée are delighted to celebrate our continued collaboration with Château d'Estoublon's Roseblood with a pretty new box. The design of the box takes you on a journey through Château d'Estoublon's Garden of Eden with the snake as its guardian.
Nestled on the Alpilles, in the heart of Provence since 1489, Chateau d'Estoublon is a magical 300-hectare estate renowned for its exceptional olive oils and wines.
Roseblood is an elegant and delicate rosé, with a distinctive mineral freshness much loved by wine lovers and connoisseurs worldwide.
To celebrate the prestige and heritage of Maison Ladurée and Château d'Estoublon, the brands have created an exclusive collection, featuring macarons, sorbets, Roseblood Rosé wine, cocktails, and an exclusive afternoon tea.
This summer, stimulate your senses at the exclusive Roseblood Ladurée pop up terrace in Covent Garden, where you will be able to enjoy an irresistible blush palette food pairing experience, combining the Ladurée Savoir Faire with the lively and elegant Roseblood rosé wine by Chateau D'Estoublon.
LADUREE x ROSEBLOOD – From 15th June to 30th September 2023
Exclusive Macaron Gift Boxes
Roseblood gift box 8 macarons £25.50
Online exclusive
Roseblood gift box 12 macarons £35.00
Roseblood Rosé Macaron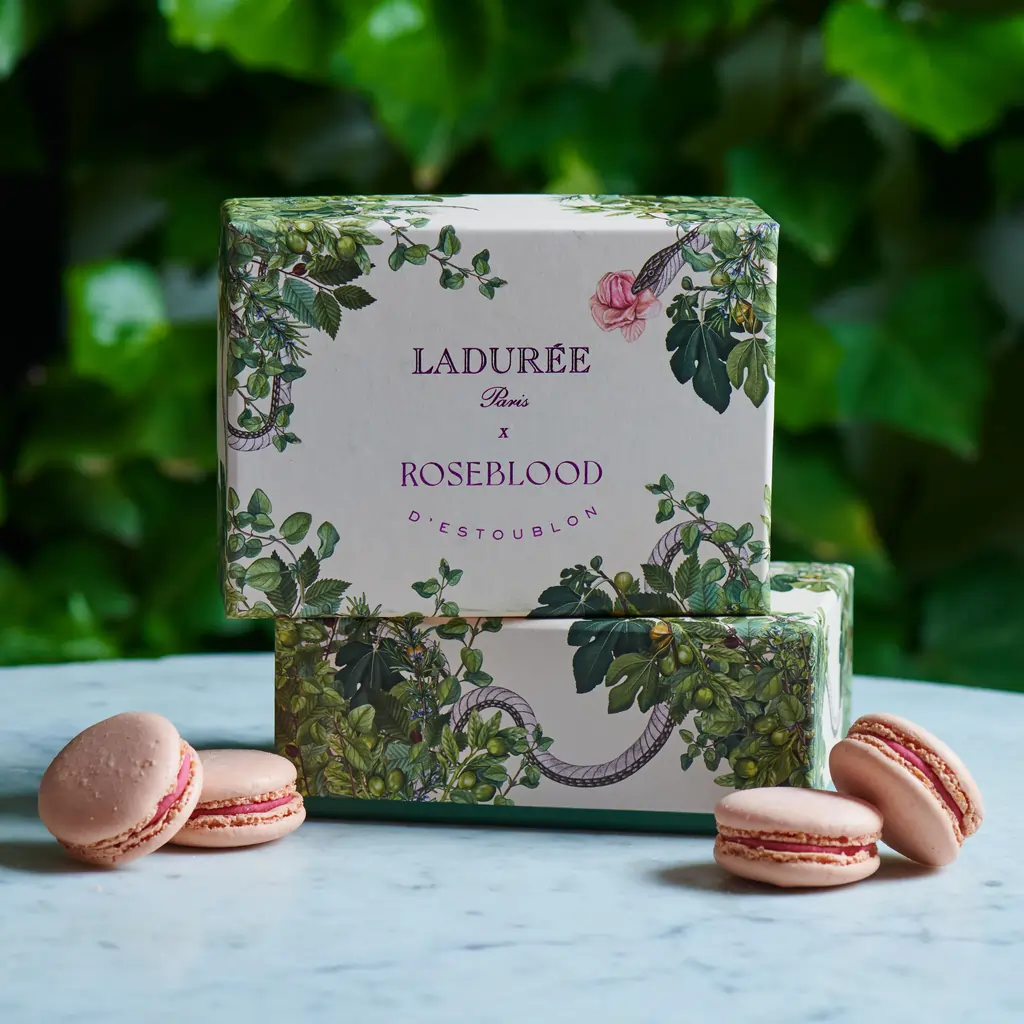 Two macaron shells filled with a ganache combining notes of red fruit, pomegranate and apricot.
(contains alcohol)
£2.65 each
Roseblood Rosé Religieuse
A divine pairing dessert made with a chou religieuse filled with crème pâtissière flavoured with Roseblood poached peaches.
£9.00 each Take-away
£10.00 each Eat in
(Contains alcohol)
Roseblood Rosé Sorbet
A refreshing sorbet combining the Roseblood notes of pomegranate and apricot with peaches that brings the unique flavour of the sorbet.
£6.50 each Cup – 180 ml
£10.50
3 scoops – Eat in Covent Garden
(Contains alcohol)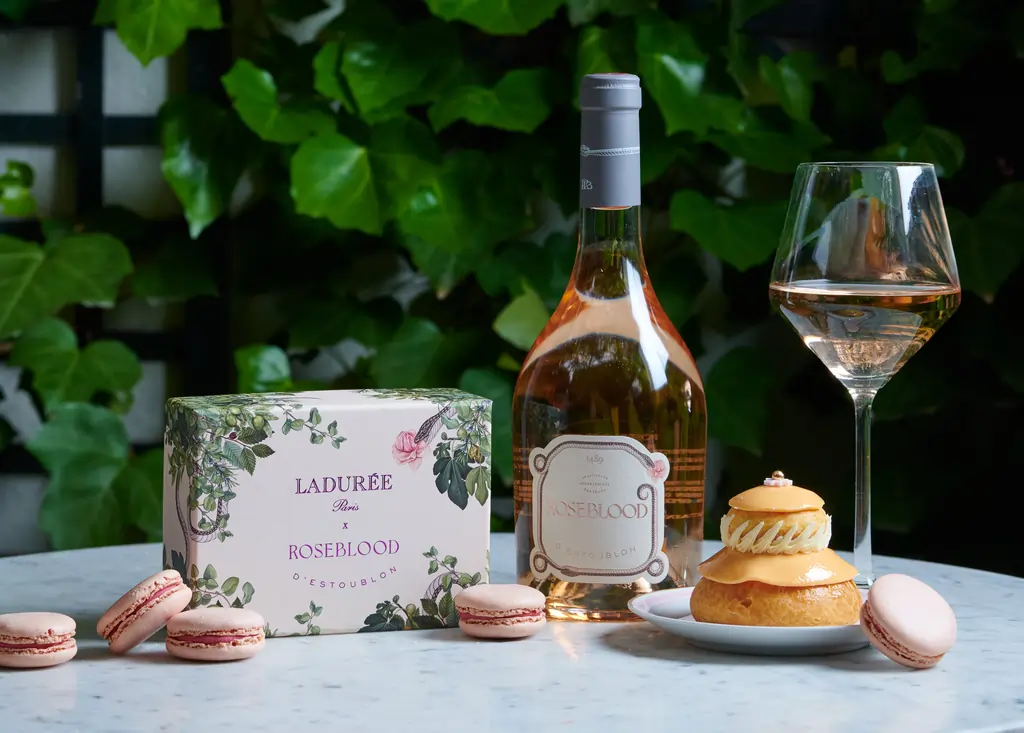 Roseblood Rosé Wine
With a beautiful and luminous pale rose colour, Roseblood brings together Grenache, Cinsault and Tibouren in a zesty rosé, with a distinctive mineral freshness where notes of apricot and peony express themselves freely.
Bottle 75ml £36.00 – Eat in Covent Garden exclusive
£26.00 – Take away
Glass
£9.50 – Eat in / £8.50 -Take away Covent Garden exclusive
Roseblood Rosé Afternoon Tea
£42.00
Served From 11:30 AM to 6 PM
Served with a glass of Roseblood Rosé wine
Ladurée Covent Garden Exclusive
Finger Sandwiches
Salmon & Cream Cheese
Cucumber & Mint
Lunch Size Patisseries
Roseblood Religieuse
Ispahan
Hot Drinks
Homemade Hot Chocolate
Selection of Ladurée Finest Tea Coffee
Ladurée Scones
Plain & Raisin Scones
Served with Ladurée Jam & Clotted Cream
Macarons
Roseblood
Raspberry