Classical Superstar Katherine Jenkins Launches Female-Forward Cygnet 
On 31st March 2023, Katherine Jenkins OBE announced the launch of Cygnet. Having discovered a little-known Welsh spirit in 2021, and realising it was being made six miles down the road from where she grew up, Katherine was inspired to create her own range of premium spirits, crafted in her home country of Wales. Katherine is the first female founder of a celebrity gin range.
Katherine says, "Being a professional music artist, I know that passion, perfection and dedication are what you need to create a memorable performance. And so I have crafted my Cygnet Gin in the same way that I have approached my singing career, with the deepest respect for my audience, striving for a 'best in glass' experience that reflects all the values I hold close to my heart."
The Cygnet range includes a repackaged and refined version of Cygnet Welsh Dry Gin, which allowed Katherine to apply her strong commitment to quality and sustainability. Katherine's own personal gin expression progressed further with the launch of Cygnet 22.
Cygnet Welsh Dry Gin and Cygnet 22 Gin are available to pre-order in the UK from www.cygnet-distillery.com at an RRP of £35 and £47.50, respectively and will be rolling out to retailers and the on-trade in the UK and to other global markets later this year. 
The Cygnet name is inspired by a baby swan, the animal symbolic of Swansea and the use of the number 22 for Cygnet 22 has special significance for Katherine as the expression was created in the year 2022, using 22 botanicals. Notably, Katherine was 22 years old when she was offered the largest recording deal in classical music history, so the number is close to her heart.  
In collaboration with her husband Andrew Levitas, the artist and social-impact filmmaker and Eric Villency, who designed products such as Peloton and Rock Star Energy drinks, Katherine designed the beautiful reusable glass bottles, brand logos and selected the botanicals for Cygnet 22. 
For Katherine, this has been a wonderfully creative and educational process and being known for her 'all or nothing attitude', she is truly the driving force behind the brand and has been central to every element of the business since its birth in early 2022.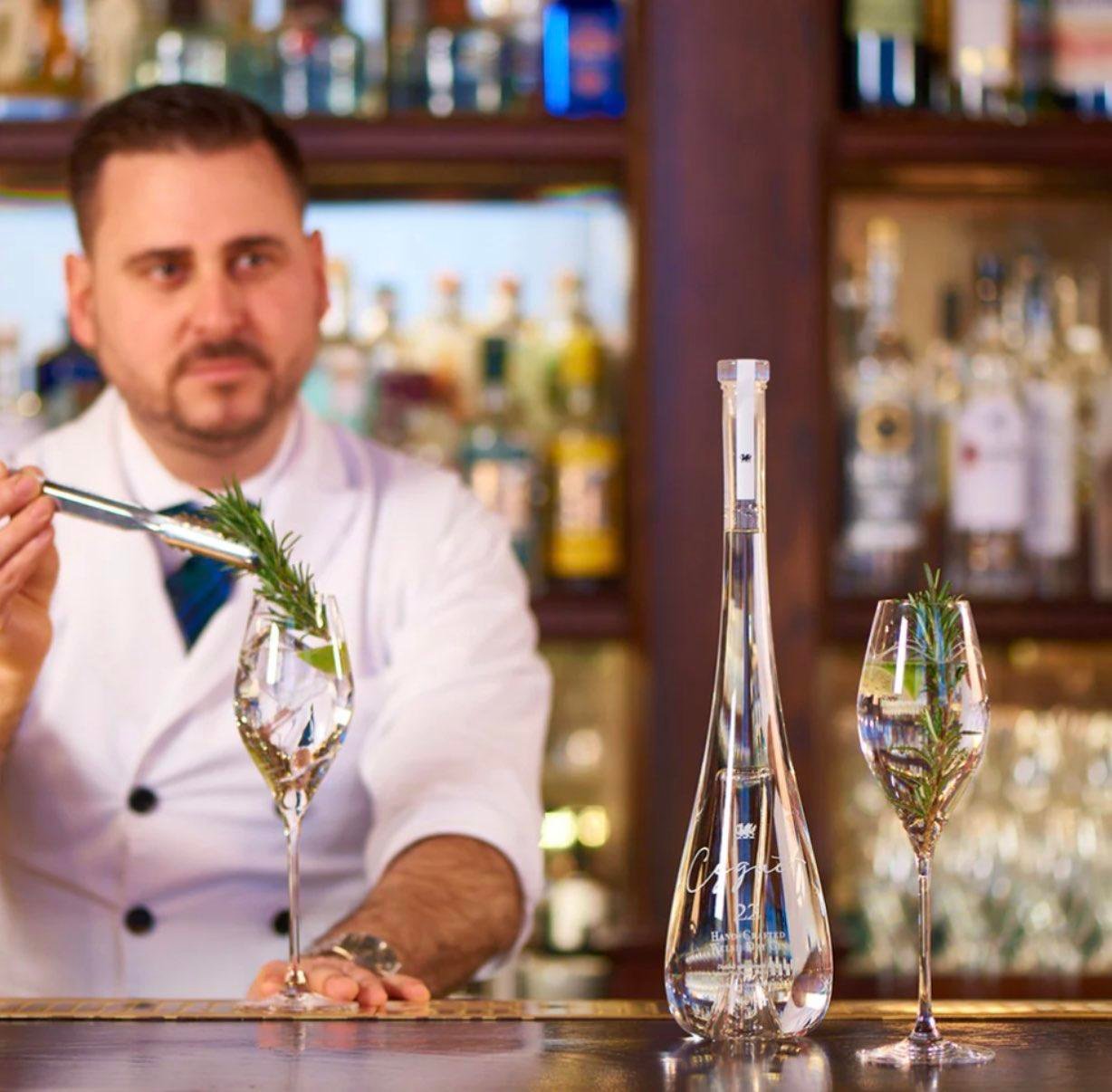 As a female founder, Katherine is passionate about speaking woman to woman. Tired of male-driven spirit products, she wanted to break the mould and create a 'Best in Glass' gin for the sisterhood of gin lovers (and those that love them). The bottle design, the message of the brand that women deserve only the best and the taste of Cygnet appeal strongly to a female audience; one that makes up the majority of gin consumers.
As a long-standing Ambassador for the GREAT Britain campaign, Katherine has been a passionate and committed champion of Wales for more than 20 years and is delighted to have brought new employment opportunities to the region, as well as promoting her world-class spirit brand globally. 
Katherine Jenkins says: "Cygnet combines the finest local botanicals with pure Welsh water and being surrounded by the nature and beauty of the valleys, a whole lot of 'Hwyl!' (an ecstatic feeling of inspiration unique to Wales). I've also included my 'secret ingredient' in Cygnet 22, Manuka Honey, which I use to take care of my voice. All of this results in an ultra-premium gin that is so smooth you can sip it on its own." 
Cygnet Welsh Dry Gin has an ABV of 40% and is made using pure Welsh water and 12 botanicals from around the world. The botanicals are an eclectic mix of flavours which include Almonds, Angelica Root, Chamomile Flower, Cardamom Seeds, Coriander Seeds, Juniper Berries, Lemon Peel, Liquorice Root, Lime Peel, Sweet Orange Peel, Orris Root and Pink Grapefruit Peel. Cygnet Welsh Dry Gin is a vibrant gin with an uplifting juniper aroma. Notes of sweet orange and soft coriander spice lead to a fresh citrus finish.
Cygnet 22 has an ABV of 44% and is distilled with 22 botanicals, including all of the botanicals in Cygnet Welsh Dry Gin, with the addition of Manuka Honey, chosen by Katherine for its healing properties as well as what it represents. Produced by bees foraging in the native Manuka bushes which grow wild in the New Zealand countryside, Katherine has advocated using this special honey for its throat-soothing properties for many years. The complex flavours and aromas from the Manuka Honey are imparted into the final vapour-infused distillate, without any of the sweetness, leaving a smooth, silky taste. The additional botanicals in Cygnet 22 include Calendula, Cassia Bark, White Peppercorns, Bee Pollen, Lemon Balm, Sea Salt, Rose Petals, Hibiscus and Heather. A warm heart of herbal juniper and spice is soothed by gentle notes of vanilla and bee pollen.
Cygnet 22 is a true disruptor and one of the first products in the category designed to be sipped as well as mixed.
Cygnet is distilled by sixth generation distillers and brewers, Aster and Chris Sadler. The Master Distillers have been integral in the creation of the unique Cygnet Welsh Dry Gin liquid along with their disrupting and revolutionary development of Cygnet 22 with Katherine.
Katherine adds, "It was important for us to make something beautiful but sustainable and all products across the Cygnet range will come with a promise to walk the walk."
At approximately 400g, the lightweight Cygnet 22 bottle weighs up to 50% less than the average spirits bottle meaning it requires less raw materials to produce and less energy to transport. In addition to being recyclable and refillable, the Cygnet 22 bottle-for-life is also designed with re-use at its heart, encouraging consumers to upcycle it as a water carafe or striking single stem vase. The dragon, the symbol of Wales, is incorporated on both bottles and Cygnet Welsh Dry Gin is also decorated with white daffodils, the national flower of Wales.
Cygnet Welsh Dry Gin is available to pre-order from the Cygnet website www.cygnet-distillery.com  at an RRP of £35.00.
Cygnet 22 is available to pre-order from the Cygnet website www.cygnet-distillery.com at an RRP of £47.50.