Baden-Baden is a place where rich history blends seamlessly with a contemporary living. Over the centuries, this German spa city has evolved into a highly popular destination, offering a unique world of adventure and relaxation. Located in the Black Forest, Baden-Baden is not only a wellness oasis, but a much-loved destination for art, culture and gastronomy.
Baden-Baden is renowned for the curative thermal waters that bubble up from its 12 springs. The city's thermal baths offer soothing recreation combined with high-quality wellness and beauty treatments. There are two public baths and both are impressive from an architectural standpoint, especially the historic Friedrichsbad. Here, 140 years of bathing history are celebrated in style, inspired by traditional Roman bathing culture and Irish bathing. Meanwhile, the modern and chic Caracalla Spa offers visitors a wealth of relaxation in picturesque surroundings.
Baden-Baden is home to a variety of spa and wellness hotels, all offering an exquisite range of treatments. The jewel among them is Villa Stéphanie, part of the five-star superior Brenners Park-Hotel & Spa. The luxury spa is a mansion solely devoted to providing an individually tailored spa experience. Along with the unrivalled wellness experience, Baden-Baden is also globally renowned for its arts and cultural scene.
Artistic elegance 
The Festival Hall Baden-Baden is Europe's second largest concert hall and hosts world-class opera, ballet and musical events. Known for its outstanding acoustics, the concert hall presents the cream of classical music, including the Berlin Philharmonic Orchestra and the Mariinsky Ballet.
In addition, the city is home to several terrific museums. The Museum Frieder Burda, built by star New York architect Richard Meier, hosts a fascinating private art collection; among its many exhibitions are rare masterpieces from classical modernism. The building itself is also a must-see for guests who appreciate grand architecture. Also recommended is the Fabergé Museum. It is the only museum in the world dedicated to the life's work of Peter Carl Fabergé. There are over 700 works on display, including the famous imperial Easter eggs made for the Tsar's family, as well as luxurious pieces of jewellery and other selected creations by the Russian jeweller.
Despite its tranquil setting, life is never quiet in Baden-Baden. All year round there is a variety of events in and around the city – from international horse races, to vintage car meetings, music and open-air festivals, culinary events and much more. In addition, three times a year, the racing elite meets for the International Gallop Race – this is when Baden-Baden becomes an epicentre of glamour and sporting drama. How about a round of golf? Baden-Alsace is one of Germany's finest golf regions, and with six championship courses in the locality, golf enthusiasts will be in heaven.
Nature lovers will also be in their element in Baden-Baden, as many exotic varieties of plants and trees grow in around this green city. The car-free city centre along with the 2km Lichtentaler Allee, provide the perfect setting for relaxing walks or horse-drawn carriage rides. And, as the home of Germany's largest municipal forest, Baden-Baden is the ideal starting point to explore the stunning surrounding mountains, whether on foot, on a mountain bike or even paragliding. Baden-Baden is the gateway to the Black Forest Panoramic Route, which impresses with its breathtaking views over the mountains and the Rhine Valley. The Black Forest is special at any time of the year, not just summer. Baden-Baden is also an ideal starting point to explore the surrounding cities and attractions during a day trip. For example, the castles of Heidelberg or Karlsruhe, the city of Strasbourg or Germany's biggest theme park, the Europa-Park, are all within reach.
Wine and dine
Baden-Baden's restaurants range from Michelin-starred affairs to cosy little taverns, offering both international and local cuisine. Just 6km outside the city centre, gourmets and aficionados of fine wines can explore a host of excellent restaurants and wineries in Baden-Baden's wine region, the Rebland – Germany's second largest Riesling growing district.
For an evening of glamour and excitement, the Casino Baden-Baden is the place to be. It is Germany's oldest casino and was once described by German actress and singer Marlene Dietrich as, "the most beautiful casino in the world". It offers guests the chance to indulge in a world of roulette, blackjack and poker in a unique Belle Époque setting of arcades and magnificent staterooms.
Few European destinations combine such a variety of wellness, cultural and culinary opportunities with such a spectacular natural setting. Best of all, almost everything is within walking distance.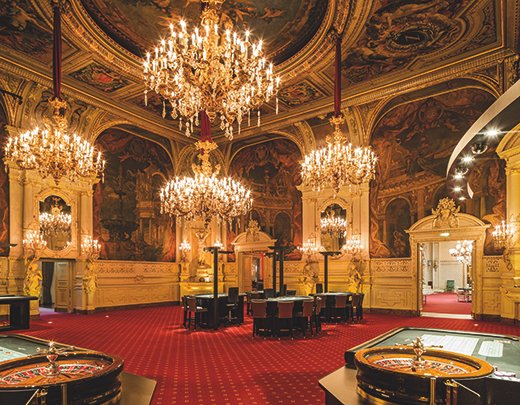 Further Information