Tipples for Travellers – Getaways for Cocktail Lovers  
To celebrate World Cocktail Day on 13th May, here are the best locations to enjoy a cocktail in the sun. From the Mediterranean to the Caribbean, this global holiday is the perfect excuse to sit back, relax and enjoy a blissful and refreshing getaway with a delicious cocktail.  
Sip away on the island of paradise in Jamaica  
Jamaicans are the life of the party everywhere and its rums, beers, and liqueurs help get the party started.  
The spirit of Jamaica can be found wherever the rum is. Whether you prefer white, dark or spiced, a trip to the Appleton Rum Estate is a must. Learn about the history of Appleton Estate and its very own Master Blender, Joy Spence, who is the first woman in the world to gain the title in the spirits industry. Experience its unique "Cane to Cocktail" rum making process and enjoy the multi-sensory tour.  Don't forget to pick up a limited-edition rum before you leave to create some classic cocktails of your own back home.  
Searching for the best beach bar in the world? Floyd's Pelican Bar might just be it. The owner of this hidden gem is a local fisherman named Floyd who built the floating bar in 2001. Made of scrap wood, this hut is a one-of-a-kind experience that's only accessible via boat. Enjoy an ice-cold rum punch cocktail in the middle of the sea and tuck into some super fresh seafood whilst you're at it too. 
Jamaican ginger beer is considered as one of the best in the world, mix this with its rum and you have Jamaica's potency in liquid form. To make a Jamaican Mule mix 2 parts rum, 2 parts ginger beer, 3 lime wedges and a dash of aromatic bitters and enjoy!  
Carefree island-inspired cocktails and rooftop bars with 360° views in Ras Al Khaimah, UAE 
Whether you are looking for a night out somewhere glam so you can get all dressed up or prefer a relaxed, toes-in-the-sand vibe, Ras Al Khaimah really does have it all.  
For those who enjoy grabbing a drink while watching the sunset, Neo Sky Bar is the only rooftop bar in Ras Al Khaimah with breath-taking 360° views. Situated at Mövenpick Resort Al Marjan Island, the bar offers a selection of fine wines, signature blends, well-crafted cocktails, spirits, and bubbly that can be enjoyed with Mediterranean bites, sushi platters and fusion tapas. For a more laid-back experience, jump on the Ritz-Carlton's complimentary private boat and head to the private shores of the  Ritz-Carlton Ras Al Khaimah, Al Hamra Beach. The Shore House celebrates the natural beauty of this exclusive setting. Enjoy light bites, local nibbles, and delicious sliders as the sun dips over the Arabian Gulf and the sky turns a kaleidoscope of colours. Choose from their fine collection of hand-chosen wines, freshly squeezed juices and ice-cold cocktails such as the Lion of The Sea, bourbon, shaken with bitters, dates, passionfruit and orange.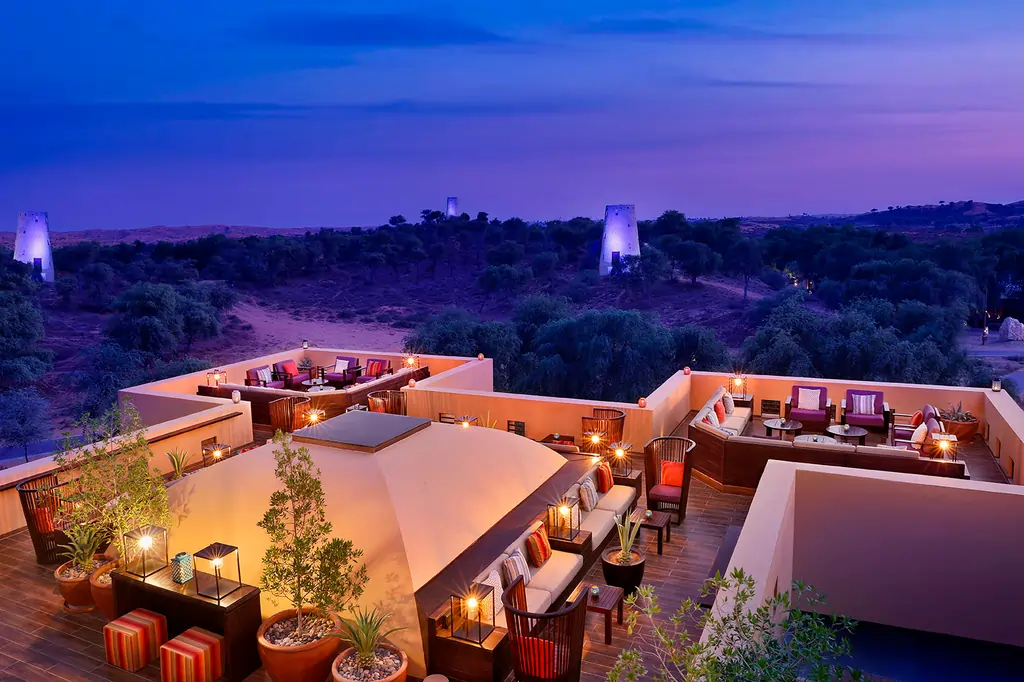 Mouth-watering Mediterranean   
Kivotos Hotel & Villas, Greece 
Leisure lovers can spend their day soaking in the Mediterranean sun as they sip on hand-crafted cocktails on their sunbed at the luxury Kivotos Santorini hotel. Discover the brand-new lounge bar where you can indulge in refreshing drinks from dusk till dawn. Come sundown, experience the spectacle of Santorini's world-famous sunset from the vantage of the hotel's terrace which hangs just above the Aegean Sea, a stunning backdrop for a cocktail evening with loved ones.  
From refreshing classic cocktails to vibrant original concoctions, Kivotos Mykonos' hip swim-up bar, Del Mar is the place to be this summer. The premium location is ideal for those looking for endless moments of pure relaxation. With carefully selected music, beverages, cocktails, wines, and champagne, experience the charm of Kivotos Mykonos under the sun or luminous star-studded Mykonian sky.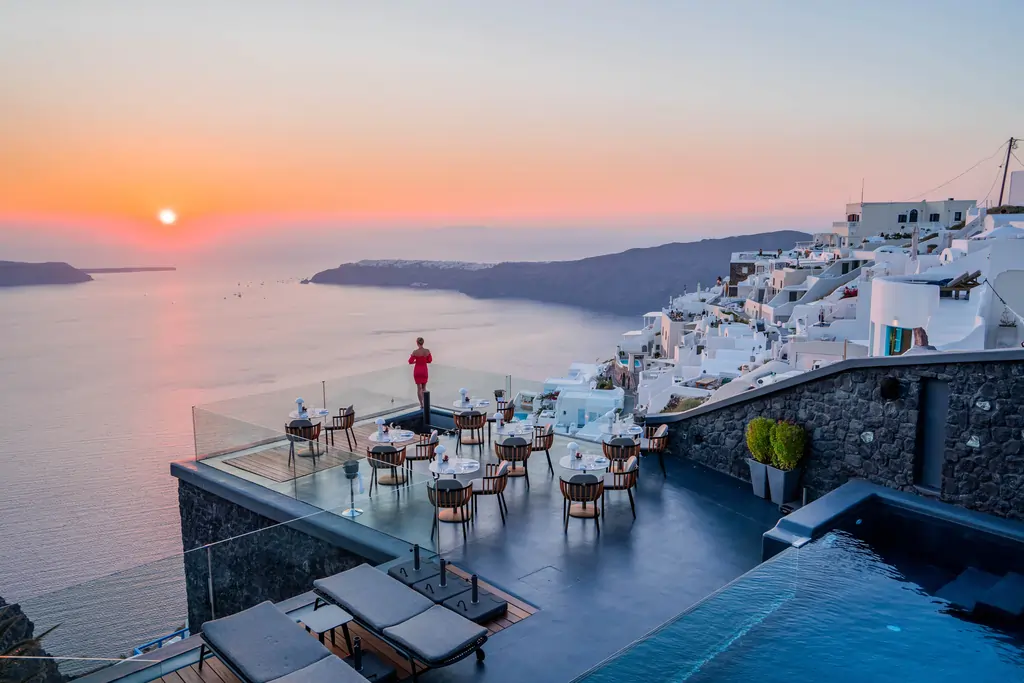 Kenshō Ornos, Greece 
Kenshō Ornos is a secluded slice of paradise and known celebrity hotspot.  With a selection of exquisite signature cocktails, Kenshō Ornos Sunset & Lounge Bar is the place to let loose and unwind looking over of the stunning view of the Ornos Bay. Paying homage to its Greek roots, the cocktail menu is based off Greek mythology and locations. On the menu is the Kykeon Negroni which takes its name from the ancient Greek drink, Kykeon, consisting of barley, water and herbs. The light and refreshing cocktail includes a white wine and natural juniper extract base. The Medusa's Gaze cocktail, rather than turn you into stone, will awaken all your senses with its white rum base. The chic bohemian vibe at Kenshō Ornos creates a tranquil and serene ambiance so guests can enjoy a luxurious cocktail experience.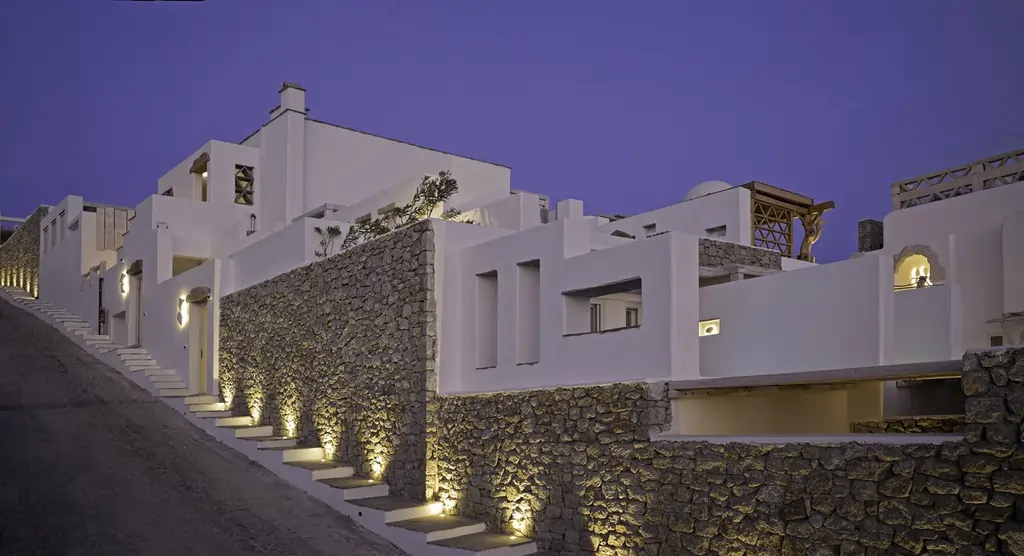 The Ixian Grand & All Suites, Rhodes, Greece 
Set upon the blissful Ixia beach on the island of Rhodes, The Ixian Grand & All Suites provides an all-inclusive haven full of spontaneous excitement including two bars with a wide selection of indulgent cocktails. While you lounge on your sunbed, soaking up the rays of the Greek sun, the Blue Pool Bar makes sure you keep your cool. Catering to all your needs poolside, Blue serves you a range of refreshing flavours and beverages that keep you hydrated. Try the iced or hot coffees and teas, fresh fruit juices, soft drinks as well as delicious cocktails and other alcoholic drinks plus a selection of light bites and snacks. The Truman Lobby Bar opens to a beautiful veranda that overlooks the lush gardens and the pool, inviting you to spend lazy moments of absolute enjoyment. Its contemporary design, clever layout and stylish decor are what guests love most in addition to the fine selection of drinks and beverages with a sassy twist including "A Perfect Love Affair" or the "Aegean Breeze".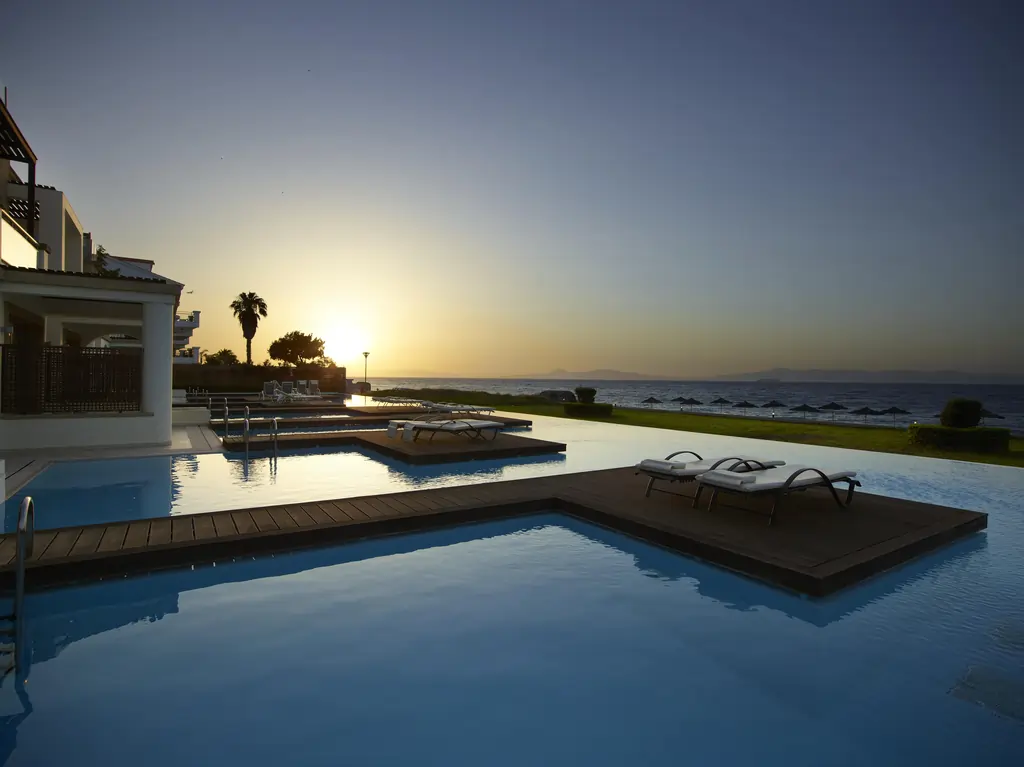 Seaside A Lifestyle Resort, Crete, Greece  
Perched on top of a cliff in Mononaftis Bay, located in the quiet and picture-perfect area of Agia Pelagia, stands Seaside, A Lifestyle Resort. The property boasts serene panoramic views of the Aegean Sea which will be sure to stir your senses with every turn. Only a short stroll away from a beautiful sandy beach, this lifestyle resort is perfect for an adults-only summer getaway. This season, Seaside will unveil a new bar which boasts a sleek design for those looking to enjoy a drink in a cosy setting featuring an exciting selection of drinks such as a Cretan Mojito or a Seaside signature cocktail mixed with vodka, strawberry, cranberry and soda. 
Mixology in the Maldives 
Nova Maldives 
Nestled on South Ari Atoll, you'll find your "soul place" at the newly opened Nova Maldives. Centred around a contemporary, all-Inclusive Community Concept, this laidback location is designed for real connection. Nestled within the island's powdery white beach, guests can wander down to Wink cocktail bar. The relaxed, beachy setting celebrates the island's natural beauty, providing an idyllic backdrop to sip a signature cocktail, or enjoy your all-time favourite classic. Enjoy live music or watch the dream-like sunsets, cocktail in-hand. 
Wink serves up a refreshing cocktail selection designed with every taste in mind, using tantalising tropical fruits, succulent berries, and hydrating coconut. In the mood for something new? Wink's signature "Chilli Honey Colada" is a tropical edition, perfect for those partial to a spicy marg. This cleverly crafted, savoury sweet recipe combines spiced rum, pineapple, chilli honey and orange juice, for a fruity, fiery flavour combination and balanced finish.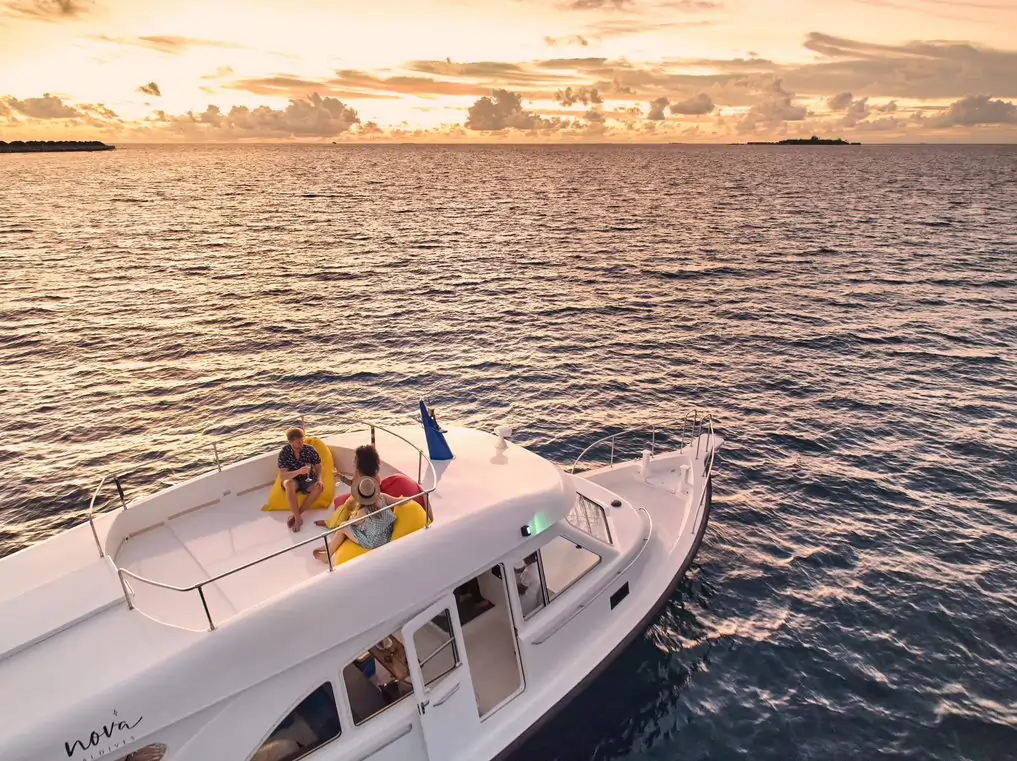 Kandima Maldives 
Kandima Maldives is the game-changing, stylish lifestyle resort offering soft luxury getaways for families, friends, solo travellers and couples alike. With a wealth of eateries and bars to choose from, the resort provides a secluded spot for date or a breath-taking beach bar for family fun. Head to the resort's own Beach Club for daytime drinks and a boogie with resident DJs. Perched atop its turquoise pool, the Beach Club features stylish white cabanas and a swim-up bar and welcomes all ages. With panoramic views across the island, this is the perfect spot to grab a mid-afternoon signature cocktail while you watch the sunset. Feeling parched? Try a thirst-quenching "Kriptonian", mixing white rum, mint, apple and fresh strawberry puree. 
Stroll along the 3km-long island to drink in more of the sea views at the Breeze Pool Bar. This relaxed setting showcases uninterrupted sea views and Kandima's take on iconic cocktails. Try the "Keeping Up" watermelon and lavender bubbles for a delicate, sweet tipple. Never one to leave guests wanting more, the resort also offers a third bar: Sea Dragon & Forbidden Bar. Combining ancient-inspired architecture and chilled tunes, Forbidden Bar is an ideally elegant ambiance for a sexy date night signature cocktail.