Make it a night to remember with FLUÈRE's range of non-alcoholic spirits
FLUÈRE is derived from the latin 'to flow'. For anyone who wants to flow in the moment, mind unclouded with alcohol, without compromising on flavour there is FLUÈRE non-alcoholic spirit. Award winning, meticulous botanical blends give a delightfully aromatic nose and a crisp palate. To make FLUÈRE botanicals are sourced from around the globe; juniper from Bulgaria, lavender from Provence, agave from Mexico and sugar cane from the Dominican Republic to name a few. Each botanical is then distilled separately using precise hydro-steam distillation, a process often used by perfumiers and one that allows us to gently extract maximum flavour at very low ABV. These distillates are then blended by master spirit blenders in the Netherlands into the 4 different expressions of FLUÈRE: Original Floral Blend with soothing notes of lavender, fresh and zesty FLUÈRE Fresh Raspberry, warming FLUÈRE Spiced Cane and exotic FLUÈRE Smoked Agave.
FLUÈRE is about making every sip of your drink the best it can be. The drink in your hand should elevate your experience, whether on a yacht in the Mediterranean or on your couch in the comfort of your own home. It's not about alcohol or no alcohol, it's about flavour and choice and FLUÈRE is there to help you drink well.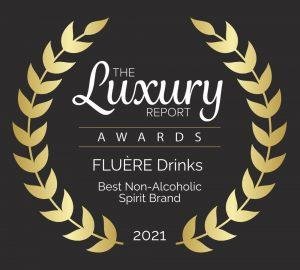 2021 has started well for FLUÈRE drinks having been awarded two medals at the Spirits Masters and having just received 'Best Non-Alcoholic Spirit 2021' from the Luxury Report. Everyone at FLUÈRE is honoured and hopes very much to see the trend continue.
FLUÈRE is a spirit made to be mixed and so here are a couple of ideas of how best to enjoy this subtly delicious liquid. For more cocktail ideas please visit www.flueredrinks.com where you can also buy your own bottle of FLUÈRE and explore the full range.
Let the love flow
50 mL FLUÈRE Raspberry
35 mL quality apple juice
15 mL fresh lime juice
2 tbsp strawberry jam
85 mL soda water
Shake everything except the soda water hard over ice. Strain into a wine glass, there should be a bit of foam, and add ice. Top with soda water, stir gently, and garnish with half a strawberry on the rim.
Grapefruit cooler
50 mL FLUÈRE Smoked Agave
Sparkling Grapefruit
Fill a highball glass with ice and pour FLUÈRE into the glass. Top up with sparkling grapefruit and give a quick stir. Garnish with a pink grapefruit wedge.
Please find all the FLUÈRE you need at: https://shop.flueredrinks.com/