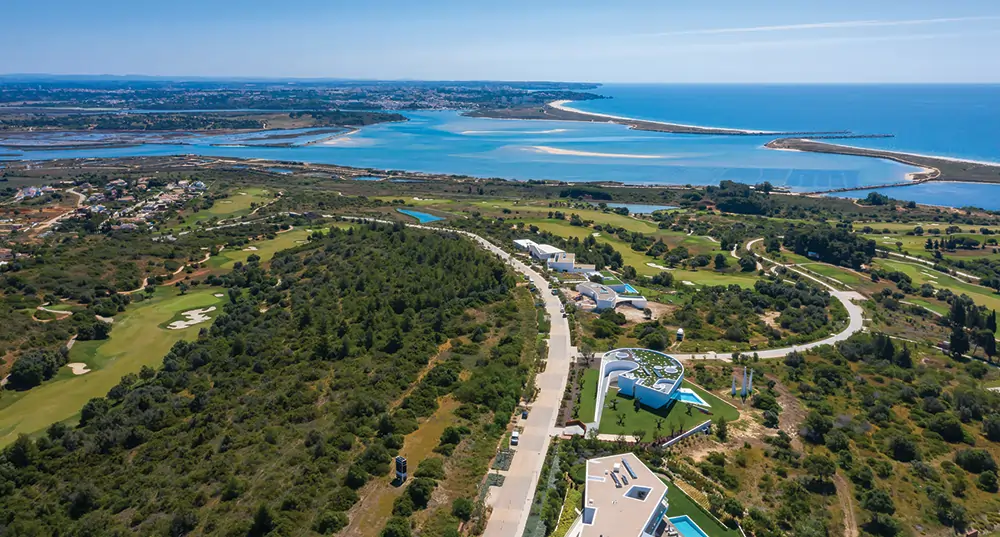 Soak in everything this region has to offer
The abundant sunshine, beautiful beaches and understated elegance of Portugal's Algarve make the region a hit with luxury travellers and families alike. Celebrities are regularly spotted enjoying the peaceful pace of the Algarve for their holidays, while some – Michael Owen, Dragons' Den star Peter Jones, José Mourinho – have also purchased homes here. So, what is it about the Algarve that makes visitors fall in love with it?
"The Algarve has it all – glorious weather, a beautiful natural environment, luxury experiences and a simply superb local gastronomy. The harmony between the greenery of the land and the rich blue of the ocean is just spectacular." Alda Filipe, Kronos Homes
Tasting the Algarve
Food plays a big role in many people's memorable experiences of the Algarve. The bustling fish and fruit and vegetable markets of Olhão, Portimão and Tavira are an experience in themselves. In the summer months seafood festivals, bursting with regional flavours, take place in towns along the coast.
One of the fascinating aspects of Portugal's gastronomy, from a visitor's perspective, is that it can be as luxurious or as local as you like. You can experience innovative, delectable dishes that celebrate the Algarve's abundance of seafood, olives, honey, almonds, oranges and more at Michelin-star restaurants – the tasting moments at Al Sud in Odiáxere are some of the best in the region. At the other end of the spectrum, you can enjoy sardines fresh off the grill with a slice of rustic bread on the side at eateries on the beach that are not more than shacks of very rudimentary wooden structures or delight in intensely sweet pastries offered by the quaint tiny bakeries tucked away in residential streets. Those who want to experience ultra-local life can purchase freshly dug clams sold out of buckets by ageing fishermen outside of small-town supermarkets.



Beach life
This same level of contrast can be found on the Algarve beaches. The region has a south-facing coast of around 155 km and a western coast of another 50 km, providing it with a huge variety in terms of picturesque beachscapes. There are tiny coves backed by yellow cliffs, where the still water is dotted with brightly painted fishing boats. Praia da Dona Ana in Lagos is one of the most stunning. There are also huge, windswept beaches where the enormous rollers of the Atlantic make it a mecca for surfers – like Praia do Castelejo on the Algarve's western coast. Then there are long, bay beaches like the 4 km crescent-shaped stretch of sand at Meia Praia in Lagos, which offers an idyllic way to enjoy beach life at its best.
The Algarve is also home to some stunning beach clubs, many of which offer a far more laidback vibe than comparable establishments in Spain, France and elsewhere. One of the best is NoSoloÁgua at Praia da Rocha, just by Portimão Marina. Visitors looking for a chilled vibe, with a stunning sea view, excellent food and cocktails and day beds on which to lounge as the sun sets certainly won't be disappointed.


Luxury resorts
The Algarve adeptly caters to visitors looking to enjoy a resort lifestyle, with a selection of exclusive locations that deliver luxury at every turn. Palmares Ocean Living & Golf is a prime example, with exceptional golfing and leisure facilities, including an award-winning clubhouse and the aforementioned Al Sud fine dining restaurant within its grounds. The 27-hole golf course provides a delightful mix of challenging play and stunning views across the Alvor estuary, while the views from the 20-room boutique hotel rooms feel like they could heal mind, body and soul in one fell swoop! Visitors who fall for the resort's charms can buy homes there, with Signature Apartments costing from €600,000 to ocean-view villa plots available from €1.25 million.
For holidaymakers who want to fit in a spa day to help them unwind, the Algarve once more delivers. The Vale de Lobo Royal Spa ticks every box imaginable, with Vichy showers, salt baths, hydro-massages and steam therapies delivering the ultimate in relaxation.





Getting back to nature
Most people don't think immediately of mountains when they picture the Algarve, but the region offers some impressive terrain when you step away from the beach. There are actually 336 named peaks in the Algarve, the highest of which – Fóia, at 902 m – offers spectacular views across the region. It's possible to ascend it on foot in a day, with time for breakfast in the pretty town of Monchique to fortify yourself before you set out. Keen cyclists will also be delighted by the challenging mountainous routes that the Algarve provides.
For those looking for something a little different, the Algarve once more delivers. Tucked away in the hills outside of the charming river town of Tavira, for example, is a stunning waterfall with a calm pool for wild swimming. Further inland, the river beach at Alcoutim feels like a hidden haven where you can spend the day dipping in and out of the water, pausing only to grill a fish or two on the brick-built barbecues at lunchtime.
"The Algarve is a region with something for everyone. It's a place to make memories you can cherish." Alda Filipe, Kronos Homes
About the Author
Louise Taylor is a travel writer who spent five years living in the Algarve and exploring its gastronomic and cultural delights.