Pforzheim's Jewellery Museum invites you to the ethnographic Herion collection, and on an incredible journey through a world of artefacts
What appears to be an octagon formed by two intersecting squares is in fact a small box complemented by triangles on the sides. Made of silver, set with turquoise, it is called Ga'u, and was created in Lhasa, Tibet in the 20th century. It is juxtaposed with a blue brooch of comparable size, crafted from blue steel mesh and silver by Than Truc Nguyen in Berlin in 2012. The two objects share similarities in colour and form: both are a shade of blue, and they are based on geometrical shapes. However, there is an essential difference between them. The former is an amulet case, originally worn by Tibetan noblewomen to ward off evil and summon protective spirits, whereas the latter is a piece of contemporary jewellery, whose moiré effect plays with appearance and reality – resembling a glittering gemstone when the light hits at a certain angle. This pairing may be surprisingly unusual, but it invites visitors to take the time to get a feel for the individual character of the pieces.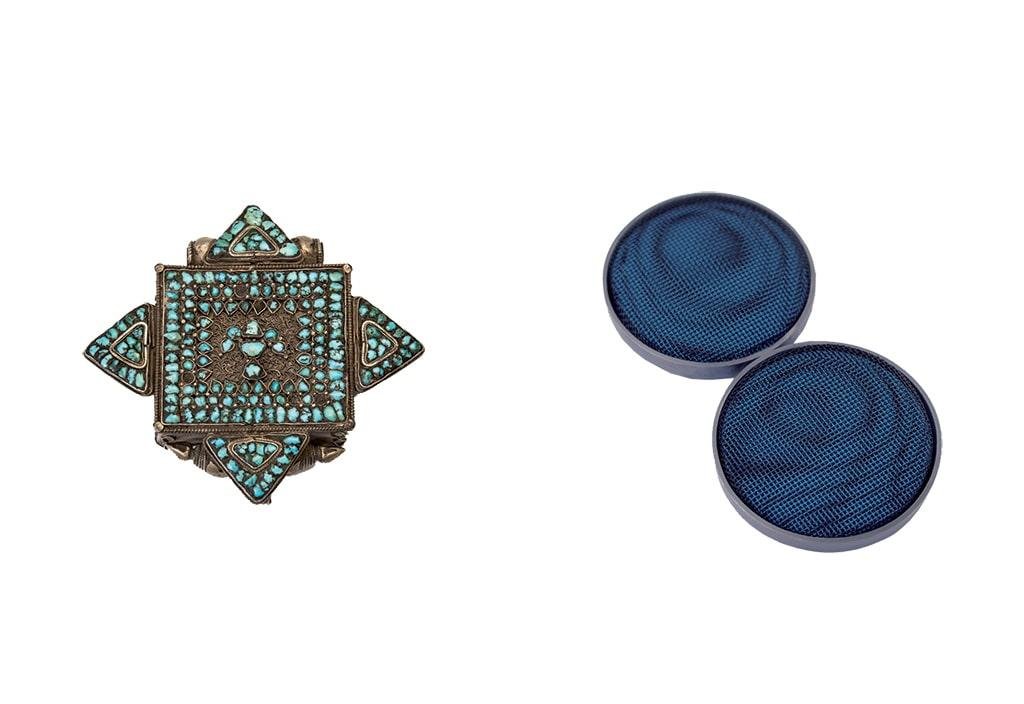 'We're showcasing the objects on the basis of universal design principles,' says Cornelie Holzach, the museum's Director. Commonalities and differences – across putative boundaries in terms of culture, region, or era – are the focus of the new presentation of the Herion bequest, which will be on display at Pforzheim's Jewellery Museum from early December 2021.
New perspectives
The ethnographic Eva and Peter Herion collection had originally been given to Pforzheim's as a permanent loan and has meanwhile passed into the museum's ownership. When the remodelled museum opened in 2006, parts of the Herion collection were set up with a special focus on Africa and Asia. Conceived as a semi-permanent exhibition back then, it is now being redesigned based on a fundamentally new approach.
The discussion held in recent years about our approach to ethnographic artefacts requires a new view of non-European jewellery. Here it is essential to see the objects from different perspectives. Their cultural and historical context is as important as the artistic aspirations involved, and they also need to be regarded within the framework of global jewellery history. Objects from all the museum's collections, whether from the historical, the modern or the ethnographic collection, will therefore be exhibited in a manner that allows them to enter into dialogue with each other.
'We'll no longer be showing the ethnographic artefacts in the context assigned to them for a long time, i.e. as something foreign that stands in contrast to our Western culture. Instead, we will be displaying them subsumed under the overarching theme of 'The phenomenon of jewellery,' highlighting that there is something innately human about jewellery,' explains Holzach.
This will give visitors an opportunity to immerse themselves in a wide variety of jewellery in a presentation that has not been put together according to previously accepted criteria, allowing them to discover diverse new perspectives or even produce their own.