World Gin Day, 11th June is the perfect occasion to explore new gin's from different countries. From India's Jaisalmer Gin to Aviation American Gin – crafted in small batches in Oregon, Portland, to the English Cotswolds, Mermaid and Pinkster Gin – each gin offering a different experience.
Aviation American Gin
Aviation American Gin, owned by Hollywood actor and producer Ryan Reynolds, has been voted the world's highest rated gin and has helped establish a new style of American gin – softer and smoother, with juniper in the background and citrus and floral notes in the front – resulting in a really well-balanced gin that is a great base for cocktails. 
Aviation American Gin RRP: £28 for 700ml. ABV: 42%. 
Available from: Tesco, Waitrose, Amazon, Morrisons and Master of Malt
Instagram: @aviationgin  Twitter: @aviationgin   Facebook: @AviationGin
Jaisalmer Indian Craft Gin
Jaisalmer Indian Craft Gin is triple-distilled , handcrafted in a traditional copper pot still in small batches at one of India's oldest distilleries, located in the foothills of the Himalayas. Jaisalmer Gin encapsulates the whole of India in one bottle as seven of the 11 botanicals are sourced from all four corners of India. Jaisalmer Gin is wonderful in cocktails and makes a classic G&T, mixed with Indian Tonic Water and a twist of orange
Jaisalmer Indian Craft Gin RRP: £34.95 for 70cl.  ABV 43%
Available from: Amazon, The Whisky Exchange and Master of Malt 
Naked Pinkster G&T
Pink gin pioneer Pinkster has unveiled its juniper-rich, base gin as Naked Pinkster. This super pure gin has always been macerated with fresh raspberries but in a nod to traditional styles is now available as a gorgeous drink in its own right.
This old-school gin, distilled with five botanicals to the company's own recipe, makes a crisp, dry G&T when garnished with a twist of orange peel. 
Naked Pinkster RRP: £34 for 70cl. 40% ABV
Available from: Amazon and pinkstergin.com
Pinkster Gin 
The pioneers of pink gin, Pinkster Gin is made from gin-soaked raspberries grown near Pinkster HQ in Cambridgeshire which give it its pink hue and subtle fruitiness. Pinkster has no added sugar with the sweetness coming from the raspberries alone. A deliciously dry gin with a hint of fruit and an exceptionally smooth finish.  Perfect served with tonic, ice and garnished with a sprig of mint and a raspberry. 
Pinkster Gin RRP £36.00 for 70cl bottle. ABV 37.5%
Available from: Majestic Wine, Selfridges, Ocado, Master of Malt and www.pinkstergin.com
Mermaid Gin 
Mermaid Gin & Vodka are produced in Ryde at the Isle of Wight Distillery, the first and only distillery on the island. Mermaid spirits are shaped by the distillery's stunning surroundings and the unique character of the Isle of Wight all whilst minimising waste using ethically sourced and often locally sourced ingredients to hand-craft a range of smooth, complex spirits, with a hint of sea air. 
Mermaid Gin RRP from £38.00. ABV 42%. 
Available from Amazon, John Lewis, Master of Malt, The Whisky Exchange, Harvey Nichols,Fenwick, Tescos and Waitrose 
Cotswolds Dry Gin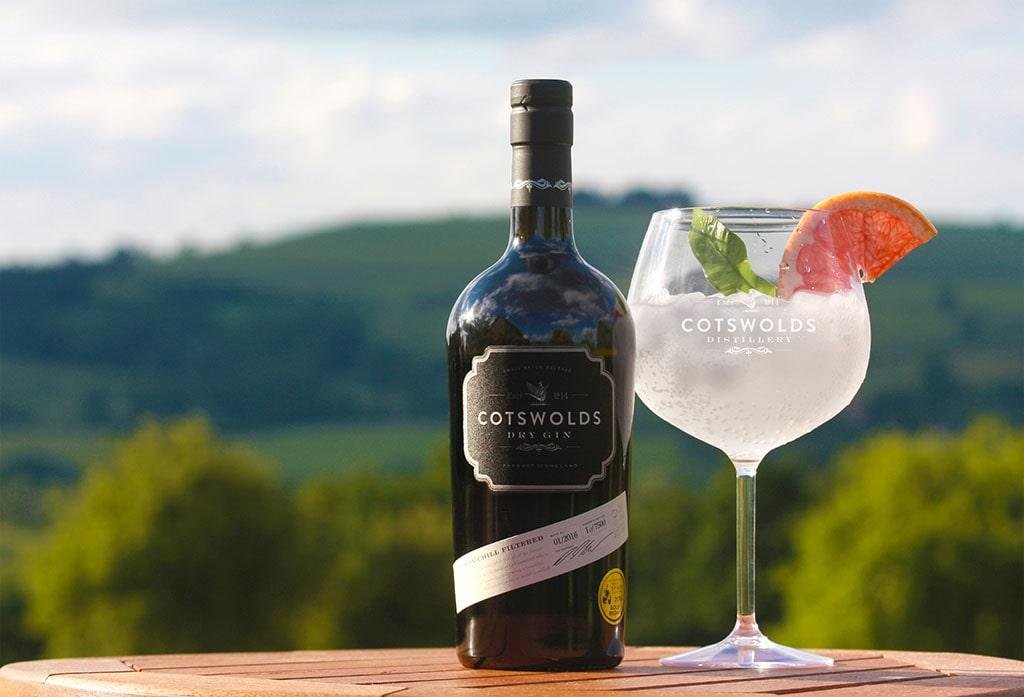 Cotswolds Dry Gin stands out from the crowd with its slight opalescence. This is because it is non-chill filtered so the oils are retained in the gin, causing a pearlescent cloud to appear when ice and tonic are added, creating the unique 'Cloudy G&T'. 
Cotswolds Dry GinRRP: £34.95 for 700ml. ABV: 46% 
Available from cotswoldsdistillery.com, Waitrose, Majestic, Oddbins, Laithwaites, Selfridges and Fortnum and Mason
Cotswolds No. 1 Wildflower Gin 
Cotswolds No. 1 Wildflower Gin is a blend of cornflowers, lavender, orange and rhubarb root, layered over a classic London Dry gin. It is a fragrant, full-strength gin bursting with natural flavour and delicate floral aromas of summer meadows. Cotswolds No 1 Wildflower Gin makes for a fabulous and refreshing gin spritz when mixed with premium tonic, ice and a garnished with a slice of orange. 
Cotswolds No.1 Wildflower Gin: RRP: £34.95 for 700ml bottle. ABV: 41.7%. 
Available from: cotswoldsdistillery.com , Master of Malt and Amazon
Perthyn Low Alcohol Spirit
50ml Perthyn Low Alcohol Spirit | 200ml Mediterranean Tonic | Garnish with Pink Grapefruit and Rosemary 
Mix PerthynLow Alcohol Spirit and Mediterranean Tonic in a glass with ice and garnish with Grapefruit and Rosemary
Perthyn Low Alcohol Spirit RRP £21.95. ABV 10%. Available from the Cardiff Distillery