Home to Europe's largest collection of cigars stored in the biggest hotel humidor in Europe, The Wellesley houses an extraordinary collection of over £1.5 million worth cigars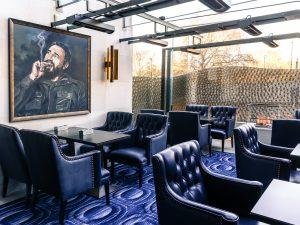 In charge of personally sourcing some of the world's finest is the hotel's humidor specialist; Giuseppe Ruo. A true cigar aficionado, Giuseppe hand-picks each, stick by stick, chosen for their quality and range in flavour resulting in the hotel's impressively diverse selection. Housed within the Cigar Lounge's climate-controlled humidor, the cigars are kept at an optimal temperature to ensure they maintain their best possible condition, so they don't dry out or lose their flavour.
Whether a seasoned smoker or a cigar novice, Giuseppe will help each individual pick out a cigar to match their personal preferences. For beginners, Giuseppe will take you back to basics and teach you the fundamentals of choosing a cigar; discovering how the shape, size and price can tell you a lot about a cigar's quality and flavour before you even begin to smoke it. Be sure you have chosen the perfect match with a sample in the indoor tasting room before mastering the art of lighting and smoking the cigar like a true professional.
For seasoned smokers, The Wellesley is home to a number of limited-edition cigars, distinguishably full bodied in flavour and some of the rarest in the world. Once you've selected your desired stick, head to one of the hotel's two Cigar Terraces, sit back in a snug leather chair in front of the open fireplace and enjoy the ultimate smoking experience. The recently renovated alfresco terraces sit on either side of the hotel's entrance and provide a truly unique spot for smoking a cigar; the bespoke sculptural glass screens have been cleverly designed to create a private hideaway from the bustling city, whilst allowing the outside breeze to naturally flow through.
Making the experience that bit more memorable, Giuseppe ensures the bar is fully stocked with a selection of vintage cognacs for cocktails that can be made on demand to complement the notes of the cigar. Those that want to further their understanding can also book a cigar and cognac masterclass to indulge in two cigars alongside a glass or two of cognac whilst you learn the full history and art of cigars.
Further information