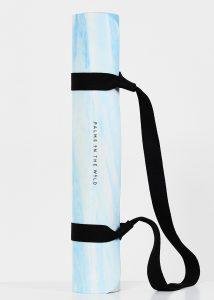 Yoga mats that will transport you from home to your favourite destination
With over 66 million Brits grounded in the UK and idyllic destinations still on everyone's mind, being transported to calm and tranquil landscapes has never been more desired.
Unlike many traditional yoga mats, the Palms In The Wild collection are printed with beautiful destinations to accompany yoga practice. The mats allow a little escape from every day life with eye-catching and unique photography taken across the world.
Palms In The Wild Founder, Leah Whitty said; "Recharging your mind and body is a great way to switch off from the busy world, and with no prospect of a holiday, hopping onto a mat with tranquil waves or serene palm trees just adds that little more to your practise at home.   
Made from sustainable natural rubber tree, recycled polyester and recycled nylon, these eco-friendly mats are created using an absorbent microfibre, meaning the more you sweat the more it grips allowing you to concentrate on your practise. In partnership with One Tree Planted, Palms In The Wild will plant a Arenga pinnata palm tree in Indonesia for every mat bought, so you can purchase with the knowledge that these mats are not only caring for the planet but giving back. 
In just one move yogis could be on a subtropical beach on the coast of Queensland or in the turquoise ocean of the Whitsundays from their lounge, by stepping onto a Palms In The Wild yoga mat.  
Palms In The Wild current collection includes:
The Palm – One of our ultimate favourite spots in Australia. While soaking up the sunshine in Noosa, walking by the rolling waves, these happy palms appeared swaying in the breeze. £85.00
The Trail – Tucked into this subtropical jungle beach on the coast of Queensland, palms emerge, and mangroves crawl out to the ocean meeting The Great Barrier Reef. £85.00
The Canopy – One of 7,100 islands in the Philippines, vibrant nature scatters across this tropical spot with an abundance of fish that swim to the shorelines among the coral reefs. £85.00
The Swell – Where millions of pure silica grains of sand meet the calm swells of turquoise ocean. This is the largest beach in the Whitsundays and a protected home to many turtles, rays and tropical fish. £85.00
The Outback – Somewhere over this vast continent, deep etchings carve out this striking Aussie landscape, formed over millions of years. Lose yourself in a slice of this abstract view. £85.00
The Shore – These crystal waters found in the Philippines make for the perfect coral reef and fish exploration with fine white sand sprinkling over every beach in the area. £85.00
Further information