The Grande Dame of Singapore is poised to welcome back international visitors with unique and distinctive stay experiences, perfect for every occasion or pursuit.
Raffles Hotel Singapore welcomes back our international visitors with a selection of specially curated stay experiences designed to delight the senses and invites guests for an immersion into the iconic property's rich heritage, legendary service and a refreshed haven delivering a compelling mix of culture, beauty and gentility. One of the few remaining great 19th century hotels in the world, the hotel is perfectly preserved both inside and out, giving it an intoxicating blend of luxury, history and classic colonial design. No visit to Singapore is complete without a stay here, where the grand historic hotel exudes old-world grandeur infused with the unique charm of the city state.
Guests can retreat at the recently renovated and restored Grand Dame in one of its spacious and beautifully appointed suites, set amidst lush greenery and serenity, while indulging in pampering amenities and facilities around the iconic hotel. Recently voted as one of the Top 5 Hotels in Singapore by the Condé Nast Traveler's 2021 Readers' Choice Awards, discover the grandeur of one of Singapore's most prominent hotel following its restoration with each of the following packages. Augmented by a plethora of privileges that promises unique experiences for guests to create treasured memories at the hotel and rediscover what makes this National Monument of Singapore so special.
Managing Director of Raffles Singapore, Christian Westbeld says, "Following the announcement from the local authorities on the secure and carefully calibrated reopening of selected vaccinated travel lanes to Singapore, we look forward to warmly welcoming our international visitors back to the Grande Dame to reconnect with the enhanced experiences we have put together to continue to surprise and enchant our guests. Our diverse and multi-layered offerings will appeal to both a first-time traveller into Singapore to a loyal repeat Raffles guest, explorer, adventurer, casual visitor or an enthusiast of food, art, culture and history. Alongside these, we continue to embody the philosophy that guides our service excellence the hotel is known for, whilst maintaining the highest hygiene standards to safeguard the health and wellbeing of all our guests and colleagues."
Wine & Dine
Raffles' exciting dining experiences combine the hotel's well-loved culinary traditions with contemporary dining concepts by renowned celebrity chefs. Each promises to tantalise the senses as sumptuous cuisines and epicurean adventures come together at the city's premier dining destination. From French fine dining at La Dame de Pic, three-Michelin starred Chef Anne-Sophie Pic's debut in Asia, the warm flavours of the Italian Riviera at the newly evolved Osteria BBR by Alain Ducasse and the intricacies of Chinese cuisine at 藝 yì by Jereme Leung to authentic North Indian delights at Tiffin Room and a wood-fire dining journey at the avant garde Butcher's Block – we present local favourites, innovative creations and curated classics. Guests can also look forward to reliving the traditions of a classic Raffles Afternoon Tea and enjoy a Singapore Sling right here at Long Bar where it was created more than 100 years ago or experience a new collection of craft cocktails created by Head Bartender, Nicholas Alexander at Writers Bar, bringing his mastery of the craft with concoctions that are high in nuance, exceptional flavours and stunning aesthetics.
Explore & Discover
A Raffles Bicycle Trail with Tan Ah HuatTake a bicycle tour through the civic district enveloping our historic building with Tan Ah Huat, a crafted story of a local entrepreneur who will regale you with his life stories growing up in Singapore, exclusively available as an add-on to your stay package. Understand the contrast of modern Singapore and scenes back in the 1920s as you cycle through a trail incorporating historical landmarks such as the Padang, Singapore River and the landing site of Sir Stamford Raffles when he discovered modern Singapore in 1819 and conclude the tour with a visit to Raffles Boutique to discover the heritage of the iconic landmark. This bespoke activity is available to be added on as part of your Raffles experience.
Reflections of Raffles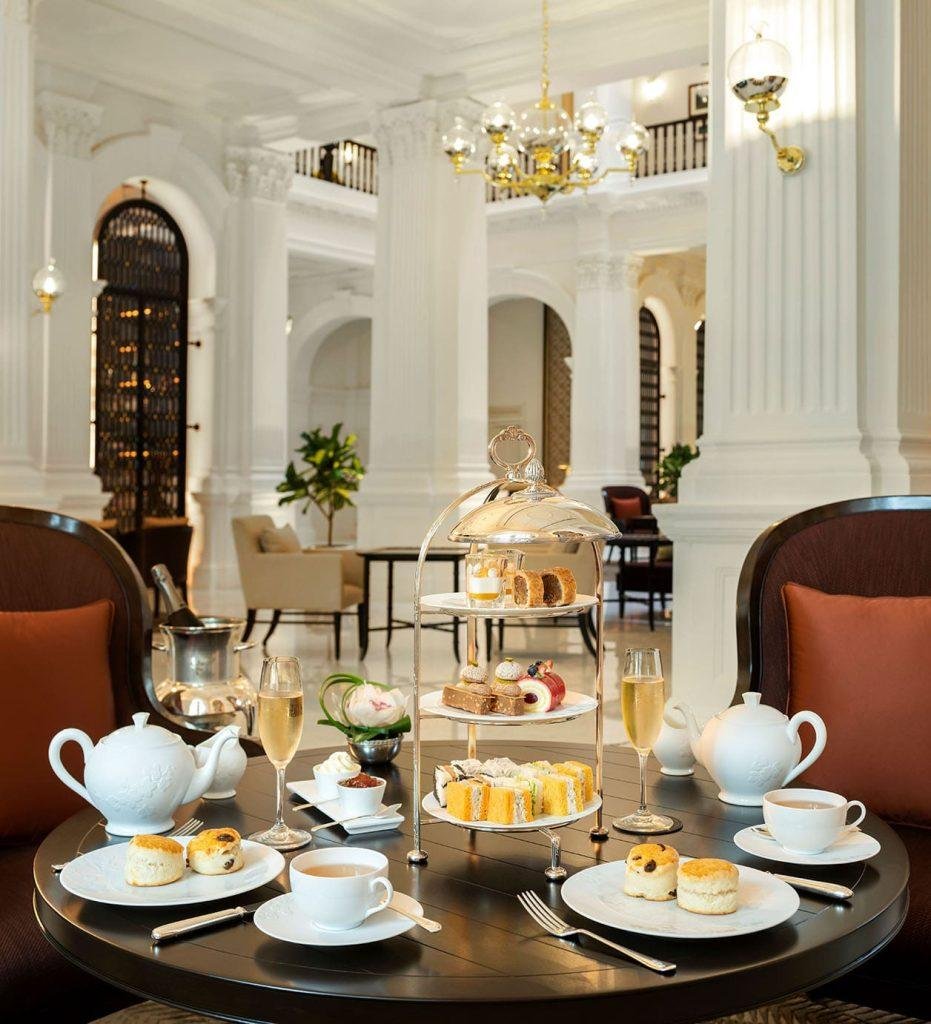 Discover the recently launched memoirs of our Resident Historian, Mr Leslie Danker in conjunction with the hotel's 133rd birthday – A Life Intertwined: Reminiscences of an Accidental Raffles Historian. Enjoy daily breakfast for two at Tiffin Room, the Raffles Heritage Evening experience for two at The Grand Lobby, a specially curated trishaw ride around Raffles Singapore detailing the locations mentioned in in the book plus a copy personally autographed by Mr Danker himself. This book chronicles Mr Danker's 48-year legacy with the hotel with a keen focus on the years between 1991 and the latest restoration which was completed in 2019. Interspersed with clippings, illustrations, notes and photos of our illustrious history, 'A Life Intertwined' is a nostalgic recollection of Mr Danker's personal stories and reminiscences of the hotel.
Nature & Adventure
Treasures of Raffles
Raffles Hotel Singapore together with Double Confirm Productions and Sight Lines Entertainment presents the 'The Curious Case of the Missing Peranakan Treasure', an enthralling detective whodunnit tale and the first-of-its-kind virtual interactive play set against the backdrop of the iconic Grand Dame of Singapore. Investigate the mystery through a pure virtual gameplay option, or live and breathe the adventure through exclusive experiences on-site or during your stay at our storied hotel.
Written by award-winning playwright Jean Tay and directed by critically acclaimed actor/director Hossan Leong, 'The Curious Case of the Missing Peranakan Treasure' will immerse you into the role of a detective tasked to investigate the missing Peranakan treasure – the crown jewel of the fictional "Treasures of the Straits" exhibition at the Raffles Hotel Singapore. In this highly interactive virtual format, explore the hotel's historic grounds and venture through its illustrious halls, all the while piecing clues together, and deciding how the story unfolds.
Culture & Tradition
The Intricacies of the Peranakan Culture – Private Museum Tour
Embark on an immersive cultural journey through the indigenous Peranakan culture with our exclusive collaboration with The Intan, an award-winning Peranakan home museum. Specially curated to lead you through one of the most prominent sub-ethnic groups in Singapore, witness the transient beauty of Singapore's past and present as you learn first-hand about Peranakan traditions and lifestyles at The Intan. Experience a personally guided tour by owner and curator Alvin Yapp, who has devoted his conservation home to be a haven for treasures of the Peranakan culture from carefully curated artefacts, antiques, customary attire and rare furnishings to intricate jewellery. Complete with complimentary two-way Raffles Limousine transfers to The Intan, enjoy The Intricacies of the Peranakan Culture that includes a tour of this heritage space, a delightful experience of traditional Peranakan refreshments and an opportunity to view exclusive collections from Alvin's treasure cove.
Besides these exciting experiences, all guests will be able to enjoy our History Tour conducted by our team of Resident Historians, relax and rejuvenate at the Raffles Spa or spend some leisure time at the Raffles Arcade for an inimitable lifestyle experience and pick up a range of exclusive souvenirs and gourmet products from the Raffles Boutique.
Enhanced safety and hygiene measures
As we navigate through the ongoing pandemic, Raffles Hotel Singapore continues to embody the philosophy that guides our service excellence, whilst maintaining the highest hygiene standards to safeguard the health and wellbeing of all our guests and staff. Guests can be reassured that all public spaces and restaurants have been reconfigured to facilitate safe distancing without compromising the Raffles experience.
Specific to stay experiences, the following measures have been taken:
Increased sanitisation of high-touch points using medical-grade disinfectants and a daily disinfection process of the in-suite minibar with hygiene seal.
Air filters will also undergo cleaning at an increased frequency.
Guests are empowered with contactless check-in and checkout procedures, cashless payments, contactless in-suite dining and housekeeping services with safe distancing, to further ease any discomfort.
For further information:
www.rafflessingapore.com
For reservations and enquiries, please call (65) 6337 1886 or email singapore@raffles.com.