Embark On A Romantic Retreat
Shangri-La Rasa Ria is an idyllic haven for couples seeking a romatic escape. Nestled amidst the lush rainforests of Borneo, the exquisite resort offers a perfect blend of natural beauty and luxurious amenities. Whether lifelong lovers or in the honeymoon phase, Shangri-La Rasa Ria provides an enchanting backdrop for unforgettable moments together as a pair.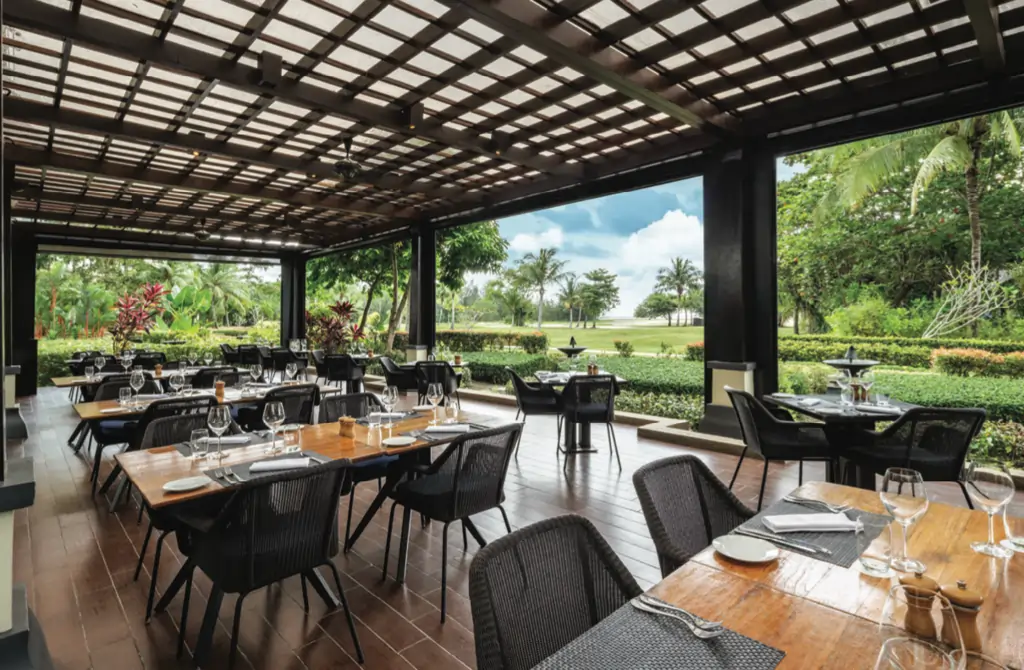 Dining
At Shangri-La Rasa Ria, dining is an exquisite culinary journey, offering couples the perfect opportunity to enjoy each other's company in a romantic setting.
Couples can have the dining experience of a lifetime at The Eighth. With panoramic views of the South China Sea, indulge in an authentic Chinese menu with a modern twist. The Eighth is a sanctuary for couples seeking seclusion and breathtaking views, ideal for creating cherished memories. Alternatively, guests can embark on a delightful journey through Malaysian cuisine at Tepi Laut. Capturing the nostalgia of Malaysia's heritage street food stalls; this restaurant offers a casual yet charming atmosphere. Share a variety of delectable dishes inspired by local street food and relish in the joy of discovering new flavours together. Tepi Laut is perfect for couples looking to bond over a culinary adventure.
For those seeking a night of entertainment and drinks, Dalit Karaoke is the place to be. This lively venue allows guests to enjoy karaoke sessions whilst sipping on signature cocktails. Couples can sing their hearts out together and celebrate their love in an unforgettable way. Dalit Karaoke offers a dynamic atmosphere for couples who appreciate entertainment and shared laughter.
Accommodation
The beautifully designed rooms and suites at Shangri-La Rasa Ria exude a sense of luxury and comfort, featuring elegant decor, plush furnishings, and private balconies or terraces that provide stunning views of the lush rainforest or tranquil sea. Whether couples are celebrating a special occasion or simply enjoying each other's company, accommodation at the resort is designed to make time together truly exceptional.
The Ocean Wing welcomes couples with spacious, elegantly appointed rooms featuring private outdoor bathtubs and panoramic sea views. With its own private pool and garden area, the Ocean Wing offers an intimate and secluded experience with an extra touch of luxury.
Garden Wing rooms boast private balconies or terraces surrounded by tropical gardens. Couples can relish the tranquillity of nature whilst remaining just a short stroll away from the beach and dining venues. The Garden Wing provides a harmonious blend of comfort and romance.
Spa
The Spa at Shangri-La Rasa Ria is a sanctuary of rejuvenation and relaxation, where guests can escape into a world of tranquillity and bliss. Nestled amidst the pristine rainforest, the spa offers an array of holistic treatments inspired by traditional Sabah healing practices. Couples can find peace, harmony, healing, and a special form of care here, which was influenced by the Shangri-La's origins.
The serene ambience, paired with the soothing sounds of nature, creates an unparalleled setting for pampering and self-care. Highly skilled therapists use natural ingredients and aromatic oils to provide personalised massages, facials, and body treatments that leave guests feeling revitalised and refreshed. Not to be missed is the 'Romantic Journey' experience which includes a renowned rose exfoliating scrub, a fragrant bath soak for two, and a couple's aromatherapy massage.
Outdoors
Adventure-seekers can chase excitement at the 64-acre Rasa Ria Reserve, the resort's tropical jungle home to a wealth of native flora and fauna. From slow lorises to long-tailed macaques, the Rasa Ria Reserve is one of the most special parts of Shangri- La Rasa Ria.
With the Borneo Sunrise Hike experience, couples can enjoy quality time by hiking 98 metres to the top of the forest reserve Timpak Pogimpaan (Summit) to watch the sunrise over majestic Mount Kinabalu, a UNESCO World Heritage Site. Embrace the romantic scenery as the rising sun colours the forest in hues of pink, purple and gold. Couples can make the moment even more special by adding a bottle of Champagne to the experience, so they can toast their love for one another in a picture-perfect setting.
Those who prefer to get their outdoors fix with a side of salty sea can head to the resort's private white sandy beach. A stroll along the shore of the South China Sea is guaranteed to evoke romance. Couples looking to experience the waves first-hand can book one of the many water sports excursions, designed for them to create life-long memories.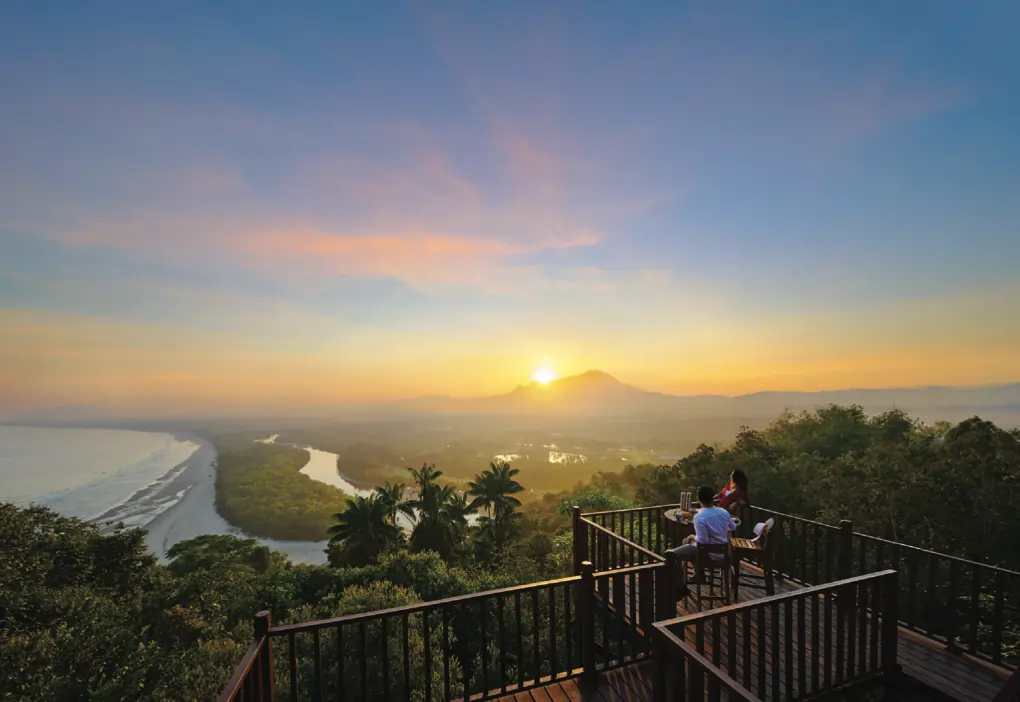 Shopping
Couples can experience Sabah culture and pick up memorable purchases by checking out the shopping. Kota Kinabalu's Handicraft Market is a popular shopping spot for both residents and tourists alike. There are miles of wonderful trinkets and souvenirs to choose from including local handicrafts, such as wooden masks, picture frames, and wall panels.
At the hotel itself, guests can purchase a beautifully designed Sarimpak robe from the gift shop. Designed by local female artisans, the robes, take inspiration from the Sarimpak an iconic ornament worn by the Bajau Samah people of Sabah as part of their ceremonial costume. By purchasing these robes, couples support the local community whilst embracing its culture and heritage.
Further information – www.shangri-la.com/en/kotakinabalu/rasariaresort/