Brockmans
Brockmans gin is an avant-garde twist on the classic English gin with a bold blend of traditional gin botanicals and other more unusual ingredients like liquorice root, blueberries, and blackberries.
The properly improper gin's result is a smooth gin that's equally as perfect served neat over ice or in a variety of cocktails.
Improperly Proper Gin & Tonic
Ingredients
50 ml Brockmans gin
Premium neutral tonic
Garnish
Pink grapefruit peel for garnish
2 blueberries
Method
Fill your chilled glass with ice cubes
Add a double measure of Brockmans gin
Pour the tonic gently on a bar spoon to keep the fizz
Twist the pink grapefruit peel over the drink and place into the glass along with a couple of fresh blueberries
Brockmans French 75
Ingredients
50ml Brockmans
25ml lemon
10ml sugar syrup
Top with champagne
10ml float creme de cassis
Method
Shake first 3 ingredients, strain into flute glass, top with champagne a float 10 ml of creme de cassis in the glass
Hapusa Himalayan Gin
Named after the Sanskrit word for juniper berries, Hapusa is a one-of-a-kind Indian dry gin and the only gin in the world to use Himalayan juniper berries.
With a blend of botanicals sourced from all across India, Hapusa takes you on a journey of taste discovery, encapsulating the rich, vibrant flavours of the country.
Buransh Hiball
Ingredients
60ml Hapusa
30ml Hibiscus syrup
20ml Lime juice
3 drops Homemade Dalle tincture*
Soda to top
Edible Flower Garnish
*6 Dalle Chillis
75ml Greater Than Gin (London Dry Gin)
Blend the ingredients together and freeze to remove the fat layer if any, pass through a fine mesh strainer
Hapusa G&T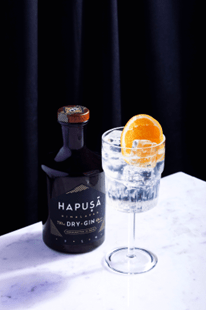 Ingredients
60ml Hapusa
120ml Classic tonic
Orange wedge garnish
Method
Compile all the ingredients in a highball glass with ice and stir, top with an orange wedge.