Drinks for Autumn – Carlos I Solera Gran Reserva Brandy
— The World's Number 1 Brandy de Jerez — 
Carlos I is the number 1 Brandy de Jerez in the world, selling in over 100 countries worldwide and the premium leader in most markets. In the UK it has enjoyed record year sales, year-on-year, for the last three years.
Carlos I makes for a great digestif as the nights start to draw in and Autumn approaches.
Carlos I is produced at El Puerto de Santa Maria at Grupo Osborne's bodega of 250 years. Carlos I is a Brandy de Jerez which like Sherry is produced in a geographically protected region of production, known as the Sherry Triangle. The Jerez region of Spain is an area that benefits from a unique microclimate regulated by the surrounding waters of The Atlantic Ocean, the Guadalete and Guadalquivir Rivers along with the prevailing easterly Levante and westerly Poniente winds. These weather conditions play a key role in the production and ageing of Carlos I Brandies. The microclimate together with the chalky soil is essential for the production and quality of the grapes, which has made the region famous for world renowned sherry and brandy production.
Distillation – This begins with the careful selection of the best Airén and Palomino grapesfrom which the wines are made.
Ageing – Carlos I is aged in American oak casks previously used to age Oloroso and Amontillado sherries for more than 20 years and provides Carlos I with its unique flavour. The Amontillado adds  almond and hazelnut flavours, while the Oloroso enriches Carlos I with nutty aromas, old oak and tannins giving it a noble and elegant flavour. Carlos I Brandy is aged in cellars which are over 250 years old.
Solera System – Carlos I is aged using the Solera system, an age old Spanish tradition of maturing wine in a staggered manner.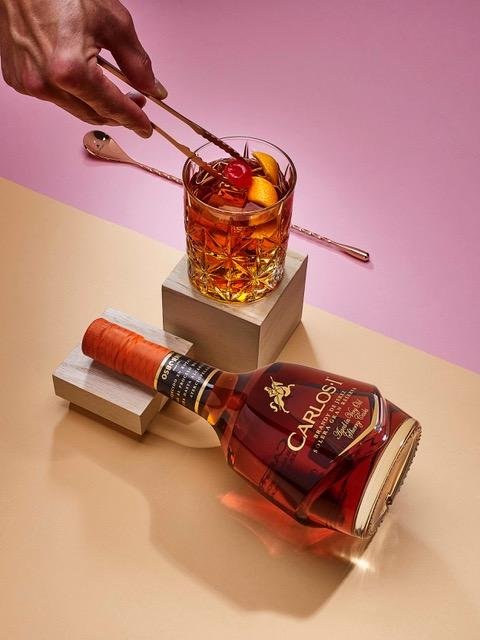 Carlos I Solera Gran Reserva
Deep amber colour with bold golden highlights. Intensely aromatic, with notes of vanilla and cocoa
Perfect Serve – Neat in a rocks glass with one or two ice cubes. Add a few drops of Angostura bitters on top of the ice and use a bar spoon to muddle with a strip of orange peel. The aromas of the Angostura Bitters enhance the woody notes of the brandy and the orange pairs perfectly with the vanilla, cacao and coffee notes. Carlos I is a versatile brandy that can also be enjoyed in an Old Fashioned, Cuban or Carlos I Sour.
Food Pairing – Best paired with hazelnuts, almonds, dried apricots and cured cheeses or desserts such as tiramisu or melted chocolate.
Carlos I Solera Gran Reserva RRP: From £32.99. ABV: 40%. Available from: Booths, Master of Malt, DrinkSupermarket, Amazon and The Bottle Club