Look closely enough, as you savour your kaffir lime chicken tikka, and you'll notice that you're sat in what was once a classroom – it's all part of the otherworldly experience that is Baluchi. Located in boutique hotel The LaLiT London, just a stone's throw from Tower Bridge, is one of London's most intriguing fine-dining destinations, and to think it used to be a grammar school.    
Even before you begin eating, Baluchi is a feast for the senses – the high-vaulted ceilings and Victorian architecture are offset by bursts of cobalt-blue from the chandeliers handcrafted in Hyderabad.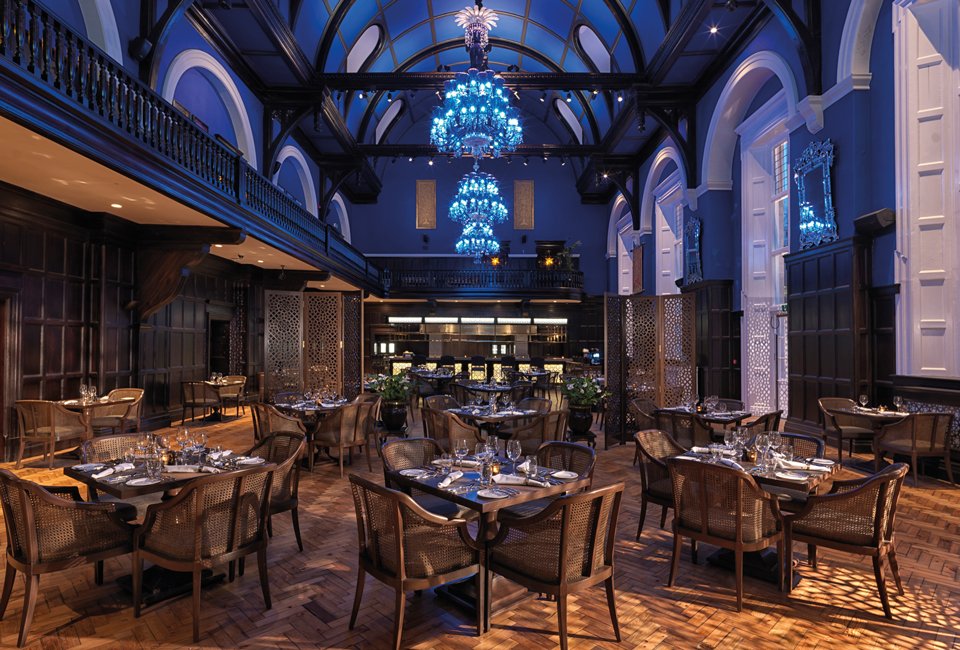 The decor sets the tone, but the experience begins with the first course. Executive Chef Santosh Shah delivers an imaginative and vibrant menu, featuring a truly innovative take on traditional recipes from across India. With 18 years of culinary experience in some of London's finest Indian restaurants, Santosh's latest menu marries culinary concepts from around the world with the complex flavours of India. Inspired by the rich curries of the north-west region, each dish is imbued with history and authenticity.
Unique to Baluchi is the Naan'ery, where a specialist naan chef creates signature variations of naan, roti, kulcha, paratha and phulka, all with imaginative fillings such as mango and coconut or potato, ceps and truffle.
In the main restaurant, diners can choose from a variety of menus; from set lunches through to afternoon tea and seven course tasting menus, there's something for every occasion. Stand out dishes include tandoori lobster with masala shrimp khichdi, wild mushroom, homemade lime pickle, and sabudana papad. Of course, the vegetarian options are equally stunning, and include bharwan zucchini with crisp courgette flower, achari goat cheese and paneer, curried yoghurt, and pickled garlic.
Suite dreams
And that's not all. With 70 individually designed bedrooms, The LaLiT London offers one of the most unique stays in the city. This grade II-listed building offers a luxurious ambience paired with old-world charm and a laid back atmosphere. Each and every room is unique in layout, character and design. From smaller "classrooms" with adjoining nooks, to the signature Legacy Suite, with its three interconnecting rooms and extraordinary view of The Shard.
Blending Indian culture with modern design, Baluchi and The LaLiT London provide the perfect escape from the hustle and bustle of the capital.
Further information